Have you ever docked in a port on your Royal Caribbean cruise and wished you had more time to explore the city?
One of the biggest drawbacks of cruising is not having enough time in each port; in fact, this is often cited as one of the top reasons that people choose not to cruise and opt for land-based vacations.
Of course, one of the perks of cruising is getting to see multiple cities and countries in one vacation. It's so nice to step onboard your cruise ship and unpack your suitcase just one time. Before you know it, you're waking up in a new place every morning.
On the other hand, your time in port is usually limited on a cruise – ranging anywhere from just 6-9 hours at each stop. Also, you have little to no flexibility about what time you arrive and depart the port because you are at the mercy of the cruise ship to get there on schedule.
The best way you can spend more time ashore on a Royal Caribbean cruise is choosing an itinerary that features overnight ports. 
How does it work when a cruise ship stays overnight?
For some cities, when the sun goes down, the city comes to life! Cruisers have felt for a long time that they miss out on everything a city has to offer because the ship leaves too soon. 
Normally, cruise ships are chasing the sunset and heading out to sea in the evening. When the sun goes down, the ship is already sailing off to the next destination on the itinerary.
But when you have an overnight stop, you'll get to spend multiple days exploring all the port has to offer while your ship stays docked throughout the night. 
With more flexibility offered in an overnight port stay, your excursion and exploring options become multiplied. Your cruise ship essentially acts as a floating hotel during an overnight port. The cruise ship will allow you to come and go throughout the day and night rather than having a strict all aboard time after just one day of being docked in the port.
With an overnight port, you can explore throughout the day, come back for a quick bite to eat, and then head back ashore to experience the city's nightlife. Maybe you head to the rooftop bar to see the night skyline or you might prefer to have dinner at a local restaurant! 
Ultimately, overnight ports allow cruisers to be more fully immersed in the culture of a destination. These port stops can occur mid-voyage or even at the beginning/end of the itinerary. 
Best Royal Caribbean Overnight Ports
To offer more flexibility and time to explore ports over multiple days, Royal Caribbean has started to incorporate more overnight ports in its itineraries. The cruise line has also announced itineraries that feature late-night departures and multi-stay destinations.
By adding these itinerary options, this certainly appeals to cruisers who want to see everything a city has to offer over the course of multiple days.
Bermuda
One of the most common itineraries to offer an overnight port is in Bermuda. Because of Bermuda's location, there aren't many options for port stops other than sailing down the east coast of the U.S. or down south to the Caribbean.
Most itineraries feature at least one overnight in Bermuda but some even offer two overnights. With plenty of shopping and restaurants nearby, you can spend all day and night exploring this country.
Royal Caribbean offers 2022 and 2023 summer sailings (May to October) to Bermuda from Cape Liberty (New Jersey), Orlando (Florida) and Baltimore (Maryland). Some ships sailing to Bermuda include Enchantment of the Seas, Adventure of the Seas and Liberty of the Seas.  
Lisbon, Portugal
Across the pond and nestled in the Portuguese hillside is the historic city of Lisbon. With little trams running through the cobblestoned streets, you can experience quintessential Europe with all of the architecture and culture of Lisbon. 
Because of Lisbon's bustling nightlife, Royal Caribbean has incorporated overnight stays on some of its longer Mediterranean itineraries. An overnight stay in Lisbon means you can watch the sunset on a rooftop bar or enjoy a local Portuguese dinner in Lisbon. Even better, the cruise port is right in the city center so everything is close by!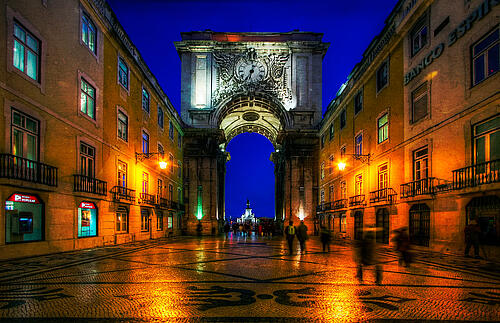 Also, with Royal Caribbean's itineraries offering two days in the city, you can even venture out to Sintra. This nearby city features UNESCO World Heritage Sites that include the Jeronimos Monastery and Quinta da Regaleira. It's a real life fairytale!
Royal Caribbean has itineraries featuring overnight stays in Lisbon on Anthem of the Seas sailing from Southampton for summer 2022 and 2023. 
Iceland
If the Arctic Circle is more of your vibe, you'll find plenty of itineraries that feature overnight stops in Iceland. Most of the itineraries will feature an overnight in Reykjavik, which is the capital of Iceland. 
Having multiple days allows you to explore the city's museums and churches while still having time to take a dip in the Blue Lagoon.
Royal Caribbean also has numerous itineraries that feature overnight port stops in Akureyri, Iceland. This tiny Icelandic town is situated at the end of the Eyjafjordur and features a quaint old town and plenty of hot springs.
Because Iceland is a smaller country with tons to explore, having overnight stays allows cruisers to get an in-depth experience of the Arctic Circle. 
Itineraries featuring overnights in Iceland can be found sailing on Jewel of the Seas from Amsterdam throughout the summer of 2022 and 2023. Transatlantic and Arctic Crossing itineraries are also available on Royal Caribbean, including a 17 night crossing in August 2023.
Israel
One of the more culturally immersive Royal Caribbean Mediterranean itineraries features overnight ports in Israel. With up to 3 days in Israel, cruisers are able to see all of the wildly historical places in cities like Nazareth, Jerusalem and Bethlehem. 
With so many sites to see, most of which are located outside of the port city, it's great to have multiple days to explore Israel while using your cruise ship as a home base each night. 
Haifa and Ashod are two of the most common cruise ports for Holy Land itineraries in Israel. These port cities give access to some of the most commonly visited biblical sites while also giving access to Tel Aviv and other cities in Israel. 
Royal Caribbean features Holy Land itineraries with overnights to Israel on Odyssey of the Seas through the summer of 2022 and 2023. 
Cabo San Lucas, Mexico
You know all of your favorite celebrities are obsessed with Cabo – and for good reason! Cabo is an electrifying destination with plenty of nightlife located in Baja California.
With an overnight stay in Cabo, you can stay out all night partying in the night clubs, indulging in a margarita (or two), trying local Mexican cuisine or dancing the night away. During the day, you'll have two full days to explore the town by foot and sea. 
Royal Caribbean offers 5-night cruises with overnight port stops in Cabo San Lucas in September 2022, March 2023 and April 2023 on Navigator of the Seas from Los Angeles, California. 
Thailand
If Southeast Asia is on your bucket list, Thailand is a destination that can't be missed. I can speak from personal experience that visiting the Thai islands by cruise ship is a great way to immerse yourself in their culture. 
With an overnight stay in Phuket, you have so much flexibility to really explore the island, like visiting elephant sanctuaries, beautiful temples, and stunning beaches. 
Our second day in Phuket, we ventured out to Phang Nga Bay to see the floating village by boat. It was absolutely stunning to sail around the islands. 
One of the most dazzling cities in Asia is Bangkok, Thailand. The city has centuries-old temples coupled with brand new skyscrapers and rooftop bars. There's no city like Bangkok; lucky for Royal Caribbean cruisers, most itineraries feature an overnight stay in this fascinating port city.
From street-food vendors to tuk tuk rickshaws that run the streets, you'll have two full days on your itinerary to see everything the city has to offer. Don't forget about all of the Thai temples, museums and Buddha statues. 
Look for overnight ports in Bangkok and Phuket on Royal Caribbean's Spectrum of the Seas, sailing from Singapore throughout 2022 and 2023. 
Penang, Malaysia 
Most Southeast Asian itineraries will feature a stop in Penang, Malaysia; if you're lucky, your itinerary will feature an overnight stay in the northwestern Malaysian port city to give you even more time to immerse yourself in the culture. 
You'll find the port of Penang is filled with a rich and diverse culture, mostly because of its location as a trading center among India, China, Britain and the Middle East. Plenty of local food stalls accompanies the many religious temples scattered throughout the town. 
Overnight stays in Penang can be found on Royal Caribbean's Spectrum of the Seas, sailing in January 2023 from Singapore. 
Port Vila, Vanuatu
Those sailing in the South Pacific will appreciate Royal Caribbean adding overnight ports on some of its most popular itineraries. 
Port Vila is the energetic capital of Vanuatu, where you can spend 2 full days exploring the island. From the French-inspired city to waterfalls and heritage centers, you might wish you had even a second overnight!
Royal Caribbean offers overnight sailings to Port Vila on its South Pacific itineraries. Quantum of the Seas has multiple itineraries sailing from Brisbane, Australia throughout the winter of 2022 and 2023.
Hawaii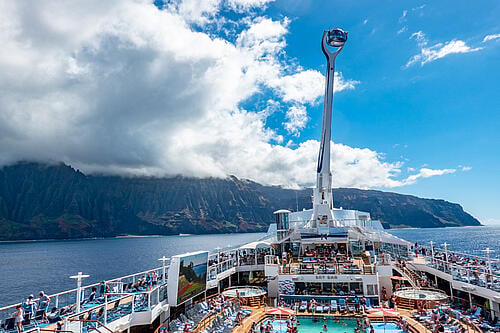 Visiting Hawaii on a Royal Caribbean cruise is one of the best ways to explore multiple islands. Even better, you can find itineraries with overnight ports to have ample time to squeeze in everything you want to do on the islands.
Royal Caribbean's itineraries feature overnight port stays in Maui and Oahu, giving cruisers extra time to explore the island. With Maui having so much to offer – from hiking to luaus and surfing on the beach – you'll be thankful to have all the time to explore ashore. 
Itineraries to Hawaii are typically during the transition seasons when cruise ships are transitioned to Australia from Alaska. Quantum of the Seas, Radiance of the Seas, and Ovation of the Seas all have Hawaii itineraries featuring overnights in Hawaii. Sailings are October 2022/2023 and April 2022/2023. 
Honorable Mention: Late-Night Departures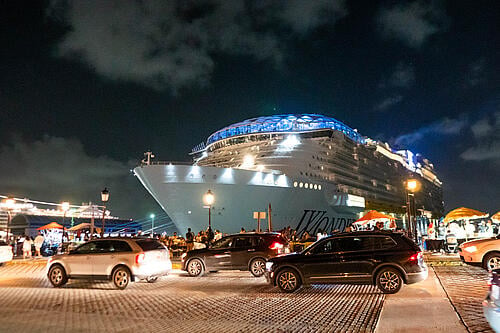 Even if your cruise doesn't feature an overnight port stop, you might get lucky and have some late-night port departures. While you won't have two full days in a city, you can still experience some of the nightlife with port stays that last up to 14 hours.
In this scenario, your cruise ship will depart the port around 9pm -10 pm instead of a more standard time like 6pm.  
One of the places you can find late departures is the Greek island of Santorini, known for its picturesque blue rooftops and white villas on the mountainside. But, Santorini is best known for its unparalleled sunsets from the town of Oia. 
Instead of having a typical departure time of 5 or 6pm, Royal Caribbean has some itineraries that feature late-night departures of 9pm or 10pm in Santorini so cruisers can see the incredible sunset. 
Rhapsody of the Seas features late-night departures from Haifa to Santorini in the fall of 2023. 
Another popular city that features late departures is Le Havre, France. This European port city is the closest place a cruise ship can dock to Paris, even though it's still 2.5 hours each way to get to the city. 
Because of the distance to Paris, which is surely a top destination for cruisers, Royal Caribbean docks in Le Havre from 8am to 10pm. Having 14 hours in the port allows you to explore Paris during your cruise and catch a glimpse of the Eiffel Tower.
Anthem of the Seas has late-night Le Havre departures on sailings throughout the summer and fall of both 2022 and 2023.  
Although one day is certainly not enough to see everything Paris and Santorini have to offer, Royal Caribbean's late-night departures allow for more flexibility in port to experience the even more of what the cities and countries have to offer.