While the COVID-19 pandemic caused many retailers to close doors, a re-invention of the brick-and-mortar storefront is underway.
Stores continue to be part of a retailer's tool box to increase sales, but likely on a scaled down version, said John Talbott, director of the Center for Research and Education in Retailing at the Indiana University Kelley School of Business.
"I would say almost every retailer in the United States is re-evaluating the purpose of stores. With the pandemic, stores became pick up locations, with curbside service and things like that," Talbott said.
"Even before the pandemic, we were seeing a situation that many retailers realized they had too many stores. Some where non-performing. If it was too bad, the pandemic pushed some (retail) companies into bankruptcy as a mechanism toward getting out of (rental space) leases," he said. "In other cases, retailers are rolling off leases and not renewing them in non-performing areas.
"But now that that has been happening, I think what retailers are looking at prospectively is, 'We are still going to have physical doors, but just what are they for?'" Talbot said.
"I think the answer is they are more for the experience and information that they will provide, as opposed to being the sole source of revenue.
"Retailers now know they can channel a lot of their revenues toward their biggest location, which is their web site in almost every single case," he said. "I think the pandemic has kind of confirmed this relationship between keeping customers happy, helping them understand the offering of the brand and helping them understand the brand better in a physical area, which is a store," Talbott said.
Retailers then have to ensure that each store is connected to a retailer's web site as well as mobile applications "so stores will exist on their own and will still do revenue," Talbott said.
The biggest cost of a store is rent and employees. With a smaller space, retailers pay less in rent and need fewer employees.
Even Amazon, the e-commerce juggernaut that last year had $386 billion in sales, is looking at storefronts.
In early September, The Wall Street Journal reported Amazon is poised to create 30,000-square foot store locations. Amazon apparently wants to "focus on developing their private labels … and focusing on showing customers new items at the those location. Amazon continues to experiment in the physical door space" even though that is a very small percentage of their business, Talbott said.
Amazon plans to focus on apparel, electronics and household goods, but in a scaled-down format, according to the Wall Street Journal. Talbott said that mirrors what other national retailers are doing, opening smaller stores than found in a traditional mall anchor and that are more easily accessible.
The pandemic, Talbott said, caused the sales penetration of e-commerce to reach sales levels not expected until 2030, "so we have moved 10 years into the future. I think maybe we will give some of that back. Maybe we will not see double digit growth in e-commerce going forward because we have moved forward so fast because of the pandemic," he said.
Talbott said stores remain part of the mix for retails, citing most big retail companies are reporting increased sales versus where they were at the start from a year ago. Macy's, Target, Walmart and Home Depot each reported strong sales at the start of this year as shoppers returned to stores.
Walmart reported over $138 billion in first quarter sales as people return to pre-pandemic shopping behaviors, the big box chain said. Target reported a 22.9 % increase in comparable sales from last year, while reporting a slowdown in digital sales — a sign that customers want to come back into stores.
Home Depot reported sales growth at almost 30 percent in the first quarter of this year.
"Yes, stores are a long way from dead," Talbott said. "If anything, this (pandemic) has compelled companies to reimagine what stores are for and make them more purposeful and strategic around what stores do."
Five retail businesses with stores in Vigo County are among the 2021 Hot 25 Retailers List released in June from The National Retail Federation. Ranking is determined by increases in domestic sales between 2019 and 2020. All retail companies with domestic sales in excess of $300 million were eligible.
Those with stores in Vigo County include Ollie's Bargain Outlet, which ranked No. 10 with U.S. sales up 28.4 percent; Tractor Supply Co., ranked 12th, with sales up 26.8 percent; Ace Hardware, ranking 14th, with sales up 25.5 percent; Lowe's, ranked 15th, with sales up 23.8 percent; and Dollar General, ranked 17th, with sales up 21.6 percent.
Ace Hardware is in the process of opening a retail store at The Meadows shopping center on Terre Haute's east side. That hardware store will occupy part of a space from the departure of the mall's longtime anchor, Stein Mart.
"We are very encouraged at The Meadows for the amount of interest we have in the upcoming addition of spaces in the old Stein Mart area," said Mark Zimmerly is one of five partners in Meadows Development LLC, which owns the shopping center.
Ace will fill about a third of the former Stein Mart space, "and then we have 10 more additional suites inside there for 10 additional retail stores," he said. Two of the spaces that have been spoken for represent new operations, he added.
"Throughout out our whole facility, during the pandemic, we have been very successful at retaining the retail sales that we have there," Zimmerly said. "That shows that even in the tough times that The Meadows is able to attract customers."
Zimmerly is said The Meadows is a unique location, first because of its history as Terre Haute's first shopping mall, opening in 1956, and also the financial demographics of the city's east side. That can be seen with the location of four existing banks at the intersection of 25th and Poplar Streets. A fifth bank, Prospect Bank, hopes to open a new brick-and-mortar building at that intersection by 2023.
"Terre Haute is more of an economic hub than it is just a centralized city as our metropolitan area stretches to Illinois, to Vincennes and north to Clinton and east to Greencastle," Zimmerly said. "We certainly have a big territory to cover, and when you get a nationally known business like Ace Hardware, it will be a big draw. We look very much forward to having them be there."
Zimmerly said another key for The Meadows is "most of the people that are in The Meadows are mom and pop stores. They will be the people who greet you every day, who sell to you and will be the ones who deal with your problems if you have one. And that is why we are more successful, I think, than some of the bigger malls, because those are chains not with local people at the management level," Zimmerly said.
Local owners are very tuned in to customer concerns, Zimmerly said, and "that is one reason during the pandemic we had staying power, because those people were going to do whatever it took to be successful, being there day in and day out."
One new business that opened in early September in an existing space is the Jason Gonzalez Brazilian Jiu-Jitsu.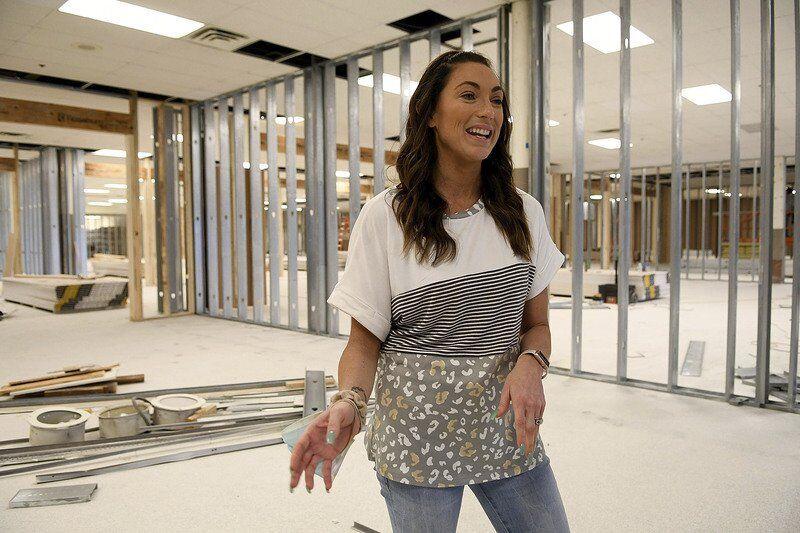 Another store, slated to open in The Meadows new section, is a new business venture of Terre Haute resident Roni Elder.
Elder, former Vigo County health educator, is opening up a store named Intimate Whispers. It will mark her first venture into owning a retail store. However, Elder comes prepared as she holds a bachelor of applied science degree focusing on fashion merchandising from The Art Institute of Indianapolis.
"I am finally making my way back to fashion. It is very hard to find fashion jobs in Indiana," she said.
While on paternity leave earlier this year, Elder said she and her sister, Brandy Mazzon, "thought we needed to do something fun. Then we thought, well Victoria Secret closed down, lets go into that area, because boutiques are so fun, but then it is also a hard area, and retail in general is hard," she said.
"We thought about what would sell here and said Victoria Secret is not coming back, so let's go into that area," Elder said.
Elder then contacted The Meadows and was able to get one of 10 new retail spaces. The new business will include Elder's mother, Rebecca Rozina, and her sister, Brandy.
"It is our own store, so we can always add in little dresses occasionally and swimwear and bring in little boutique items that we can spotlight to see how they do and if that is what people want," Elder said. "It will probably be ever-evolving because we don't know what people want yet."
Elder said her college background taught her how to create a brand and outsource to get clothes made or where to find them.
All of that I knew how to do, but there is obviously a lot that goes into a store … such as figuring out where wiring and outlets go," she said as she toured her space earlier this month while it was under construction.
Intimate Whispers will likely open in November, Elder said, depending on the build-out schedule.
"We have ordered a ton of stuff, so we might start with some online sales to see what people are liking and get some things going," she said. "We have lots of different brands. That is one of the hardest things is making sure we are ordering from brands that have good quality and we like the clothes and that people will like them, along with a wide range of sizes.'
The new store, she said, will fill a need vacuum in the city's retail market.
Elder said she wanted to open a brick and mortar store.
"Online is great, it is convenient (and) you don't have to go anywhere, but I feel you miss out on a lot," Elder said. "You miss out on that in-store experience. A lot of people don't want to buy these types of items online. They want to feel them, they want to try them on and make sure they fit right. And sometimes you need something that day. Sometimes you need something for an event that you are going to and there are no options and you can't get it that day from ordering online," she said.
"I think COVID taught us that we like these (in-store, in-person) experiences. When they were taken away from us and all those small businesses closed down, I think we learned the value of those mom-and-pop shops," Elder said.
Reporter Howard Greninger can be reached 812-231-4204 or howard.greninger@tribstar.com. Follow on Twitter@TribStarHoward.