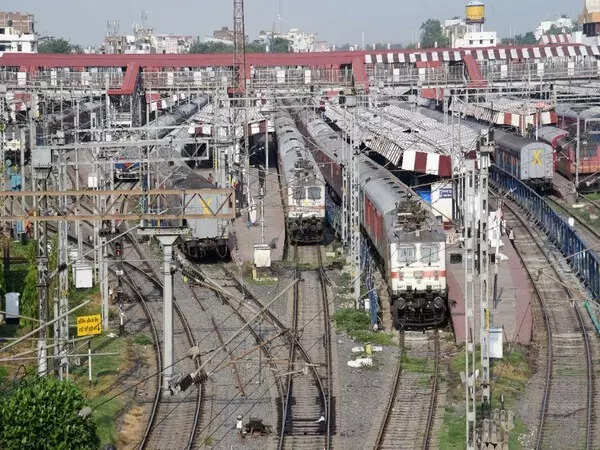 Stakeholders using the Dedicated Freight Corridor (DFC) are calling for rationalising tariff to attract more consumers on to the railway network. Container train operators and port players say while the DFC has lowered the time taken for moving goods and ensures predictability, the cost is an impediment to adoption.
APM Terminals, a unit of Danish shipping giant Maersk, is seeking the rationalisation. Their Pipavav terminal on the Gujarat coast has immediate access to key markets in northwest India and the largest sea food export belt in India through road and rail, including direct electrified access to the Western Dedicated Freight Corridor.
"Today, our trains from Khatuwas (close to Haryana-Rajasthan border), arrive at our port in less than 24 hours. It used to take 3-4 days earlier," Girish Aggarwal, managing director at APM Terminals Pipavav said. He added that the Western DFC has significantly lowered the time taken for commodities to travel between north India and the western coast.
But despite the added convenience, consumers still shy from exclusively using the rail link.
"From our perspective, the money now needs to be passed on to the customer. When you start doing that, a lot of road traffic gets diverted to rail," Agarwal said while calling for lowering the tariffs charged on the DFC. According to him, people from Delhi, Sonipat and Panipat are coming through trucks when it should be rail.
Commenting on the need to rationalise rail tariffs, Manish Puri, president, Association of Container Train Operators (ACTO) said, "Rail is more expensive than road in the light cargo category. This is because charging is done directionally in road. So light cargo in export direction on road is cheaper than the rail route."
Responding to a query on these calls for rationalising tariff on DFC, Nanduri Srinivas, director, operations and business development at Dedicated Freight Corridor Corporation of India (DFCCIL) said, "Right now, DFC is following the same tariff of Indian Railways for conventional traffic".
Double stacking solution
Puri said that double stacking reduces the unit cost across containers by about 25%. "Double stacking makes rail much more competitive than road. Today, there is a restriction on how much double stacking is possible because of certain weight categories not being permitted," he said, noting that this needs to be smoothened out.