Ecommerce platform Dealshare has laid off some 130 employees, according to sources, as it winds down its business-to-business (B2B) vertical and shifts its headquarters to Gurgaon from Bengaluru.
In a statement, a spokesperson for Dealshare said the company was realigning its budget and reorganising its teams and locations as part of a focus on the business-to-consumer (B2C) business, without revealing the number of employees impacted.
"Our immediate priorities will be to quickly organise the teams towards execution, complete the non-tech teams' transition to Gurgaon, prioritise key deliverables and swing into action," the spokesperson said in the statement. "As a result of this re-organisation, some of our colleagues will be leaving us. The company will do everything in its capacity to support them through this transition, both financially and (by) leveraging networks to provide for a soft landing."
The job cuts come about a month and a half after Vineet Rao stepped down as the company's chief executive.
Dealshare operates in about 100 towns, with a third of its business coming from the National Capital Region (NCR), and Rajasthan accounting for another 33%.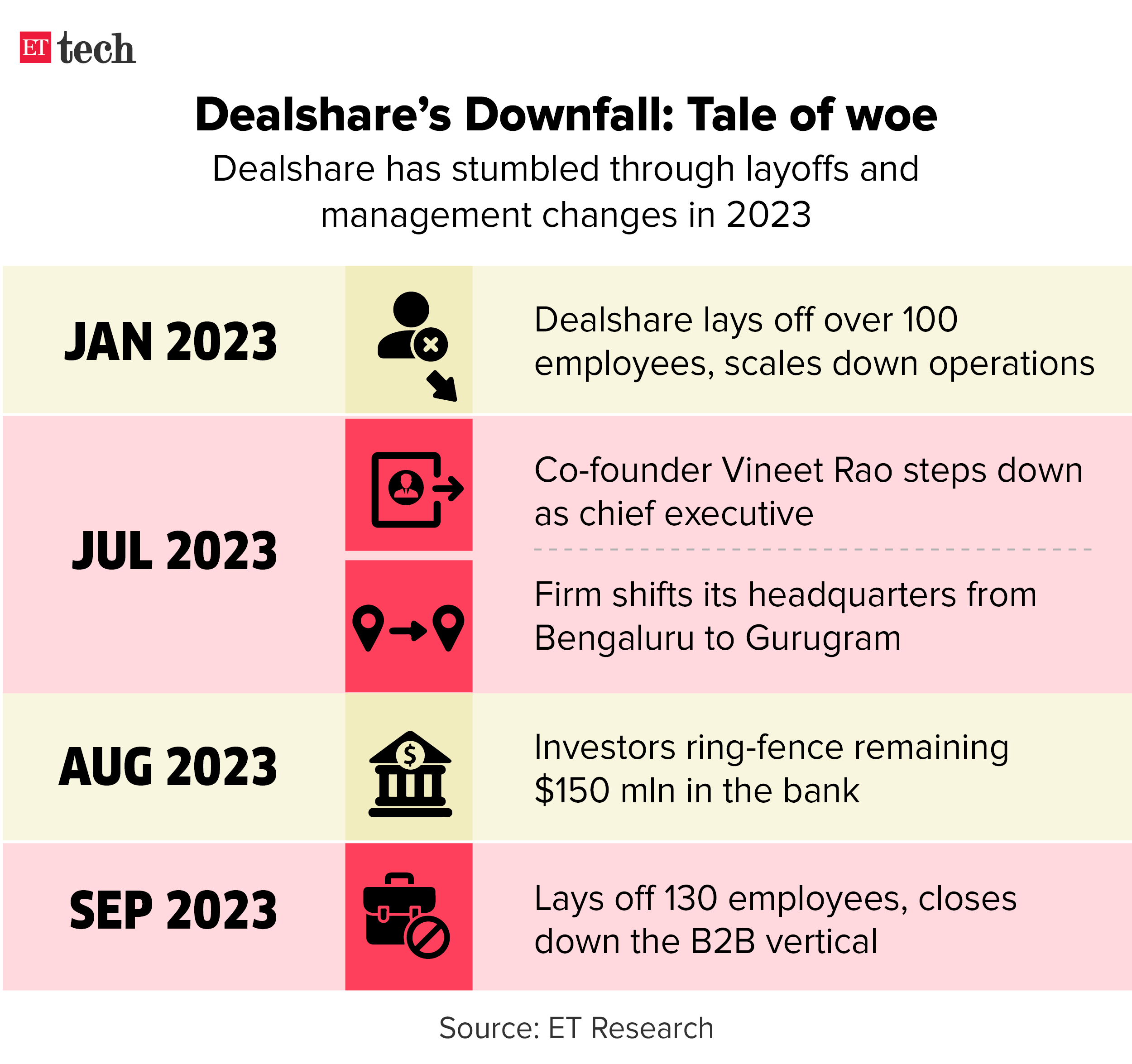 A person aware of the matter said that most of the employees impacted are from the company's B2B business. Among them are some who have chosen not to move to the new headquarters in Gurgaon.
Dealshare's B2B arm accounted for 20-30% of its total revenue.
Moneycontrol was the first to report the latest round of layoffs at Dealshare and the closure of the company's B2B business. Before the layoffs, the firm had 1,000-1,100 people on its rolls.
In August, The Arc had reported that the company's investors had ringfenced a large part of the $150 million it still had in the bank. The management reportedly had access to only a limited pool of about $30 million.
This move by Dealshare's investors underscored the long-running troubles at the firm. In January, ET had reported that Dealshare was laying off around 100 employees, or more than 6% of its then 1,500-strong workforce. Since then, the company has scaled down operations significantly.
Dealshare has raised $393 million so far from investors such as WestBridge Capital, Matrix Partners and Alpha Wave Global.
In July, cofounder Sourjyendu Medda had told ET that Dealshare had brought down its monthly cash burn to $2 million from $11 million, and had about $150 million in the bank. He said this year Dealshare expects to record gross merchandise value equal to or slightly lower than last financial year's $500-550 million.