Stay Involved in the Gold Bull Market Through Dundee Precious Metals Inc
With gold expected to continue trading higher over the next few weeks, investors should continue to hold shares of US-listed gold producers.
To that end, investors may want to consider Dundee Precious Metals Inc. (OTCPK:DPMLF) (TSX:DPM:CA) as this gold stock is well positioned to benefit from the gold bull market.
Aside from anticipated higher gold prices, investors are likely to hold onto this stock for its operational flexibility, production and cost catalysts, and high volatility versus the precious metal.
Dundee Precious Metals Inc. in the Gold Exploration and Mining Industry
Dundee Precious Metals Inc., headquartered in Toronto, Canada, is a mining company focused on the exploration and acquisition of gold properties and the upgrading of precious metals assets and production.
The company's flagship metal property is located east of Sofia, Bulgaria and the property is called Chelopech. The operation is focused on the production of gold and copper in concentrate, which also contains some silver, and the production of pyrite concentrate, which contains gold.
In addition to Chelopech, the Canadian miner operates another mineral deposit in Bulgaria, near the town of Krumovgrad in the southern region of the eastern European country. The asset is referred to as the Ada Tepe operation to produce gold and silver contained in gold concentrate.
But that's not all, as Dundee Precious Metals Inc.'s mineral portfolio also includes a complex in Namibia that has a plant and smelter for processing copper concentrates, called Tsumeb. Tsumeb is currently undergoing certain maintenance which may result in the facility being out of service for some time.
The company is also interested in researching precious metals and copper properties in Serbia and Bulgaria other than in its homeland and Ecuador.
The Business
In terms of revenue, which was approximately $417 million for the first three quarters of 2022, approximately 80% came from sales of gold in concentrate with the remainder from sales of payable copper in concentrate and other mineral activities. So, Dundee Precious Metals Inc.'s stock price should be more affected by the impact of changes in the price of yellow metal than copper in the commodity market.
What a Higher Gold Price Would Potentially Do to Dundee Precious Metals Inc.
Therefore, quantifying this relationship between changes in the Dundee Precious Metals share price and changes in the ounce of gold traded in the gold futures market could provide an idea of how an expected increase in the price of gold should be reflected in the share price of the US-listed Canadian mining stock.
The chart below, in which Dundee Precious Metals Inc. is compared to gold futures due February 2023 (GCG2023), suggests that the first security is much more volatile than the second security, indicating strong upside potential in the stock price during a bullish gold market.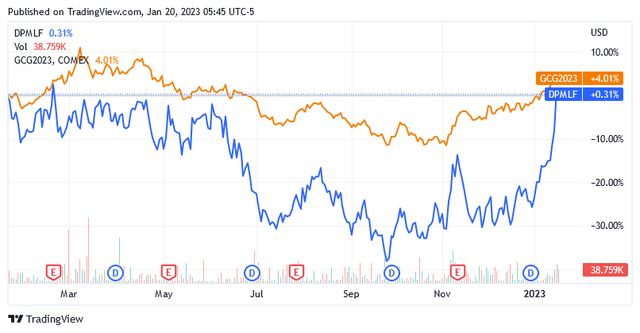 In any case, the following model quantifies the assumption just made by relating the daily returns of the two securities in a linear relationship, where GCG2023 is the independent variable or input, while DPMLF is the dependent variable or output. The model is based on daily returns for the past 12 months and not for a longer period as 2023 should be more like 2022 than previous years as most of the current macroeconomic and geopolitical events are likely to continue.
The model states that if the increase in GCG2023 marks a 1% daily return, the daily return of DPMLF is, on average, a 1.8% gain.
Knowing this information can be very useful over the next few weeks when the price of the precious metal is expected to rise much more often than it falls due to at least three favorable factors. These players essentially consist of an easing of the central bank's aggressive monetary policy amid a continued improvement in year-on-year inflation, an increased risk of a recession feared to erode sales and profits of publicly traded companies, and the weakening of the US dollar versus the Euro, and other currencies.
In terms of magnitude, upsides in the gold price are likely to be significantly larger than downsides on average as analysts' 12-month estimates for gold prices are expected to be bullish.
How Dundee Precious Metals Operations Currently Perform
2022 was not easy for Dundee Precious Metals Inc. as inflationary pressures weighed on the cost structure.
Fortunately for Dundee Precious Metals, headwinds will ease over the course of 2023 as inflation slows down towards the 2% target thanks to the Fed's hiking interest rate policy. Analysts assume that the target will be reached in early 2024. This means that costs should improve in 2023 as fuel and other inputs can then be sourced on better terms.
The increase in prices for raw materials and other inputs may have influenced some decisions on the implementation of mining technology and exploration activities with consequences for the volumes of gold and copper produced.
The need to also mine in lower gold grade zones of the Ada Tepe mineral deposit, which entails higher mining costs than Chelopech where the gold grade is instead higher, has resulted in Dundee Precious Metals Inc. rightly revising mining plans as follows.
Lower production from Ada Tepe, which fell 29.3% year over year to 93,993 ounces in 2022, and increased Chelopech, which rose 1.2% to 179,096 ounces.
Total gold production fell 12% year over year to 273,089 ounces.
Total copper production (Chelopech) fell 11.2% to 30.8 million in 2022 versus 34.7 million tons in the same period of 2020, slightly missing the lower limit of the copper guidance range of 32 million to 37 million pounds.
However, the mines have performed well in 2022 as the gold production of Dundee Precious Metals Inc. in 2022 (80% of total revenue) crossed the midpoint of 250,000 to 290,000 ounces of gold, consistent with revised plans per mine.
In terms of cost measures, with the complicity of a stronger US dollar and a likely lower depreciation of Ada Tepe's asset value, the company has mitigated the negative impact due to the increase in electricity and direct material prices in Bulgaria by revising its production plans in Bulgaria.
Cost containment measures were also effective at the Tsumeb copper concentrate processing facility in Namibia. The company was able to partially offset lower volumes of complex concentrate smelted and recover some costs related to the implementation of optimization initiatives.
The company has yet to release full-year 2022 cost figures, but based on the first three quarters of 2022, a very similar performance could be expected for the full year as well.
Cost of sales increased 7.8% year-over-year to $283.5 million and the all-in-sustaining cost per ounce of gold sold [AISC/oz] increased 35% to $839, but excluding cost measures, the impact would likely have been greater. While the cash cost declined by 4.5% to $470 per tonne of complex concentrate smelted in the first nine months of 2022.
Although Tsumeb operations declined 8.2% year-on-year due to the implementation of initiatives to improve the efficiency of the asset, the Namibia copper concentrate plant achieved a good production level with a throughput of 174,100 tonnes of complex concentrate smelted compared to other past periods.
Relevant Financial Data from the First 9 Months of 2022
Revenue for the first nine months of 2022 was $416.9 million, down 12.2% year-on-year due to lower volumes of metal sold, partially offset by higher realized sales prices.
On an adjusted basis, net income for the first nine months of 2022 was $95.6 million, or $0.50 per share, down 36.5% from $150.6 million, or a decline of 39% from $0.82 per share in the first nine months of 2021. The decrease was primarily due to the impact of lower metal volumes sold, which were not fully offset by a stronger US dollar, and higher realizations for the sale of metals.
Adjusted EBITDA for the first nine months of 2022 was $194.5 million, or 23% lower year-over-year, reflecting roughly the same factors affecting the adjusted net income. EBITDA margin decreased 648 basis points to 46.7% of total revenue in the first nine months of 2022 versus 53.2% of total revenue in the first nine months of 2021.
On a trailing 12-month basis, Dundee Precious Metals Inc.'s EBITDA margin is 42.83%, while the industry median is 20.47%.
The EBITDA margin is highly prized by investors because, better than any other metric, it is a good measure of the profitability of companies engaged in capital-intensive industries such as metals mining and exploration activities.
Dundee Precious Metals' high EBITDA margin implies that the catalyst of higher metal prices and/or production will drive its business much more than most of its peers, and this could result in strong upside potential for its share price.
The Catalysts of a Higher Metal Price and Higher Production
Gold Futures due February 2023 (GCG2023) were trading at $1,927.05 per ounce, while Copper Futures – March 23 (HGH2023) were trading at $4.24 per pound at the time of writing.
Gold, which is hovering near its nine-month high, is likely to continue higher as further improvement in inflation will prompt the FED to cushion its hawkish stance on interest rates. Lower interest rates mean a lower opportunity cost to holding zero-yield gold bullion instead of bonds and other fixed-income securities.
In addition, 12 months of very aggressive rate hikes for the federal funds imply recession fears, the impact of which mainly weighs on the value of publicly traded stocks, while gold offers wealth protection.
Analysts predict gold will rise to $1944.10/oz. before the end of the current quarter and that it will increase to $2017.26/oz. before the end of 2023.
Turning to copper prices, as China's growth is expected to accelerate sharply now that the world's second-largest economy has lifted its zero-tolerance policy towards COVID-19, demand for copper for industrial use is expected to pick up very strongly in the coming months. This demand factor will contend with struggling global copper production, particularly due to severe civil unrest in the world's second-largest producer, Peru, so red metal prices should benefit from the resulting strong tailwind.
Analysts predict copper will hover at $4.12 per pound before the end of the current quarter and that it will hover at $3.84 per pound before the end of 2023.
Although these copper price estimates are below the current market price, they should still be an excellent contributor to Dundee Precious Metals Inc.'s profit margin, as these are high prices compared to the 5-year average as shown in the Trading Economics chart below.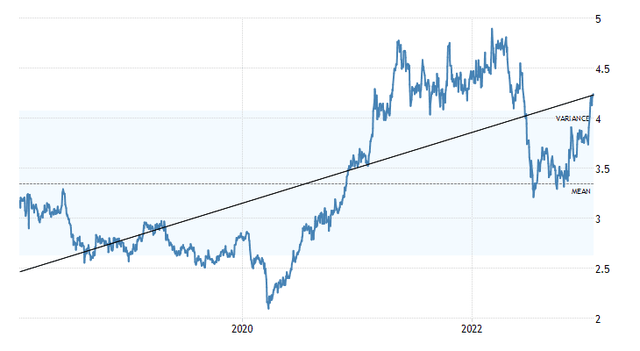 About production and costs, Dundee Precious Metals will provide detailed and updated 2023 guidance on Feb. 16, 2023, along with full-year 2022 financial results.
Based on previous projections, the company should produce between 265,000 and 310,000 ounces of gold in 2023 (vs. 273,089 ozs. in 2022) and between 32 million and 39 million pounds of copper in 2023 (vs. 30.8 million pounds in 2022).
Total AISC should be in the range of $590 to $700 per ounce of gold sold in 2023, and the company says the item could rise by as much as 25% taking into account macroeconomic and market factors. However, if inflationary pressures subside, the Canadian miner should face a lower AISC/oz. than the AISC for the first three-quarters of 2022 of $839/oz.
The Financial Condition
Dundee Precious Metals says its financial condition is strong as its $419.6 million cash position, complemented by a new $150 million revolving credit facility as of September 30, 2022, provides enhanced financial flexibility.
The balance sheet effectively looks strong as the Altman Z Score of 7.35 indicates financially sound areas that are not at risk of bankruptcy, while the Interest Coverage Ratio of 14.17 means the company can easily meet the payment obligations as they come due.
The balance sheet will be used to fund the development of the Loma Larga project in Ecuador. This is a copper-gold-silver-pyrite underground project that should guarantee at least 12 years of production with proven and probable reserves of 2.56 million gold equivalent ounces at a metal grade of 5.72 grams of metal per tonne.
The company will release a revised Loma Larga Project Feasibility Study this quarter to provide shareholders with further details of the project and an estimate of start-up, among other things.
The company will continue to fund exploration activities in Serbia where initial results from the 30,000-meter drill program at the Čoka Rakita mineral target will be released this month.
The company is buying back its own stock and paying a quarterly dividend to its shareholders, returning $36.5 million in the first three quarters of 2022. On January 16, 2023, Dundee Precious Metals paid $0.04 per common share resulting in a forward dividend yield of 2.48% as of this writing.
The Stock Valuation
Dundee Precious Metals Inc. shares have traded at $6.44 per unit, giving the company a market capitalization of $1.24 billion at the time of writing.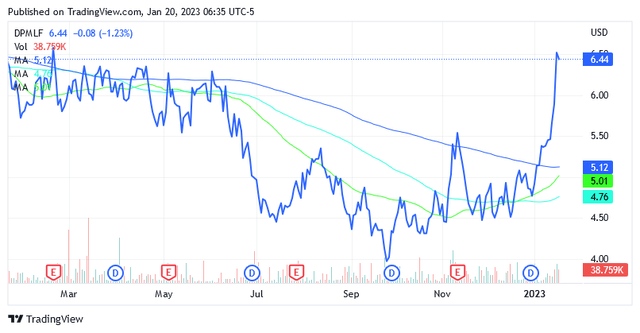 The shares are not trading low and are probably not cheap as they have grown quite strongly over the last 3 months and are now trading well above the 200, 100 and 50-day simple moving average lines.
Shares are also close to the upper limit of the 52-week range of $3.95 to $6.88.
As such, this may not be the best time to add to the position, although there are strong catalysts in metal prices and production, and expectations of lower costs.
Instead, shareholders should simply hold on to the shares to continue benefiting from the rise.
There could be a downside, and it could come from the next Fed meeting, which will be on January 31-February 1, 2023.
The consensus is a rate hike of not more than 25 basis points, but it is not certain that this will be the case. Even more than industrial production and retail sales, the central bank would like a drop in employment and, more importantly, a slowdown in labor demand, as these are seen as strong predictors of the negative business cycle that would deal the final blow to inflation.
As the system continues to create jobs (223,000 jobs in December 2022 versus market expectations of 200,000), the Fed may raise rates by more than 25 basis points.
Surprisingly, if that's the case, this decision will sound like driving gold prices lower and weighing on Dundee Precious Metals Inc. stock price, which could create a more convenient entry point for buyers.
So there is a moderate risk of downside for the stock price, although it may take some time for the conditions to take effect after the next Fed meeting.
However, if the Fed hikes rates by 25 basis points as the market expects, potential buyers will have to wait for the recession data (GDP growth estimates for US, EU, and Japan). If this is of small magnitude and duration, as some economists believe, then Dundee Precious Metals Inc. stock could also lose its luster as gold falls as a safe-haven asset.
Dundee Precious Metals Inc also trades on the Toronto stock market under the DPM:CA symbol with shares that traded at CA$8.90 per piece as of this writing. The stock had a market cap of CA$1.50 billion and a 52-week range of CA$5.41 to CA$8.97. The forward dividend yield was 2.71%.
Conclusion
Thanks to the presence of valid catalysts, Dundee Precious Metals shares should follow the bullish trend in gold prices. This stock is not cheap at the moment and going beyond a Hold position is not wise.
There is a risk that the conditions for a significant reduction, which would legitimize a purchase, could materialize next month. Of course, traders will try to anticipate the drop as much as possible and take some profits.
Editor's Note: This article discusses one or more securities that do not trade on a major U.S. exchange. Please be aware of the risks associated with these stocks.