Beleaguered quick-commerce company Dunzo saw its loss widen well over three-fold to Rs 1,801.8 crore in FY23, even as revenue from operations grew over four times to hit Rs 226.6 crore.
The Reliance Retail-backed firm, which has sharply shrunk its operations and laid off hundreds of employees over the course of this year, saw its total expenses jump to Rs 2,054.4 crore in FY23, against the Rs 531.7 crore in FY22. Dunzo had reported a Rs 464 crore loss last year, on operating revenue of Rs 54.3 crore.
Employee benefit expenses soared to Rs 338 crore in FY23, from Rs 138.3 crore a year earlier. Advertising expenses grew to Rs 309.7 crore from Rs 64.4 crore a year earlier, as the firm ran an advertising campaign during the Indian Premier League last year.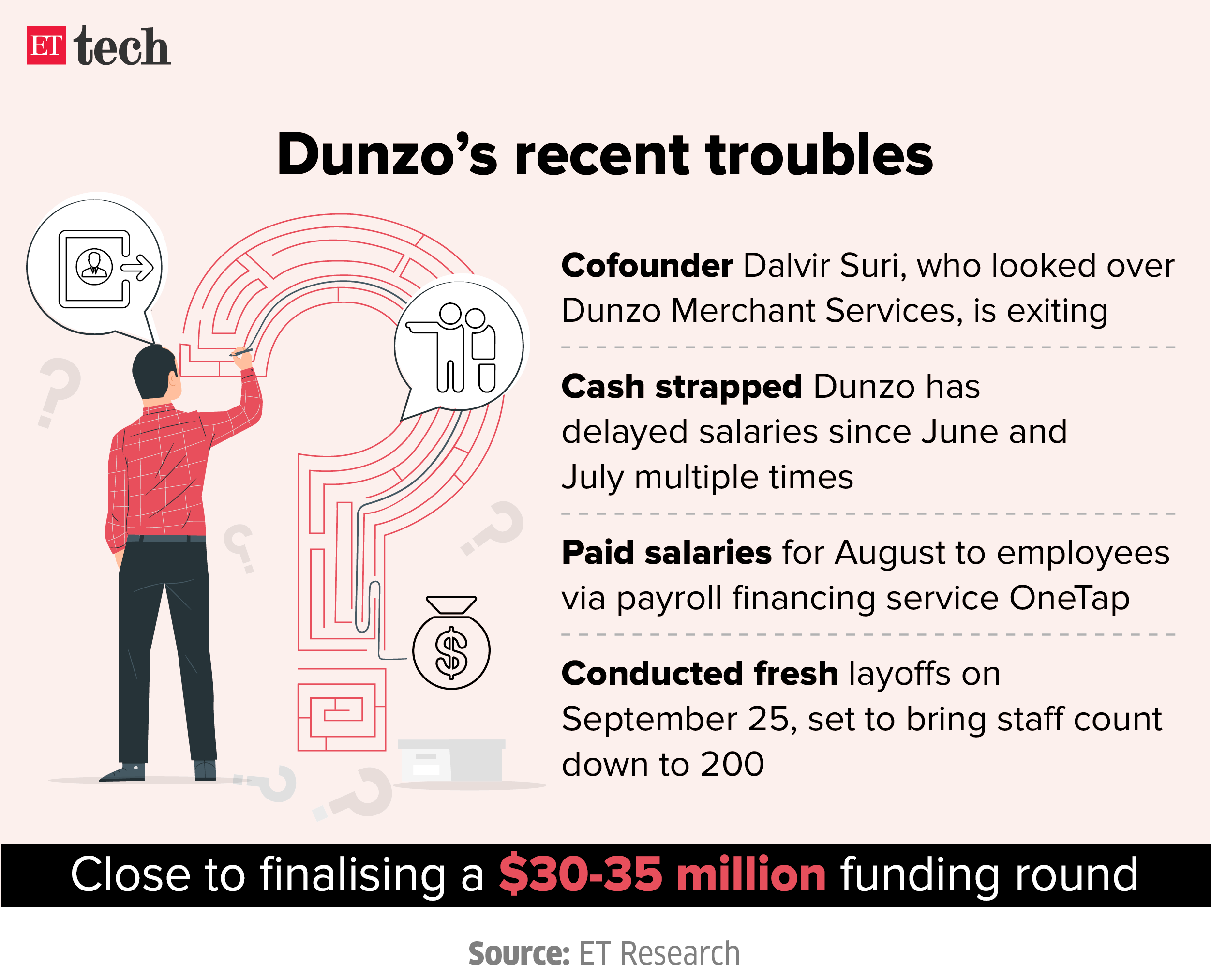 Over the past few months, investors have been closely monitoring the cash flow at Dunzo as the firm fell afoul of some debt terms and withheld salaries for multiple months, even engaging a payroll financing app to pay salaries for August. Parts of employee salaries from June and July have now been deferred till February next year, ET had earlier reported.
In the interim, five members exited the company's board, including cofounders Dalvir Suri and Mukund Jha, as well as representatives of investors Reliance Retail and Lightrock. Suri and Jha have also fully exited the startup.
The Bengaluru-headquartered firm has also let go of hundreds of employees and its team size has shrunk to about 200 from over 1,000 at the beginning of the year. ET reported on October 4 that it is negotiating a lifeline of up to $35 million from existing investors, with some investors suggesting that the firm's valuation should be slashed to about $200 million—one fourth of its peak value of $800 million.
Dunzo also shrunk its operations to just a handful of dark stores in Bengaluru, where its headquarters are located, and is working with partner stores elsewhere. The new funding will likely come with the rider that the firm almost entirely focuses on its B2B business, called Dunzo Merchant Services, which offers last-mile delivery services to clients and has much healthier margins than the B2C operation.