Falcon Oil & Gas has announced the spudding of the Amungee 2H development well ('A2H') with the Silver City Rig 40 on 10 November 2022 on EP 98 in the Beetaloo Sub-Basin, Northern Territory, Australia with Falcon Oil & Gas Australia's joint venture partner, Origin Energy B2 Pty Ltd.
Tamboran B1 is a 50:50 joint venture partnership between Daly Waters Energy, LP and Tamboran Resources Limited, with Tamboran appointed as operator across the exploration permits.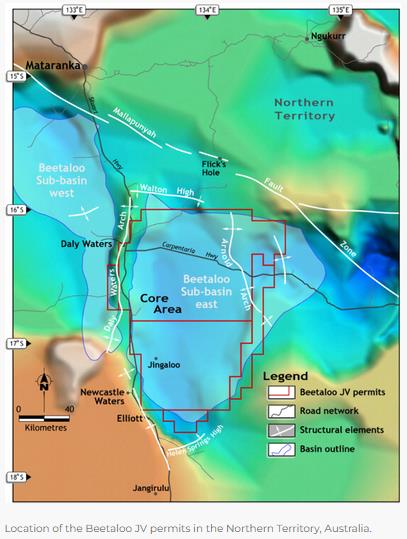 Tamboran will drill the vertical and build section to a depth of approx. 2,450 metres, followed by the drilling of a 1,000 metre horizontal section within the primary target of the Amungee Member B Shale (formerly known as the Middle Velkerri B-shale).
Following drilling, the A2H well is expected to commence a hydraulic fracture stimulation programme with a US style unconventional shale design. The well is designed with 5-½ inch casing to allow for effective placement of proppant into the formation, optimizing completion efficiency.
This is the first of two horizontal wells in the Stage 3 programme to be drilled during this current drilling campaign. The precise location of the second horizontal well, also targeting the Amungee Member B shale is currently being evaluated, and an update will be provided in due course.
Philip O ' Quigley , Falcon's CEO , commented:
'The spudding of the A2H development well is an exciting first step for the planned two horizontal wells of the Stage 3 work programme with our new JV partner, Tamboran B1. This follows a successful production log test in September last year at Amungee NW-1H which suggested normalised gas flow rate equivalent to around 5,000 Mscf/d per 1,000 metres of horizontal section. Obtaining production rates over the first 30 days between 2,000-3,000 Mscf/d on the Stage 3 wells will support the JV moving to a multi-well pilot development program in 2023/2024. Falcon remains fully carried for the drilling and fracture stimulation of the A2H well.'
Original article link
Source: Falcon Oil & Gas