Online sellers, major brands and ecommerce platforms are gearing up for robust sales through the festive season, as the online shopping ecosystem shakes off a relatively muted first half of the year, industry executives said.
Sales in terms of gross merchandise value are likely to be between $9.7 billion and $11 billion this festive season, rising roughly 15-16% from a year earlier, according to data from market research company Datum Intelligence and consulting and research firm 1Lattice.
Gross merchandise value is the total value of goods sold via ecommerce platforms, calculated prior to the deduction of any fees or expenses.
For marketplaces like Flipkart and Amazon India, the festive season lasts for about a month, typically starting in the second week of October.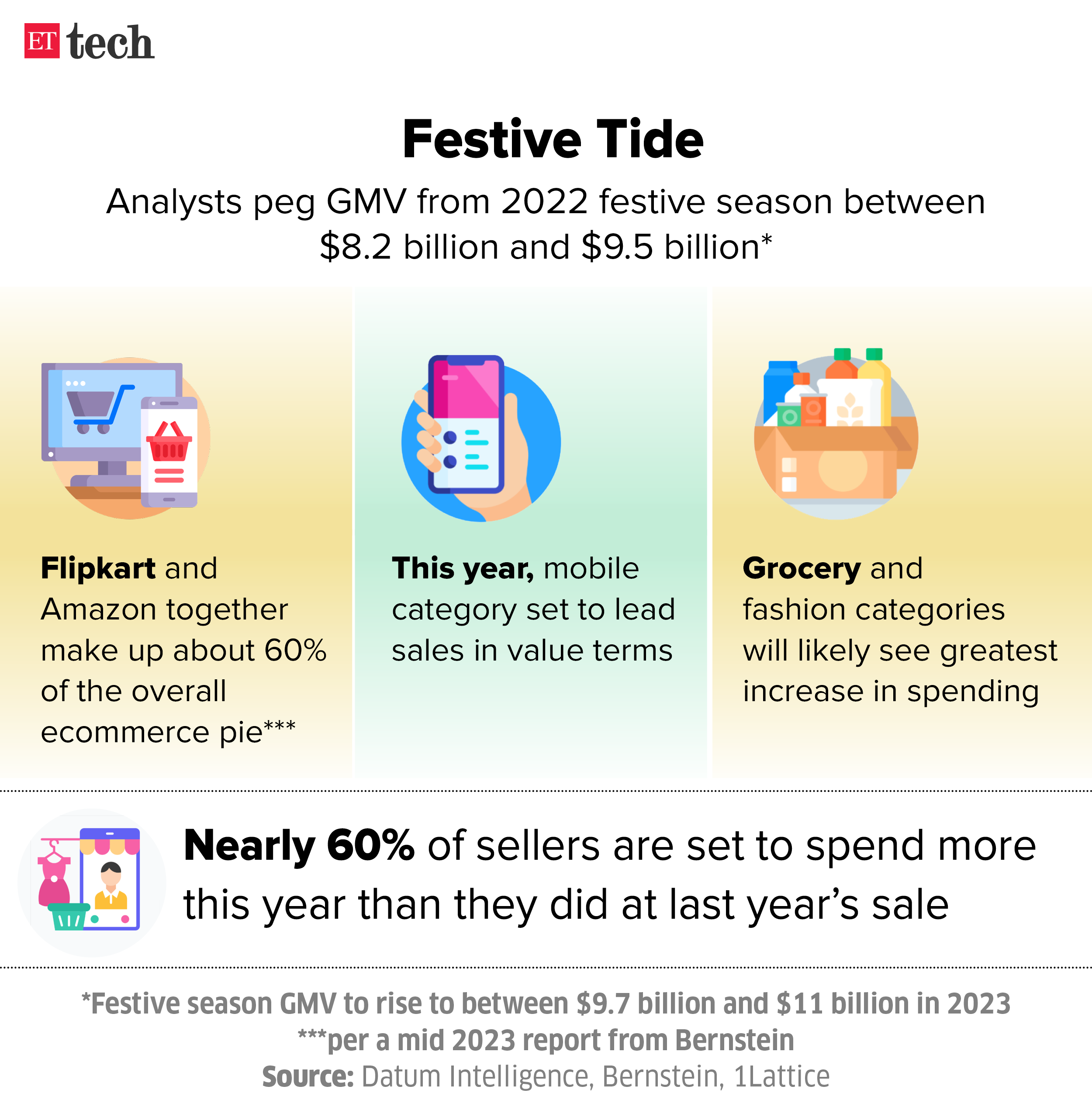 Expanding Customer Base
Ecommerce platforms make a significant chunk of their yearly gross sales in this period, with some categories like large appliances generating as much as a third of their annual income from festive sales.
On Thursday, Amazon said it is advancing the start of its headline festive sales, called the Great Indian Festival, to October 8 from the previously announced October 10. The announcement came a few hours after rival Flipkart said its main festive sales, Big Billion Days, will start on October 8.
Other platforms, such as SoftBank-backed Meesho and Flipkart-owned Myntra, also announced their own festive season sales. Meesho said its 'Mega Blockbuster Sale' will kick off on October 6. Myntra did not give a timeline for its 'Big Fashion Festival', but it would be around the same time as Big Billion Days.
Premium in focus

Online sellers and large brands told ET that trends such as premiumisation and increased buying from "new" categories of customers, like those in tier-2 and -3 towns, and younger audiences, would be important.
A large number of young people in their late-teens are entering the ecommerce buyer base, said Nandita Sinha, chief executive of Myntra. "We are expecting benefits on both ends of the spectrum (through premiumisation and the entry of tier-2 and -3 users)," she added.
Gaurav Khatri, cofounder and chief executive at wearables and hearables maker Noise, agreed, saying that the firm's share of revenue from metro and tier-1 cities had gone down to 40% from 60% earlier, with the other 60% coming from tier-2 towns and beyond.
"I feel like the last festive season was much more important to us in terms of penetration, and we had a large number of first-time buyers. We will see a lot of first-time buyers this year too, but we will see a larger number of consumers upgrade to premium devices," Khatri added.
Noise, which competes against brands like Boat and Boult Audio, sees roughly a third of its business come in the months of September, October and November, driven by festive season sales, Khatri said. This year a lot of those sales will be in relatively premium products costing about Rs 3,500, he predicted.
Premiumisation will also happen in categories like apparel and home development, analysts, executives, and sellers said. "We're expecting high contributions from higher-margin categories such as beauty & personal care, home & general merchandise, and fashion … we may generally see a higher average ticket size (selling price) as there will be more demand for premium products," said Abhishek Maiti, director at 1Lattice.
"In the past few years, we would often see enterprising offline sellers in small towns buying products on ecommerce platforms and then selling them at a markup when ecommerce platforms did not focus on those geographies… Now, we see both ecommerce platforms and brands realise the demand that exists in these towns, and are taking steps to strengthen the supply chain there," said Satish Meena, an independent ecommerce analyst and advisor to Datum Intelligence.
Sellers gear up

Like every year, all major platforms have been engaging with sellers ahead of the festive season. Flipkart conducted a number of seller conclaves in August where mid-sized sellers were promised with support around warehousing and logistics, sellers told ET. Amazon announced a service called Multi-Channel Fulfillment in September, for sellers to use Amazon's supply chain facilities to service orders that came from websites other than Amazon's.
Meanwhile, sellers like Etrade Online and Clicktech Retail, which now move a chunk of online orders on Amazon after Cloudtail was shut as a seller, have improved operational issues they had faced last year, said a seller based in New Delhi, declining to be named. "Last year there were a lot of issues around invoicing and even the division of categories between the new aggregators, but that seems to have been resolved this year," he added.
Amazon had announced in October last year that it would also phase out Appario Retail — another large seller where the etailer holds a stake — from its India marketplaces.
Multiple sellers who spoke to ET said they had finished preparations for the festive sales by the last week of September itself, anticipating a lot of changes in the dates by ecommerce platforms. Over the past few years, it has been common for platforms to change sale dates last minute, trying to outsmart each other.