NEW DELHI: Walmart's Flipkart and Amazon are competing to get a larger share of the Gen Z wallet. The launch of Amazon's next gen store for the cohort in April has been answered by Flipkart through Spoyl, an app-in-app fashion platform for Gen Z shoppers.
There's much to be done to keep getting these young, often temperamental consumers to transact on the platforms, refreshing the look of the app on a daily basis, churning out quick designs to cash in on the latest trends. A good part of this requires investments in technology and with deep-pockets. And, Flipkart and Amazon are doubling down on this Gen Z segment.
"Gen Z shoppers already make up over 25% of Flipkart fashion's customer base today. Some 10-15 years from now, we want to be more relevant than what we are today and Spoyl is a step in that direction. Gen Z is making a very big role in making decisions for the entire household as well," Sandeep Karwa, vice-president at Flipkart Fashion told TOI.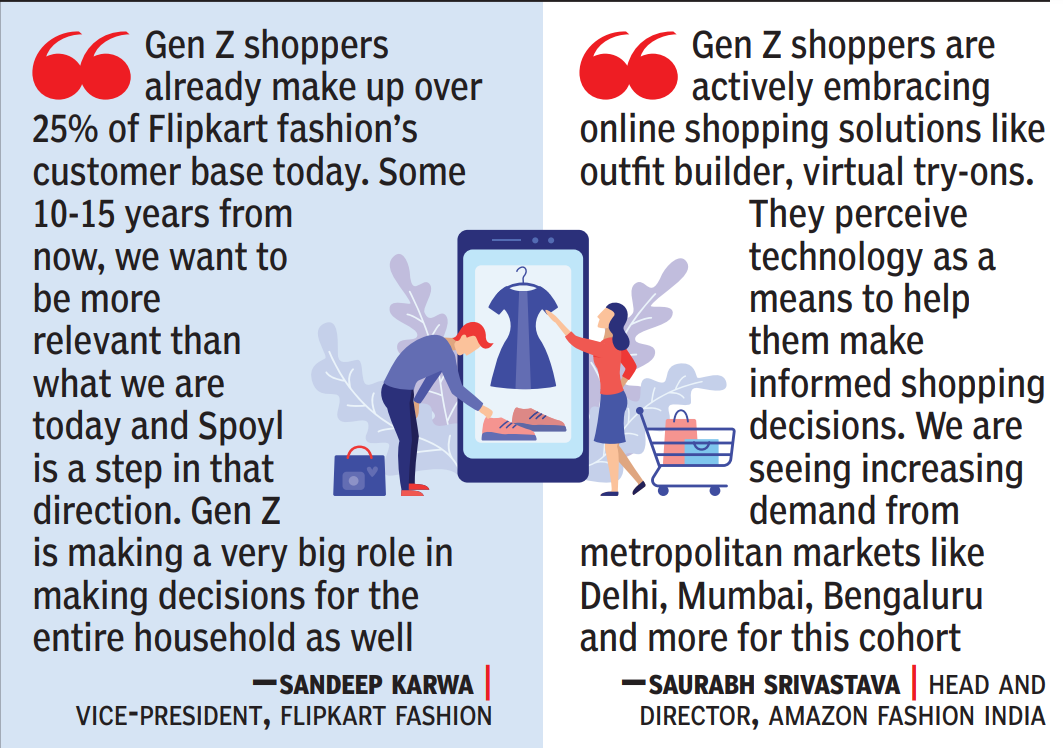 Saurabh Srivastava, head and director at Amazon Fashion India, says the future of shopping will be influenced by Gen Z. In fact, the e-commerce firm is using artificial intelligence (AI) and machine learning (ML) to personalise shopping experiences for users on the next gen store and power other features like virtual try-ons, things that the Gen Z prefer. Likewise, Flipkart relies on AI and ML for trend spotting.
"Gen Z shoppers are actively embracing online shopping solutions like outfit builder, virtual try-ons. They perceive technology as a means to help them make informed shopping decisions. We are seeing increasing demand from metropolitan markets like Delhi, Mumbai, Bengaluru and more for this cohort," said Srivastava.
Not just metros, the Gen Z opportunity is pan-India, said Flipkart's Karwa, adding, the factors shaping up their purchasing habits are uniform across metros and small towns.
Although Spoyl was launched with fashion offerings, more categories are expected to be added in the next two quarters. The firm is mulling selling items like skateboards, helmets, among others. Given the sheer market size of fashion, starting off with the segment was a no-brainer.
"Fashion space within Flipkart is the whole engine of customer acquisition. Customers usually try their first e-commerce order via fashion," said Karwa.
Flipkart has tapped into its existing ecosystem of sellers to build Spoyl offerings. The firm doesn't plan to launch private labels as of now probably, given the heightened regulatory scrutiny. The online fashion market is estimated to grow at a 25% CAGR to touch $35 billion by FY28, a recent report by Bain & Company said.