Initially, I was a little disappointed that it wasn't as peppy as the Maruti Swift but later realised that the difference is almost negligible.
BHPian TejasV recently shared this with other enthusiasts.
I would like to explain a little about the series of thoughts and events that lead me to choose this car (around the last week of February 2020) over everything else.
I live in Hyderabad and as the traffic here is terrible, recently moved to a place that is right next to my office. I had a Thar which I sold after enjoying the freedom it gave (going off-road literally, there is a nice, small community of offroaders here in Hyderabad and it took away most of my weekends) and also the headaches – the oil always leaked, was a rust magnet, not too easy on the left leg and the coolant was always running out.
Thoroughly loved the experience though, have nothing against the vehicle, you get what you see – just that I had a single car park at home and it was time to move on.
Lived for a while without a car, was not bad actually, saved a bit but the independence that a car gives is something I needed now. Ola & Uber especially where I live are super expensive and in high demand – as it's the hub of IT/ITES and you almost always end up paying 2 or 3X the fare if you're lucky to get a cab in peak hours.
So it was decided that I would pick up a petrol car (I would mostly not be doing more than 1500 kms a month), and my mind swayed from everything from second-hand automatics like the Jazz, City and Octavia to new ones like the Venue, City, Creta, Rapid, Nexon, Altroz and Amaze.
But better sense prevailed or I think so now, and I decided after driving all the above-mentioned cars that what I needed was just a reliable, compact automatic. The cost saving was also on my mind as my EMI would've doubled for any of the above-mentioned choices.
Here's what made me not choose any of these:
Venue – Felt only as spacious as the i10 on the inside, you sit higher and the engine is better but the cost difference was not justified and delivery times were longer.
Rapid – Actually did not feel as if the 1.6 NA engine was underpowered. Was impressed with what the Rapid Rider offered for 8.6 lacs on-road. It was out of stock and the diesel for a lac and a half more did not make sense.
Nexon – Mighty impressed with the car. The automatic top end was expensive for me but still worth it. Just got scared of the service and the fit and finish on the inside wasn't great. Still would suggest this to anybody. It's like one of those things that you recommend but wouldn't buy personally. Guilty as charged because there was no real reason to not choose this car except for a perceived fear of niggles/service issues. Also, the sales staff had zero knowledge about service intervals or anything really about the car which wasn't confidence-inspiring. If there was a good, proactive salesperson who would've pushed me a little – I would've picked the Nexon XZA AMT for sure.
Amaze – Really liked the auto box and how the car drove. But the fit and finish were unbelievable, the Baleno felt better put together on the inside. There were noises from the dash, the suspension was noisy, there were panel gaps on the inside and outside on a 200km driven unregistered test drive car and when I drove a friend's Amaze with a couple of thousand on the odo – the same set of issues were still there. Was thoroughly disappointed at Honda's very very visible cost-cutting measures.
If you may be thinking of other sub4s I could look at, I did. The Hyundai Aura, I felt that it looked horrendous from most angles and Dzire somehow felt like a taxi to me, would choose the Swift over this any day.
Altroz – Loved the way the car looked from the outside. But when I sat in it, I could see blind spots all around, and the fit and finish were just okay. Nexon felt better built but the engine was the main let-down and the fact that I could get an automatic from another better-built brand at the same cost made me not choose this car.
Though I test drove them multiple times, the Creta was the older gen model and at a significantly higher cost than the rest and City was out of stock so did not bother pursuing them as I was inclined towards a smaller car by now.
Now that I decided that it was going to be a compact city car – the choices for me personally were limited to the Swift Zxi AMT and the i10 Nios Sportz AMT (chose the Asta later as I got a good deal, or so the sales rep made me feel).
Btw, a lot of the cars I mentioned were not in stock due to BS4 to 6 transition – for eg: Jazz, Rapid, City and a few versions of Creta were out of stock.
The decision that TBHP helped me with: Swift vs Nios
Thanks to TBHP, my thread about deciding between these two was discussed and explained here.
The gist of the above thread is – both are very similarly specced, priced and come down to a personal choice I guess.
Nios for me was better than Swift because:
Much better build quality – inside out
AMT shifted better, engine was super silent (not as zippy as the Swift though)
Newer model, better looker, not too common on the roads yet
Spacious at the back too (Swift was crammed even though their wheelbases are literally the same)
Cheaper by 60k+ (not that my decision hinged on this but the sales rep gave me a 30k discount on the Asta which made it 8.75 on road, which Swift did not have a discount and costed 9.4ish, the Maruti guy when I bargained said, "this is a Maruti". Do not know what that meant but walked away as Nios felt better on most of the parameters).
I was looking for dealers who had the car readily available and Lakshmi Hyundai at Himayat Nagar had the car in stock. I was not really fixated on the colour and was okay with anything as long as it isn't white or one of those flashy blues and reds.
I chose the Aqua Teal colour as that was the car on display and it looked very good. I did consider silver too – looking back, that would've been better to maintain as I am having trouble already with this shade as it's pretty hard to maintain. May get ceramic coating or some sort of paint protection done after the corona lock-down ends.
The delivery experience
I paid an advance of Rs.10,000 on the 8th of March 2020 and after the bank transfers and all were done – took delivery on the 11th. I only had one request – to not stick the showroom sticker on the car's body – told them it was okay if it's on the rear glass but nope – they will not listen to you once the payment's been made.
The second thing that pissed me a bit was they told me I'd get Teflon coating and lied that it comes Teflon coated from the factory itself! It was easy to know by touching the car's body if there's Teflon or some polish at least applied on it or not. The sales rep later agreed and said he would get it done during the first service.
The delivery was pretty neutral and smooth. I shall share some pictures I took with my mobile phone, pardon the quality.
Just before the mandatory puja at the temple. What I liked about this colour is how it looks like a different shade based on the lighting it's under. It's got a dark greenish tinge in the mornings, almost blueish black shade in the evenings and looks like a shade of black at night.
I think the car looks nice from this angle. It is quite long actually or so it appears to be from this angle.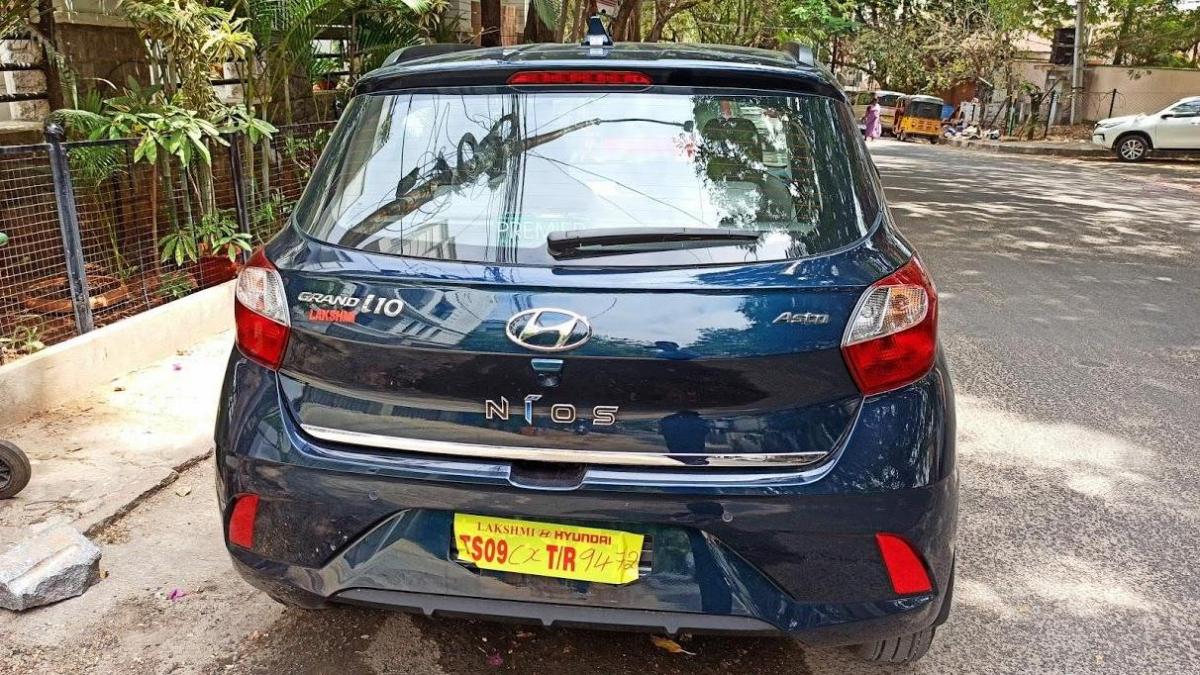 I think the boot has become too cluttered with so many badges and the silver garnish at the bottom. Would have looked better without all of it and just the car name on the top left.
Comes with the standard Hyundai key fob that is nice to hold and oozes quality, and also makes a hell lot of noise. The car honks twice to unlock and once to lock. Hate it, have to get it removed if possible. And the horn itself is pretty loud and sounds quite like the VW horn.
It has a clear and visible instrument cluster- which somehow reminds me of a bike's (pulsar?).
Mileage
The fuel gauge is showing about 12.9 kmpl and when checked in the full tank-to-full tank method is giving about a kilometre less i.e around 11.9-12 kmpl when I checked around the 700 kms mark.
The steering in this version (Asta gets a snug-leather wrapped one) is nice to hold. The steering is the same as Venue with audio/Bluetooth controls (on the left) minus the cruise controls which honestly is an eye sore – with the right half of Nios steering being empty reminding us of cost-cutting (international versions of the Nios get cruise here just like on the Venue and at 9 lacs a piece I think it would have been a good addition).
Air Conditioning
The AC is a single-zone automatic climate control unit and is pretty good. In fact, I have an unusual complaint. Maybe it is because of the rear AC vents, the blower at 1 is also too strong and hits you in the face. Wish it was a little lighter and it only gets worse if the rear vents are closed. The button feels great.
Infotainment
The screen is a great 8-inch unit. It's fast and the fact that there are buttons/shortcuts on the side makes it easier to use while driving. The car comes with Apple Carplay/Android Auto and sounds pretty decent. Not the best, not close to Tata's units but it's not bad either – you will not really complain about the sound quality.
The rear camera shows up on the screen but the markers take a while to pop up, there is a 2-3 second lag, could be a software bug but still no issues as such with the rear cam. The sensors though are an issue – Hyundai did cut costs and put only two sensors at the back (seen 3-4 usually on small cars too) and I realized that they do miss out on a few things that are on the sides of the car while reversing.
The driver-side door handle houses the door lock-unlock, window controls, ORVM controls and the quality is acceptable. Not the best – especially the ORVM open/close button but not like Maruti's either. Also, they skimped the auto ORVM folding with the car lock feature that is there in the Grand i10 too.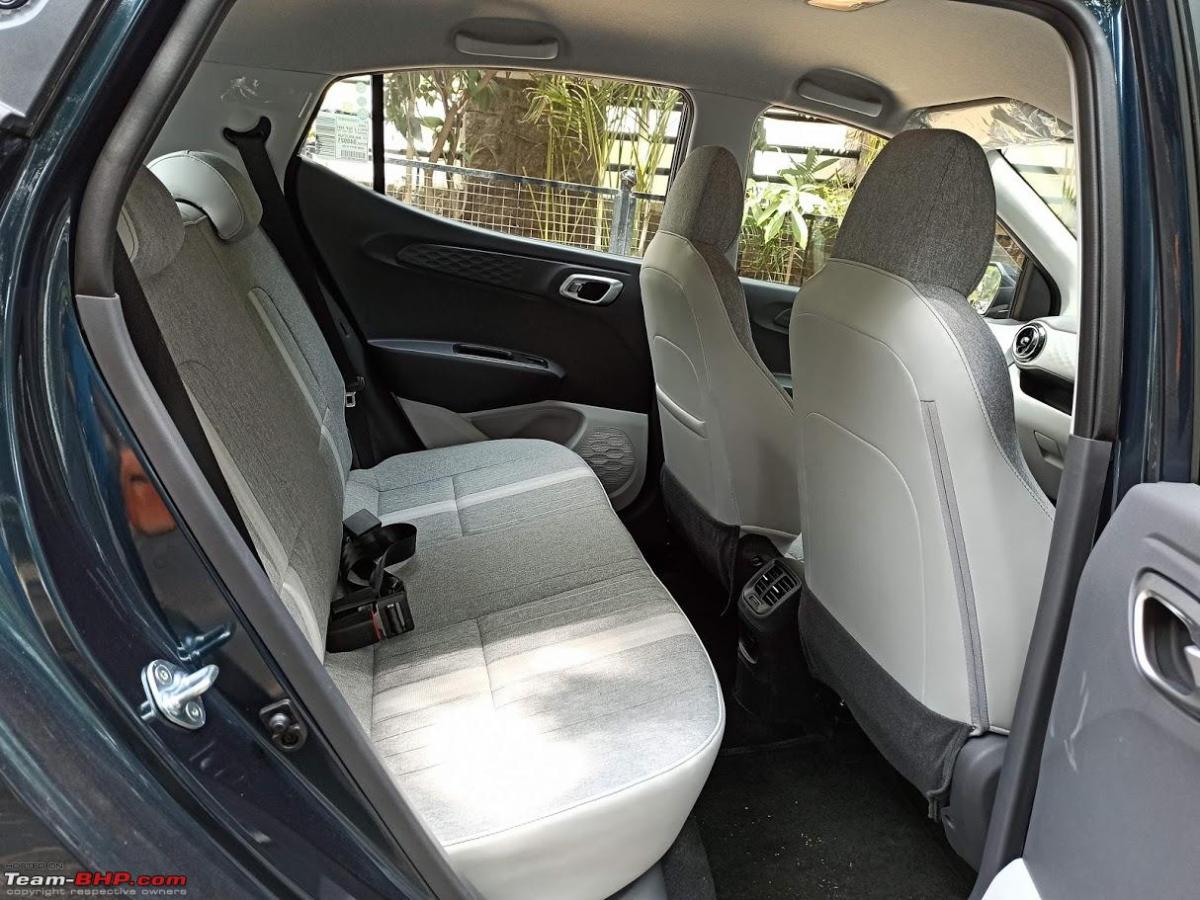 The doors open nice and wide, have space for one-litre water bottles. The seats at the back are comfy and spacious. They get a rear AC vent too. However, I am really not sure how I will be able to manage such high-maintenance dark exterior body colour and super light interiors.
These are the pictures I have as of now, will keep updating as and when I can. Apologies for not having the best or the most comprehensive of pictures but here's an overview of my month-long, 800km ownership.
How's it like to drive?
The car's great to drive, I was a little disappointed that it wasn't as peppy as the Swift when I drove them back-to-back but now I realized that the difference is almost negligible because this engine is super smooth. It tries hard but never shows. It's 70-80s at under 2500 rpm.
Did not drive it any faster as it's still running in, but the fact is this engine shifts quickly and more importantly much more smoothly than other AMTs I have seen. I was scared of the head nods but they rarely happen, that too from 1st gear to second, only if you've put your foot down hard on the accelerator.
2nd onwards, it is very smooth, but does take a while to upshift at times. It definitely isn't a slouch and is enjoyable to drive. But again, you cannot race in this car, you can have a comfortable drive and maybe overtake on highways without too much planning (which I thought may not be possible).
And after driving a friend's Grand i10 for a while, I realized this is better in every way, even mileage-wise. I was surprised to get about 12 kmpl (AC always ON) in the city from an AMT that's done barely a few hundred kms till now. I'm sure it'll be around 13+ after the first full service at 10,000 kms and I think it's good enough.
How's the suspension & steering feedback?
Unlike any other Hyundai I have driven before, this one actually gives you feedback! It is surprising but if I'd pick one thing other than convenience, it is this car's suspension and steering that got me really impressed.
Hyundai really tried and it shows. It isn't the best steering in the market but is pretty good and enjoyable. I realized it when I drove the Venue and the Nios made me confident that Hyundai is working on this aspect. Because the Creata and older Verna which I drove for a considerable time were not so great handlers.
Btw, the suspension is stiff and the fact that this Asta variant comes with 15-inch diamond cut alloys with low-profile MRF tyres doesn't help either – you will know and feel every bump on the road but it doesn't crash into them. I like it personally as the roads in this part of the city are pretty good.
Would I recommend it?
I can only say you can't go wrong with this car, that's all. Because I personally, a couple of months ago would be flabbergasted to spend 9 lacs on a small car, that too an AMT! But I've gone through the process of elimination and ended up with this option. I think it's a great car for the features it offers and the convenience it brings to the table.
Yes, it isn't cheap to buy, it's not a proper auto, but the upside to that is the fantastic fuel economy that I'm already seeing in stop-go traffic. This is my first automatic. I was (Still am?) a guy who swore by slick manuals, but this honestly isn't bad at all (considering the cities we are living and driving in). It isn't as much fun but my left hand and left leg haven't stopped thanking me enough for buying this.
The car is put together really well too. You can see that Hyundai hasn't skimped on features or quality – the doors are solid, the dash looks good and is well put together. The interiors are spacious, the boot isn't big but two small suitcases and two backpacks will fit in – for a short weekend getaway.
It really isn't a small buy, and if you ask me how different is choosing a Celerio over this for a few lacs lesser – I really don't have an answer in terms of pure functionality. But I didn't have an answer when a friend who came for the Venue test drive said how different is this from the Nios in terms of space, comfort and final utility? Maybe the boot and higher GC but that's it. So it really is a personal choice. I liked how it felt when I sat in the car, it checked all the boxes on my tiny checklist (reliable, modern, automatic city car) so I went ahead, knowing very well what it can do and more importantly, cannot do.
Check out BHPian comments for more insights and information.