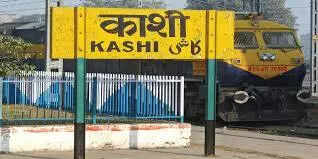 The yard can handle an average of 80-100 pairs of trains per day with zero-minute detention at outer as claimed by the NR.
Varanasi junctions, which handles trains coming from six routes, including Kashi, Varanasi City, Banaras, Lohta, Shivpur and a chord line connecting Lohta to Banaras, was waiting for the yard remodelling for years. But the project was postponed or delayed due to the ultra complex nature of the yard as well as the space crunch.
However, after meticulous planning by the office of senior divisional operational manager Krishan Kant Rora, the yard remodelling was completed in 45 days. The junction now has 11 full length platforms instead of three.
Divisional railway manager (DRM), Lucknow division, Manish Thapliyal said on Monday, "Varanasi yard remodelling was conceptualized years ago. Gradually plans were floated to complete the task in 120 days, then 70 days and finally in a well-coordinated effort it was completed in 45 days."
"After the Varanasi yard remodelling, we managed to build 11 platforms of full length instead of only three," said Rora.