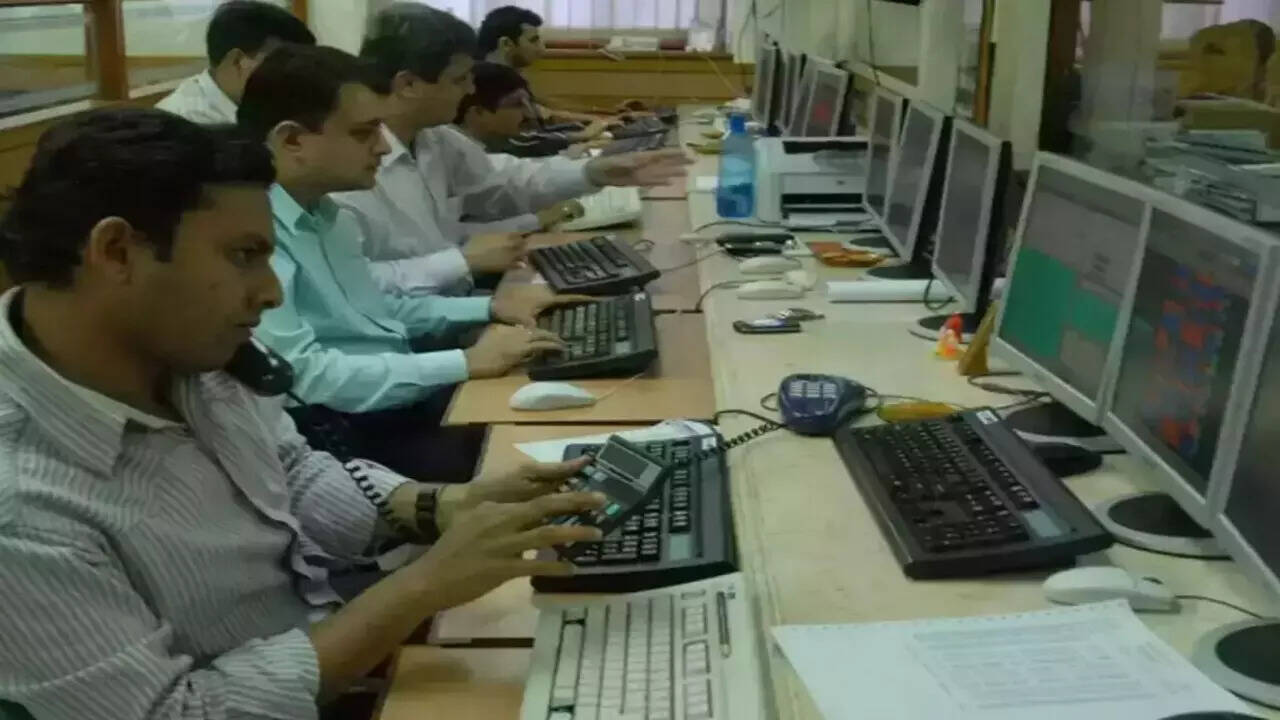 Stock Market Essentials For January 18: Last date to buy HCL Technologies to be eligible for dividend
Photo : BCCL
Global Cues
US retail sales, PPI, industrial production
Eurozone CPI
BoJ outlook report and rate decision
Federal Reserve releases Beige Book.
India Earnings
Nifty- IndusInd Bank
Others: Persistent systems, Oracle Financial, Rallis India, Majesco, CCL Products, Central Bank of India, Surya Roshni, Stylam Industries, PSP Projects
Corporate Action
Last date to buy HCL Technologies to be eligible for dividend
KDDL to consider buyback of equity shares
Other Events
10:30am: India federal cabinet is likely to meet
3:45pm: New Delhi. Minister for I&B & Sports Anurag Thakur to address FICCI event
3:30pm: New Delhi. G20 Sherpa Amitabh Kant to address CII National Conference on Millets: Ensuring Climate Adaptation, Nutrition and Food Security
6pm: New Delhi. Finance Minister Nirmala Sitharaman; Agriculture Minister
Narendra Singh Tomar
to address CII National Conference on Millets
CORPORATE EVENTS:
8:30am: ICICI Prudential LIC to hosts conference call on 3Q FY23 results
12noon. Ganesh Housing hosts conference call on 3Q FY23 earnings
3:30pm: Metro Brands hosts conference call on 3Q FY23 earnings
4pm: Aurum PropTech hosts conference call on 3Q FY23 results
4pm: Central Bank of India hosts conference call on 3Q FY23 results
4pm: PSP Projects hosts confernce call 3Q FY23 earnings
5:30pm: IndusInd Bank hosts conference call on 3Q FY23 earnings
Oil & Gas Updates
Brent Crude at $86/bbl Vs $84/bbl
Singapore GRM at $10.2/bbl Vs $9.5/bbl
Asia Spot Gas prices at $22.7/mmBtu Vs $20.2/mmBtu
FII/DII Data:
FIIs net sold Rs 211.06 cr worth shares on Jan 17 (prov)
DIIs net bought Rs 90.81 cr worth shares on Jan 17
FII F&O Cash Data:
Index futures net sell Rs 1488 cr
Index options net buy Rs 494 cr
Stock futures net buy Rs 848 cr
Stock options net buy Rs 183 cr
Total FII net buy Rs 3013 cr in F&O
F&O Ban:
Addition: Delta Corp, Manappuram Fin
GNFC & Indiabulls Hsg fin, L&T Housing Finance
Bulk/Block Deal
VMART
BSE: Amansa Holdings Private Limited bought 1.62 lakh shares at Rs 2800/sh
NSE: Amansa Holdings Private Limited Bought 1.65 Lakh Shares At Rs 2800/Sh
Bajaj Finserv
Madhur Securities Private Limited Bought 1.45 Lakh Shares At Rs 1380/Sh
Rahul securities pvt ltd bought 2.55 lakh shares at rs 1380/sh
Rishab Family Trust Sold 4 Lakh Shares At Rs 1380/Sh
Tata Metaliks
QoQ
Revenue Rs 790.23 Cr Vs Rs 876.98 Cr QoQ
PAT Rs 9.48 Cr Vs Rs 14.29 Cr QoQ
EBITDA Rs 38.74 Cr Vs Rs 40.92 Cr QoQ
EBITDA Margins 4.9% Vs 4.67% QoQ
Shalby
Consolidated Revenues of Rs. 207 cr vs 165 cr; up 25% YoY
Consolidated EBITDA of Rs. 38 cr vs 31 cr; up 22.5% YoY
Margins 18.3% vs 18.8% YoY
Consolidated Profit After Tax was Rs. 15.3 cr vs 12.9 cr; up 18.3% YoY
ICICI Lombard
Gross Premium Written 5599.7 cr vs 4786.07 cr; up 17% YoY
GDPI ₹ 5493 crin Q3 FY2023 VS ₹ 4699 cr in Q3 FY2022; up 16.9% YoY
PAT 353 cr vs 318 cr YoY; up 11%
Combined ratio was at to 104.4% in Q3 FY2023 vs 104.5% YoY
Solvency ratio was 2.45x as on 31 Dec vs 2.47x as at September 30, 2022
Eris Lifesciences
Cons Total Rev from ops 423 cr vs 332 cr YoY; up 27%
Cons PAT 100.2 cr vs 100.7 cr YoY; flat
Cons EBITDA 137 cr vs 122 cr YoY; up 12%
Cons Margins 32.4% vs 36.7% YoY; down 430 bps
+ Acquisition [FROM GLENMARK PHARMA]
Acquired part of the dermatology portfolio of Glenmark Pharmaceuticals Limited by way of acquisition of 9 trademarks along with their applicable line extensions
by Eris Oaknet Healthcare Private Limited, a wholly owned subsidiary of the listed entity
Consideration: 340 cr (CASH)
Objective: The Transaction helps augment and expand the business of EOHPL by way of expansion in product offerings
Gulshan Poly
Revenue from operations to ₹332 cr in Q3 FY23 from ₹293 cr; up 13.3% YoY
Revenue growth was led by healthy demand for products across all our segments.
EBITDA 35.2 cr vs 24.2 cr; up 31.4% YoY
EBIDTA declined owing to elevated commodity prices impacting raw material and power & fuel cost.
Margins 7.2% vs 12% YoY
However, on a sequential basis, margins remained stable from 7.3% in Q2 FY23 to 7.2% in Q3 FY23.
PAT 11.8 cr vs 19.1 cr; down 38%
Delta Corp
Net Revenue 273.37 Cr vs 247.22 cr YoY; up 11%
PAT 84.82 cr vs 70.38 cr YoY; up 20%
EBITDA 102.3 cr vs 107.2 cr YoY; down 5%
Margins 37.4% vs 43.4% YoY; down 600 bps
Hathway Cable
Rev at 478Cr vs 455Cr; down 5%
PAT at 28.8Cr vs 34Cr; down 15%
EBITDA 80.7 cr vs 101 cr; down 20%
Margins 16.8% vs 22.2%; down 640 bps
ICICI Prudential Life, YoY
Net Premium Earned 9780 cr vs 9344 cr
PAT at 221 cr vs 311 cr
Value of New Business for 9M-FY2023 was Rs 1710 cr, up 23.2% YoY
OPERATIONAL UPDATES- Q3FY23
Adani Transmission
Transmission Biz:
Operated transmission lines upwards of 99.75%
Added 371 ckms in Q3FY23 to operational network with total network at 18,795 ckms & operationalised 3500 MVA capacity with total capacity at 40,001 MVA
During the quarter Jam Khambhaliya Tansco (JKTL) & WRSS XXI (A) Transco lines were fully commissioned
Distirbution Utility Biz:
4% YoY growth – units sold 2,165 million units vs. 2,077 million units last year on account of uptick in energy demand
Maintained supply reliability (ASAI) of more than 99.9%
Distribution loss improving consistently and stands at 5.34% in Q3FY23 vs. 6.53% in Q3FY22
Landmark Cards
Total Revenue from Operations (Including Agency Sales) for 9M FY23 stood at 3384 cr; up 41.3% YoY
Vehical sales up 44% YoY for 9M period FY23
After sales service up 30% YoY for 9M period FY23
Co reported Strong revenue growth,
With multiple tailwinds in the form of rising income levels, new models launches by our partner OEM (Original Equipment Manufacturer)
and changing lifestyle preferences leaning towards a rise in premium/luxury automobile ownership
CORPORATE ANNOUNCEMENT
ITC
Company has signed a Binding Term Sheet on 16th January, 2023, to acquire 100% of the share capital (on a fully diluted basis) of Sproutlife Foods Private Limited, an Indian company primarily engaged in the business of manufacture and sale of food products under the trademark 'Yoga Bar'
RVNL
Rail Vikas Nigam Limited emerges as the Lowest Bidder (L1) for –
Surat Metro Rail Project Phase-I. (Cost Rs. 673.8 Crores)
Ahmedabad Metro Rail Project Phase-II (Cost Rs. 384.3 Crores.)
Eid Parry
New 120 KLPD distillery of the Company at its sugar unit at Sankili, Andhra Pradesh,
(which has the flexibility to operate with multiple feedstocks .i.e., molasses/cane juice & syrup/grain based)
has commenced commercial operations with effect from today, i.e. 1th January, 2023.
LIC
LIC's shareholding in Coforge has increased from 4.976% to 5.033% of the paidup capital of the said Company.
Via: Open Market Purchase
REC
After receipt of consideration comprising of professional fees of Bid Process Coordination, interest cost and reimbursement of expenditure incurred on the project
by REC Power Development & Consultancy Limited (RECPDCL), wholly owned subsidiary of REC,
the entire shareholding of WRSR Power Transmission Limited, presently held by RECPDCL,
has been transferred at par value along with all its assets and liabilities on January 17, 2023
to MI s Adani Transmission Limited, the successful bidder selected
through tariff based competitive bidding process
to establish "ISTS Network Expansion scheme in Western Region & Southern Region for export of surplus power during high RE scenario in Southern Region."
Hence, with effect from the aforesaid date, the above project specific SPY is not a subsidiary of RECPDCL & REC.
FROM AGENCIES
Sugar Hits Year High on Uncertain India Exports, Better Demand India's Maharashtra enters US$2.5 billion partnership for EV battery-swapping stations
Wheels India begins export of Flow Form Cast Alloy Wheels to U.S.
India Ministry Issues Allocation Orders To Three Coal Mines
India: Mines With 3.7m Ton/Y Capacity; Rev Potential Inr4.08b/Y
India: CCI Approves Acquisition Of Gati Limited By Allcargo Logistics Limited
INSIDER TRADE
Category
Number of shares
Mode
PATEL ENGINEERING LTD.-$
Promoter
3900000
Pledged
IIFL Wealth Management Ltd
Connected Person
30000
Sold
AJANTA PHARMA LTD.
Promoter
820000
Pledge Released
AU Small Finance Bank Ltd
Director
1800000
Pledge Revoked
ANALYST MEETS
M&M
Jan 30 at 6:30 pm
Hindustan Aeronautics
19 Jan at 2 PM
Indoco Remedies
To be held on Tuesday, 24th January, 2023 at 03:30 P.M. IST.
On Wednesday, January 25, 2023 at 16.30 hours IST
Onward Technologies Limited
On Monday, 23rd January, 2023 at 04:00 p.m. IST
ICICI Securities
At 7.00 p.m. (IST) on January 19, 2023, to discuss financial results of the Company
Delta Corp
Call to be held on 18th January, 2023.