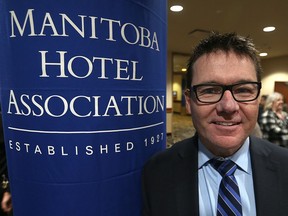 Article content
After a rough last year due to the COVID-19 pandemic, the province is ready to capitalize on a renewed desire to travel by residents and visitors alike, according to the head of Travel Manitoba which held its Annual General Meeting Monday at the Delta Hotel Winnipeg.
Article content
"The tourism industry was put to the test last year, but that resilience will pay dividends", said Colin Ferguson, President and CEO of Travel Manitoba, the Crown corporation responsible for drawing visitors to Manitoba. "The tourism industry in Manitoba has adapted to meet changing visitor expectations, and they've created new and unique world class experiences that will draw visitors."
Article content
But for those in the hospitality industry who have bore the brunt of the challenges over the last two years, the bounce-back can't come soon enough.
"It's a pretty long tunnel," said Manitoba Hotel Association President and CEO Scott Jocelyn, when asked if his members can see the light at the end of the COVID tunnel. "We feel like we've turned a corner. I definitely feel like that we're moving in the right direction but I've been quoted way too many times that it's going to take us longer to find whatever the new normal is going to be. People still have to be comfortable going out and we have to be comfortable working downtown, going back to work and going to places for lunch and travelling again.
Article content
"I think the impact has been so intense that I wouldn't want people to think, 'Everything good again and we're back to normal,' because we're not at normal, whatever normal is going to be."
For those who make their living through lodges and fishing camps, there hasn't been the anticipated levels of reopening they would like due to factors including a wet spring and travel concerns.
"There definitely is some optimism," said Manitoba Lodges and Outfitters Association Executive Director Graham Neale. "There definitely is a demand for our members' services, it's just a matter of being able to access it."
One of the big challenges hoteliers have faced, Jocelyn said, remains staff shortages.
"Now here we are at full capacity with no restrictions or capacity limits and yet we're not running on full cylinders because we don't have the people to work," said Jocelyn, who will be moderating a session at the Travel Manitoba AGM Tuesday on creative marketing coming out of COVID.
Article content
"The hotels in Manitoba are incredibly proud of what they contribute on a daily basis to the bottom line of the province, in terms of employing people, collecting taxes (etc.). We believe we fill a need in small communities all across the province and we believe that's not going to go away. We just need some time to get our feet back under us."
Late last year, Travel Manitoba hired Tourism Economics, a leader in industry analysis, to provide an economic forecast for tourism in Manitoba. That forecast was updated recently, and the results were positive: Manitoba is now showing a return to 2019 visitor spending levels by 2023, rather than 2024 in earlier forecasts.
"This is largely due to improved outlooks for local and domestic travel," said Geoff Lacher, Senior Economist with Tourism Economics, adding that Manitoba had outperformed the nation during the pandemic.
gdawkins@postmedia.com
Twitter: @SunGlenDawkins