Maverix Metals (NYSE:MMX), a precious metals royalty company, is merging with the Canadian company Triple Flag Precious Metals Corp. (NYSE:TFPM). Triple Flag is a larger precious metals royalty company. This deal was struck on November 10, 2022. Maverix shareholders can choose between 1) the share consideration of 0.36x Triple Flag shares. This adds up to $4.95. Or a cash payment of $3.92. At current prices, MMX shareholders will likely opt for the Triple Flag shares. However, the plan of arrangement says both the share consideration and cash consideration are subject to proration if shareholders overwhelmingly elect said option:
The Plan of Arrangement provides that there is a maximum aggregate amount of All Cash Consideration and All Share Consideration to be paid to electing Maverix Shareholders equal to 15% and 85%, respectively, of the total Consideration. If Maverix Shareholders collectively elect to receive the All Cash Consideration in excess of the Maximum Cash Consideration, the All Cash Consideration will be subject to proration. If Maverix Shareholders collectively elect to receive the All Share Consideration in excess of the Maximum Share Consideration, the All Share Consideration will be subject to proration.
In the merger docs, it explains the "extreme" (in my opinion, "likely") scenario of all shareholders electing to receive shares:
In the most extreme example, where all Maverix Shareholders make the same election (i.e., all elect to receive All Cash Consideration or all elect to receive All Share Consideration), then all electing Maverix Shareholders will be prorated and will receive 15% cash and 85% Triple Flag Shares, notwithstanding their elections. Again, this is because the total amount of cash available and Triple Flag Shares available to be paid to Maverix Shareholders is subject to the Maximum Cash Consideration and Maximum Share Consideration.
The way I understand this is I receive 0.306 Triple Flag shares or $4.21, representing 85% of the consideration. Which would mean I get $0.74 in cash. Assuming a Triple Flag share price of $13.76.
The consideration is a bit unusual, so forgive me if I misunderstood it. Make sure to double-check it for yourself if you're buying into this.
This means the upside to the deal consideration is still 5.77%. That seems like a lot to me. You can lock in the spread by selling Triple Flag shares (you pay a borrowing rate, and if the share price drops a lot, the hedge ratio can shift).
The return seems especially attractive because the special meeting for Maverix shareholders to pass the arrangement has been set for Thursday, January 12th. I expect the deal will close soon after that. I have a hard time seeing this continue beyond January.
I don't think the shareholder vote will be a problem either. Triple Flag major shareholder Elliott Investment Management L.P. and the major Maverix shareholders Newmont Corporation (NEM), Pan American Silver Corp. (PAAS), and Kinross Gold Corporation (KGC) are all supportive of the combination, reflecting their belief in the value and potential of the combined company. Newmont Corporation and Pan American Silver Corp hold ~57% of Maverix shares and will vote in favor.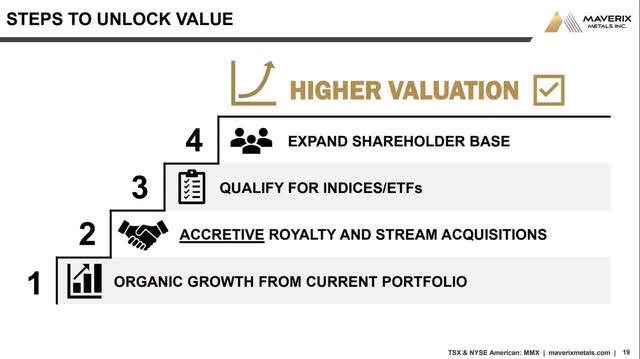 I plan to hold on to the combined company. The combined company should be a royalty and streaming company with a market cap of approximately $2 billion. I happen to believe diversification is critical to long-term success. Gold or gold miner exposure is an exciting source of diversification. Unfortunately, it looks like it is, at best, a neutral carry trade and perhaps a negative carry trade. Anything else would be surprising because its return profile is quite different. If you look at Seeking Alphas betas of major royalty companies over 5 years, it is in the 0.5-0.7 range. Meanwhile, they do exhibit quite a bit of volatility. I don't like individual volatility, but sometimes it can help to decrease overall portfolio volatility (Decreasing portfolio volatility is valuable).
Maverix Metals currently has a 0.32% weight in the VanEck Vectors Junior Gold Miners ETF (GDXJ). This is the premier junior gold mining ETF with as much as $3 billion in AUM. However, the combined company should, over time, be able to get into the VanEck Vectors Gold Miners ETF (GDX). This vehicle has around $11 billion in AUM, and I'd expect a larger weighting for the combined company.
I don't know whether it is a size or ETF effect but royalty companies that scale up tend to receive the better valuation. I've pulled the valuation table for the major precious metals royalty companies from Seeking Alpha, and the valuation discrepancy is clear. Maverix is by far the smallest company, followed by Sandstorm Gold (SAND). I added emphasis to price-to-book value and EV/Sales as the more reliable relative valuation indicators among this set.
FNV

WPM

RGLD

SAND

MMX

P/E Non-GAAP (FY1)

37.38

32.98

33.77

36.14

39.00

P/E Non-GAAP (FY2)

36.64

32.24

29.83

55.70

38.09

P/E Non-GAAP (FY3)

35.85

32.40

28.47

50.90

32.84

P/E Non-GAAP (TTM)

37.49

33.06

31.66

34.55

36.00

P/E GAAP (FWD)

38.04

29.68

33.06

24.75

–

P/E GAAP (TTM)

34.70

22.56

29.28

12.31

60.06

PEG Non-GAAP (FWD)

9.35

6.60

3.38

–

–

PEG GAAP (TTM)

3.63

0.81

0.57

0.07

NM

Price/Sales (TTM)

19.82

16.17

11.67

7.65

11.47

EV/Sales (FWD)

19.09

15.74

13.19

14.05

12.53

EV/Sales (TTM)

18.97

15.50

12.22

15.10

11.65

EV/EBITDA (FWD)

22.52

22.13

16.97

16.11

19.03

EV/EBITDA (TTM)

22.49

22.18

15.55

21.93

20.89

Price to Book (TTM)

4.19

2.74

2.73

1.10

1.90

Price/Cash Flow (TTM)

26.22

23.39

15.71

15.59

19.12
I like to own precious metals royalty companies to diversify my portfolio. I like the merger premium that's embedded in Maverix shares. Finally, I think there could be a significant upside to the combined company as it is awarded a larger multiple due to ETF flows or perceived scale advantages.