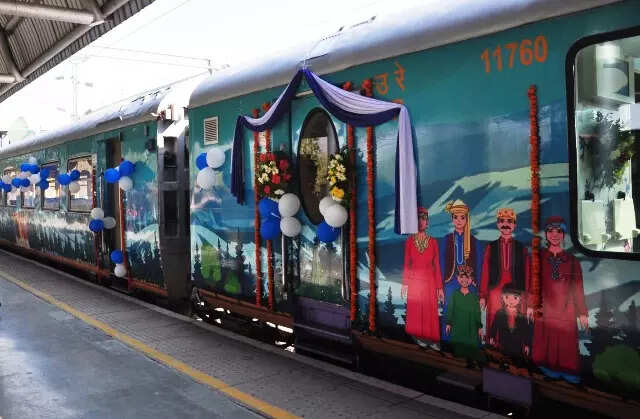 The highly anticipated Vistadome train services in the region of Kashmir was launched on October 19, marking a significant milestone in the development of the Union Territory. This state-of-the-art coach is poised to attract a substantial influx of tourists.
"Vistadome coach between Banihal and Budgam is a big leap by Railways in the development of the Union territory. The state of the art Vistadome will attract tourists in large numbers," said Manoj Sinha, Lieutenant Governor of Jammu and Kashmir. According to him, there has been a substantial boost in tourism in recent times and the new coach will further give impetus to the development of the area.
Sinha said that the Vistadome services will have a profound impact on tourism, contributing to both economic growth and cultural enrichment in the region. He also pointed out the potential for increased livelihood opportunities for individuals residing in the cities, towns, and villages linked to the railway stations along this route.
The specially designed Vistadome coach, equipped with wide windows, revolving chairs, and a glass rooftop, promises passengers a panoramic view of the surrounding landscape.
In addition, the LG also spoke about the rise in foreign tourist arrivals in Jammu and Kashmir, especially after hosting the G20 meeting. He shared the statistic of 1.70 crore tourists having already visited the region in the current year; the numbers last year rose up to 1.88 crores.
During the launch event, Union Minister for Railways, Ashwini Vaishnaw noted that Jammu and Kashmir has undergone substantial transformation in the past nine years, with tangible changes on the ground. He attributed this progress to the abrogation of Article 370 and the subsequent fast-paced development of the region. He also pointed out the significance of hosting G20 meetings in the Union Territory, emphasising the swift progress taking place.
Apart from the Vistadome services, multiple railway projects, such as the Dullabcherra – Guwahati tri-weekly train, Agartala-Sabroom DEMU train, Guwahati-Secunderabad Express extending up to Silchar (Assam), and Kamakhya-Lokmanya Tilak Express up to Agartala (Tripura), were inaugurated by Vaishnaw through a video conference, with the participation of the Chief Ministers of Assam and Tripura. These initiatives are expected to enhance connectivity in remote areas and stimulate trade and tourism in the states.
Speaking about the ongoing railway development projects, Vaishnaw highlighted the significant allocation of an annual budget of around INR 10,269 crores for the North East region, an increase from the earlier INR 2,122 crores. He expressed that railway projects in the North East are progressing swiftly, with plans for two Vande Bharat Trains.
"In Jammu and Kashmir, various development works, including the completion of Chenab Bridge, Anji Bridge, and tunnel construction, have been achieved, with only a few portions pending," Vaishnaw added.