Looking back, 2022 was the year of returning to normalcy, be it the economy at large or life in general. The Indian markets and economy had been well-placed by several experts.
The Indian markets outperformed the global peers, and valuations at present are not very attractive, Religare Broking said in its year-ender report, expecting that "2023 may see the end of the rising interest rate cycle but growth may not be impressive."
Amid uncertainties, the domestic brokerage comes out with three stocks under Rs 300 from the Auto, Consumer Durables, and Information & Technology (IT) segment, which may give bumper returns, up to 30 per cent on a long-term basis.
Below is the list of three stocks under Rs 300 with investment rationale and technical outlook:
Exide Industries: Buy – Target: 210-230; Upside: 30%
Investment Rationale: Exide plans to foray into manufacturing of lithium-ion batteries which will cater to a growing demand for the electric vehicle (EV)'s segment bodes well for future growth.
Exide's financials are stable, and it is increasing its digital presence, focusing on renewable power and cost optimization measures to enhance margins. It is debt free and generates decent free cash flow.
Technical Outlook: Exide has recently ended the 4-year-long corrective phase, with a breakout from an inverse head & shoulder and witnessing a gradual fall, by inching closer to the neckline (support) area of the reversal pattern. This fall is an opportunity for those who missed the chance earlier.
V-Guard Industries: Buy – Target: 305-330; Upside: 26%
Investment Rationale: V-Guard is a well-diversified company with a strong presence in segments such as electrical, electronics, and consumer durables segment. It is mulling innovating more products in the high demand and high growth market of solar panels, switch gears, and pumps among others.
Religare Broking is positive on the growth prospects of the company given the strong demand from the housing and real-estate sector, focus on high-margin products, expanding manufacturing facilities, and synergies with acquiring company Sunflame Ent.
Technical Outlook: V-Guard has been trading in a broader consolidation range for the last five years and currently trading around the upper band of the same. The recent price action combined with a surge in volumes indicates a strong possibility of a breakout and adding positivity further.
Birla Soft: Buy – Target: 330-370; Upside: 25%
Investment Rationale: Birla Soft has unique, industry-leading capabilities from the Enterprise Product and Cloud companies. It has strategic partnerships with SAP, Oracle, Salesforce, and other digital players that would drive growth.
"We are positive on Birla Soft long-term growth amid improving demand, robust order inflow, strong relationship with partners and clients. Besides, demand from verticals such as manufacturing, BFSI, and further expansion in Europe will aid strong growth," the domestic brokerage said.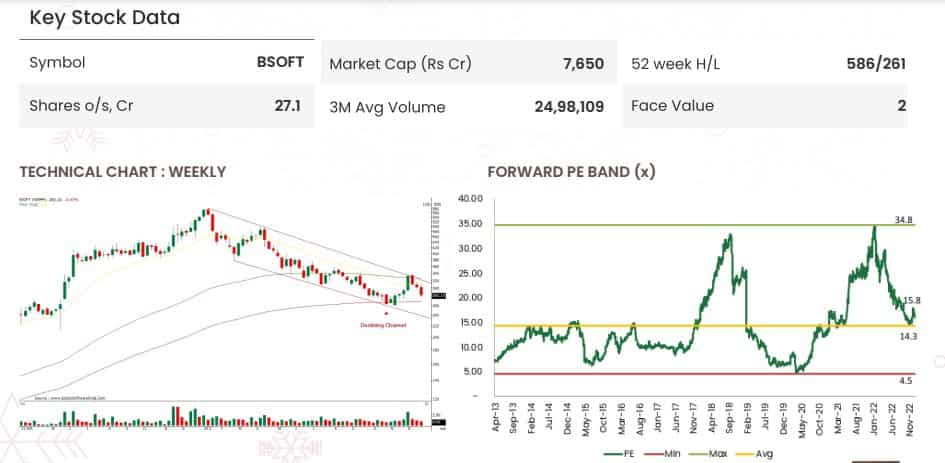 Technical Outlook: The IT index is in a corrective phase since the start of the year and Birla Soft is trading in tandem with the trend. It retraced to the major support zone of long-term moving average which is 200 EMA (Exponential Moving Average) on the weekly chart.