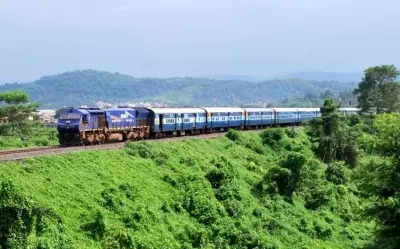 NF Railway clocks 9 pc jump in freight unloading in FY'24 Guwahati, Northeast Frontier Railway has registered a jump of nearly nine per cent in unloading of freight to 12,180 rakes from April to January of the current financial year, a senior official said.
NFR Chief Public Relations Officer Sabyasachi De said the Northeastern arm of the Indian Railways is continuously registering a steady growth in freight unloading in the recent past.
"During April 2022 to January 2023 of the current financial year, 12,180 freight carrying rakes were unloaded. This is an increase of 8.78 per cent in comparison to the corresponding period of last fiscal," he added.
De said that in January itself, 1,301 rakes were unloaded, registering a growth of 3.6 per cent as against the same month last year.
"NF Railway has transported goods like FCI rice, sugar, salt, edible oil, food grains, fertilizer, cement, coal, vegetables, automobiles, tanks, containers and other items and unloaded them in different goods sheds within its jurisdiction," he added.
During January, 705 rakes of freight carrying trains were unloaded in Assam, followed by 116 rakes in Tripura, 22 rakes in Nagaland, 8 rakes in Arunachal Pradesh, 6 rakes in Manipur and 5 rakes in Mizoram.
"Moreover, 220 freight rakes in West Bengal and 219 freight rakes in Bihar were also unloaded during the month within the jurisdiction of NF Railway," De said.
Essentials and other commodities are being transported regularly by the goods trains to not only meet the essential requirement of common people, but also to keep the local economic activity of all the regions going, he added.