S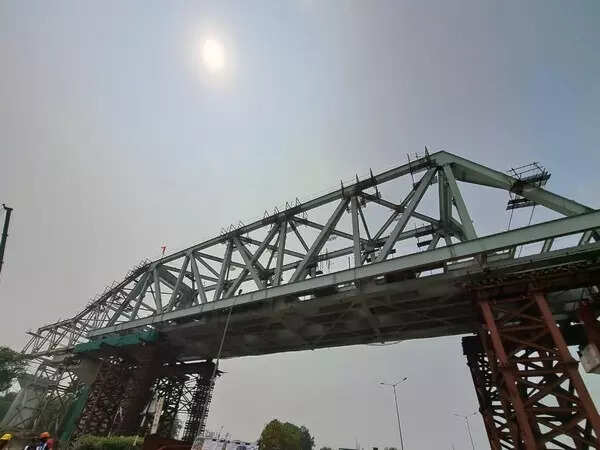 URAT: The National High-Speed Rail Corporation Limited (NHSRCL) achieved a significant milestone by successfully erecting the first steel bridge, spanning an impressive 70 metres in length, across National Highway 53 in Surat here.
This marks the initial step in the construction of the Mumbai-Ahmedabad High-Speed Rail Corridor (MAHSRC).
The project envisions a total of 28 steel bridges, using an estimated 70,000 metric tons of specified steel. These steel bridges will vary in span length, ranging from 60 meters 'simply supported' to an impressive 230 (130 + 100) meters of 'continuous span.'
Talking to about this bridge construction, Satyaprakash Mittal, Chief Project Manager of MAHSRC said that in a testament to India's growing technical and material capabilities, the fabrication of these steel bridges aligns with the 'Make-in-India' vision, combining Japanese expertise with local resources. This venture highlights India's prowess in constructing steel bridges capable of supporting Shinkansen Bullet trains, achieving speeds of up to 320 kilometres per hour.
He further said that the assembly process involved careful planning and precision, with the steel structure being transported over 1200 kilometres from the Hapur district near Delhi to the installation site. Once ready at the workshop, the steel structure, which consists of nearly 700 pieces and 673 Metric tonnes, was transported on trailers to the site of installation.
"At the site, the Steel Bridge of 12 to 14 meters in height was assembled on the staging above 10- to 12-meter-high piers. Thereafter the launching nose of approx. 200 metric tons weight was assembled with the mainbridge assembly. With massive care and expertise, the Bridge Assembly was pulled to its intended span through a specially designed pulling arrangement under the complete traffic block on National Highway," Mittal said.
It is notable that each production batch of steel was tested by Ultrasonic Testing (UT) at the manufacturer's premises.
The fabrication process involved cutting, drilling, welding, and a five-layered painting technique conforming to Japan Road Association's "Handbook for Corrosion Protection of Steel Road Bridges".
This accomplishment sets a remarkable precedent in the construction of high-speed rail corridors in India, propelling the nation into a new era of cutting-edge infrastructure development.
National High-Speed Rail Corporation Limited (NHSRCL) was incorporated on 12th February 2016 under the Companies Act, 2013 with the object of financing, constructing, maintaining and managing the High-Speed Rail Corridor in India.
The Company has been modelled as a 'Special Purpose Vehicle' in the joint sector with equity participation by the Central Government through the Ministry of Railways and two State Governments viz. Government of Gujarat and Government of Maharashtra. (ANI)