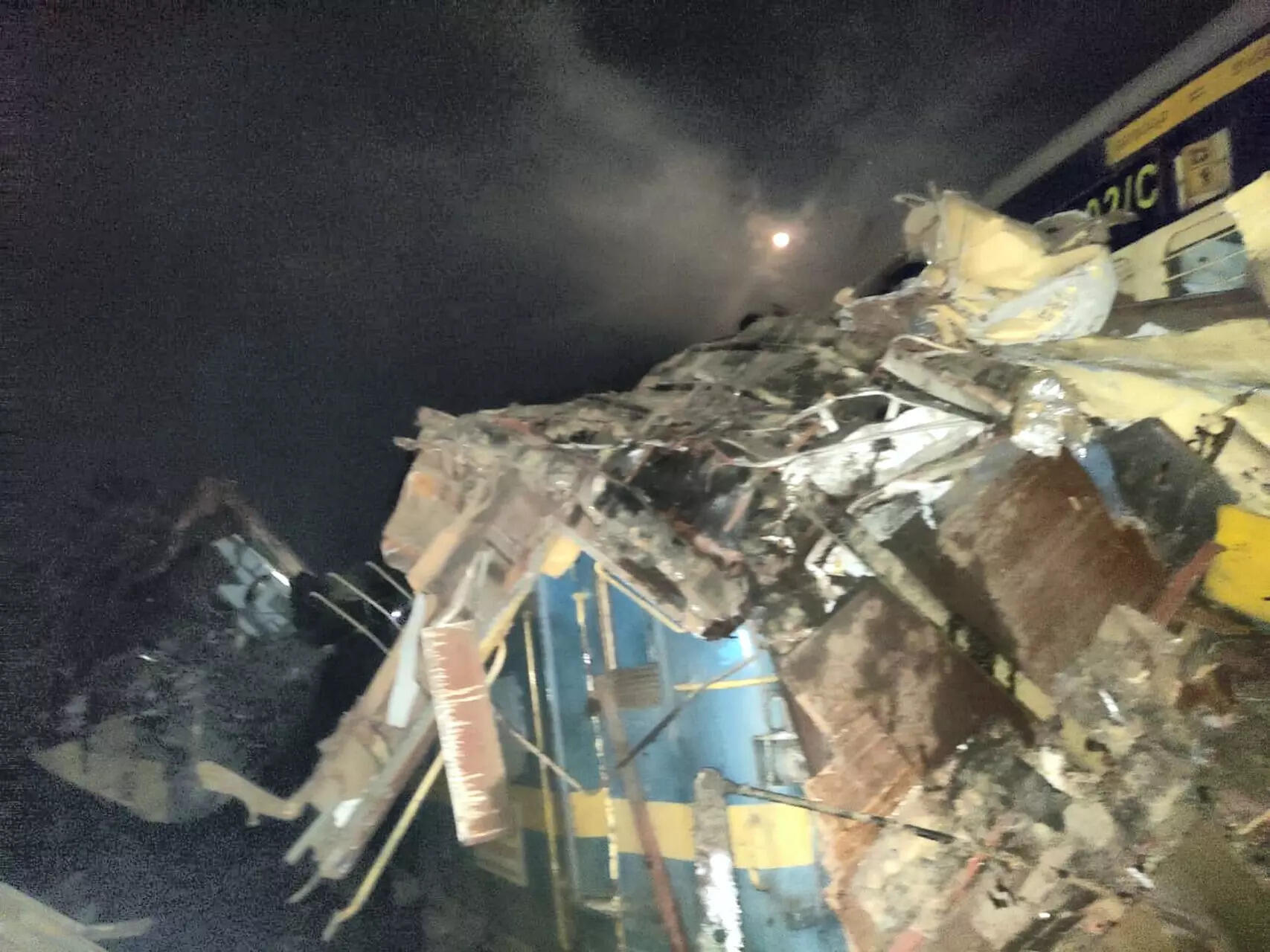 Preliminary findings of a railway accident, that claimed over 10 lives and injured around 50 on Sunday night, reveal human error that led to overshooting of signal by the Visakhapatnam-Rayagada train. According to officials aware of the developments, the Visakhapatnam-Rayagada train overran a red signal and collided into the rear end of the stationary Visakhapatnam-Palasa train. Both trains were ferrying passengers. Two Coaches of Visakhapatnam-Palasa train and the locomotive (engine) of the Visakhapatnam-Rayagada train derailed due to the impact.
Unlike Odisha's Balasore triple train accident that claimed nearly 300 lives, instances of signal tampering are not said to have triggered the latest accident. "Prima-facie it seems the loco pilot (train driver) of the Visakhapatnam-Rayagada train overshot a red signal," a senior government official told ET adding that the pilot and co-pilot of the Rayagada train and the guard of the Palasa train lost their lives in the mishap.
As a fallout of the accident, 12 trains were cancelled and 15 trains diverted from the route.
Sunday evening's incident is termed as Signal Passing At Danger (SPAD) in railways terminology. It is an umbrella category to club instances of trains passing a stop signal without the authority to do so. According to an analysis of SPADs of Indian Railways, these are classified as an Indicative accident, with the potential of getting converted into a consequential accident like collision or derailment resulting in loss of lives.
According to the study, the Indian Railways recorded 284 instances of SPAD from 2015-16 to 2019-20. Of these, just 22 or 7.75% resulted in a consequential accident while the remaining were listed as indicative in nature. This means that most of the SPAD instances do not lead to loss of lives of much damage to railway infrastructure. The study also notes that lack of alertness and negligence of crew was responsible for 74.8% of all SPAD instances recorded on the national transporter from 2010-11 to 2019-20.
Why do train accidents happen?
| | |
| --- | --- |
| Reasons for passing red signal | Number of instances from 2010-11 to 2019-20 |
| Lack of brake power on train / Defective Brakes | 16 |
| Visibility impaired by fog | 15 |
| Delayed application of brakes | 106 |
| Lack of alertness and negligence of Crew | 418 |
Source: SPADs of Indian Railways: Analysis & Recommendations
Measures to lower accidents
-Regular counselling of drivers
-Medical test to assess fitness
-Eye sight tests at frequent intervals