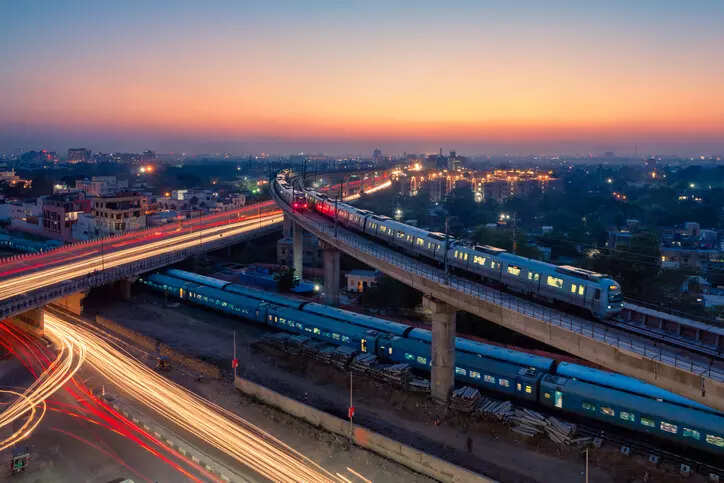 Almost two years after the launch of Gati Shakti National Master Plan (NMP), construction of new rail lines has risen to 12 km per day in 2023 from 4 km per day before 2022.
The railways has planned a record 13,264 km of rail infra projects for the year, data analysed by the Department for Promotion of Industry and Internal Trade (DPIIT) shows.
Similar improvement is seen in road projects as well since the rollout of NMP, officials aware of the development said.
All logistics and connectivity infrastructure projects in the country entailing investment of over ₹500 crore are routed through the Network Planning Group constituted under the PM Gati Shakti initiative.
Based on the master plan, detailed project report (DPR) for road infra projects is now done in about 15 days against six months earlier, officials said.
"Various projects are getting different kind of advantages in terms of cost and time saving, modal shift leading to reduction in carbon footprint, and faster DPR preparation," said Sumita Dawra, special secretary, DPIIT.
As per the analysis seen by ET, around 7,408 km of road infra projects have been planned on NMP.
Similarly, the master plan is being used for integrated planning of multi-modal terminals, which are expected to aid modal shift to waterways by 10-20%.
In the current logistics modal mix, road has around 60% share in freight movement.
Efficient economies' modal mix is 25-30% roads, 50-55% railway and 20-25% water, the commerce and industry ministry had said in a draft policy in 2020.
Till now, 79 projects worth ₹5.19 lakh crore have been evaluated on the NMP, comprising 34 of railway ministry, 25 of the road transport and highways ministry, and four of the petroleum and natural gas ministry.
As per the analysis, usage of NMP has increased rail electrification by 40%, automatic signalling by 144%, and sanction of station redevelopment by 49 times.
"There has been a reduction in forest area involved," Dawra said, adding that digital surveys have led to greater volume of feasibility reports.
In October 2021, Prime Minister Narendra Modi launched Gati Shakti.