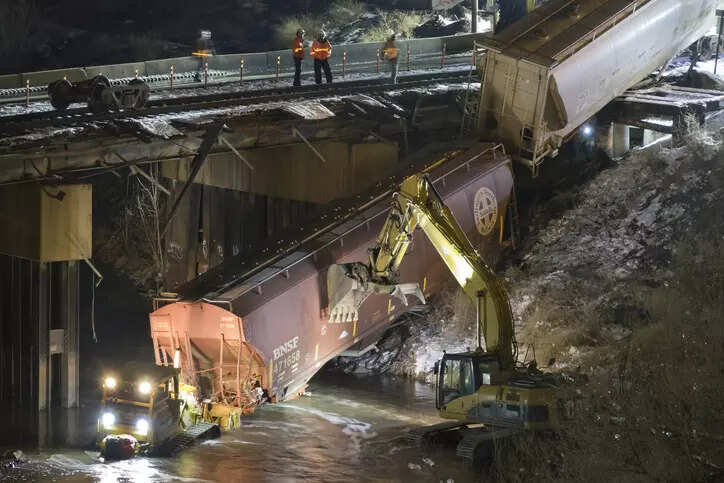 NEW DELHI: Another rail tragedy in less than six months poses a serious question on the safety aspect of trains in India.
So far 14 people have died and 50 have been injured after a collision between two trains resulted in the derailment of bogies in Andhra Pradesh's Vizianagaram district on Sunday.
Visakhapatnam-Palasa passenger train and Visakhapatnam-Rayagada passenger special were involved in the accident as the Rayagada passenger had overshot the signal.
Two Coaches of the Visakhapatnam-Palasa passenger train from the rear and the loco of Visakhapatnam-Rayagada passenger train got derailed.
This is the second such train derailment in less than six months. In June, this year, nearly 300 people died and over a 100 were injured in the triple train collision in Odisha.
Experts believe that the Indian Railways should prioritize eliminating human failures by using advanced technology.
"The two major areas of safety which continue to be the top priority of Railways are to eliminate Human failures and Asset failures. The former is to be eliminated by technological aids and inputs e.g. collision avoidance systems and the latter by mechanized and preventive maintenance with the possible use of AI," M. Jamshed, Former Member Traffic, Railway Board, told ET Infra.
A behemoth like Indian Railways has no doubt done exceedingly well in this regard in the last couple of years despite moving increasing volumes. Very significant reduction in the number of accidents per million train kilometers has been recorded. Enhanced outlays for safety works and elimination of unmanned level crossings has been achieved. This focus has to continue," he said.
He added, "For any transportation mode, be it an aircraft, a ship , a road vehicle or a train, its efficiency to a large extent depends on its safety record."
The Indian Railways has been allocated a capital outlay of Rs 2.4 lakh crore in the Union Budget 2023-24. This is the highest ever allocation to the national transporter and continues on the trend followed last year with a gross budgetary support of Rs 1.37 lakh crore in fiscal 2022-23.
The key railway projects that are in the works include Mumbai-Ahmedabad High Speed Rail (MAHSR) Project. The project is under execution and survey & design aspects of it have been finalized.
Dedicated Freight Corridor (DFC) Project, which comprises construction of two dedicated freight corridors, i.e., Eastern and Western will offer higher transport output in the country with reduced transit time and cost.
GatiShakti Multimodal Cargo Terminals are being developed by private players on non-railway land as well as fully/ partially on railway land, based on demand from industry and potential of cargo traffic.