Here's all you need to know about the Padma awardees from Karnataka.
Former Union minister of external affairs and Karnataka chief minister S M Krishna, 90, is one of the foremost leaders of the dominant Vokkaliga community in Karnataka after former prime minister H D Deve Gowda. Hailing from the Mandya district, Krishna also served as the Governor of Maharashtra. In 2017, he switched over to the BJP from the Congress.
S L Bhyrappa (Literature & Education)
Dr S L Bhyrappa, 91, is a litterateur who has been writing some of the best-selling novels in Kannada for over 50 years now. He hails from a village in the Channarayapatna taluk of Hassan district. His novels are widely translated into other Indian languages and his stories make a conscious effort to depict the fundamental emotions of human beings.
In addition to his profound knowledge of Indian philosophical and cultural traditions, he has since his childhood had intense personal experiences in both rural and urban milieus.
Consequently, his characters are also deeply rooted in Indian soil. He has penned 24 novels, four volumes of literary criticism and books on aesthetics, social issues and culture. He also served as a professor of philosophy for over three decades at National Council of Educational Research and Training (NCERT).
Starting with Bheemakaya, his first published novel in 1958, Bhyrappa went on to rule the literacy space for over five decades. Vamshavruksha, Tabbaliyu Neenade Magane, Matadana and Nayi Neralu were made into films that received critical acclaim.
Vamshavruksha received the Kannada Sahitya Academy Award in 1966 and Daatu received both the Kannada and the Kendra Sahitya Academy awards in 1975. His books have also found their way to the curriculum of undergraduate and postgraduate degree courses of universities in Karnataka, and have been the subject of about 20 PhD dissertations. His last Kannada novel, Uttarakaanda based on Ramayana, was released on January 16, 2017.
Sudha Murty (Social Work)
Sudha Murty, 72, is an eminent writer in English and Kannada and a noted social worker. In 1996, she started Infosys Foundation and to date has been the trustee of the foundation that has been at the forefront of many noble causes. She has supported several initiatives through the foundation that help underprivileged members of society working in remote areas across India. With a focus on education, healthcare, rural development, destitute care, art & culture, mid-day meal schemes and water projects, the foundation has made several contributions that have positively impacted millions of lives, over the years.
In fact, Murty is also known for breaking stereotypes by becoming the first female engineer of one of India's largest auto manufacturers TELCO (Tata Engineering and Locomotive Company), now Tata Motors, during the early days of her career.
As part of social work, she has contributed to programs benefiting war widows, education scholarships, sanitation, and arts. As a well-known writer, Murty has also published over 95 titles in 16 Indian languages. One of her famous works was 'How I taught my grandmother to read and other stories'. It reflects her childhood association with her paternal grandparents. Her first novel titled House of Cards narrates the turmoil faced by the wife of a lucrative doctor.
Murty is married to Narayana Murthy, co-founder of Infosys. The couple have two children, including fashion designer Akshata Murty, who is married to British Prime Minister Rishi Sunak.
Khadar Valli Dudekula (Science & Engineering)
Khadar Valli Dudekula, 64, is an agricultural scientist famously known as the Millet Man of India – for having revived five types of disappearing millets. Originally from the Kadapa district of Andhra Pradesh, Dudekula completed Masters in Science (with a specialisation in education) from the Regional Institute of Education, Mysuru, and he went on to get his PhD from the Indian Institute of Sciences, Bengaluru, for his work on steroids.
Khadar Valli Dudekula, the Millet Man of India.
He worked hard to revive five different types of millet that were fast disappearing. In the process of consuming each of these millets, he discovered that the healing properties present in them could cure even deadly diseases. Hence, he named these five millets Siridhanya. To cultivate them naturally, Dr Khadar propounded a method called 'Kadu Krishi', also known as Jungle Farming. He has also been treating his patients for their diseases by recommending the consumption of Siridhanya, different plant/tree leaf decoctions and homeopathic medicine in dire cases.
Rani Machaiah (Art)
Rani Machaiah, 79, is an Ummathat folk dancer from Kodagu, promoting and preserving Kodava culture through dance. She is also the former president of Karnataka Kodava Sahitya Academy and has been training women artists in Ummathat folk dance. She dropped out of PUC and began a campaign to popularise Ummathat, from 1984 onwards. She also set up Kaveri Kala Vrinda and soon presented Ummathat in Goa, Himachal Pradesh, Jammu and Kashmir, Odisha, Mizoram, Maharashtra, Madhya Pradesh, Punjab and other states.
Nadoja Pindipapanahalli Munivenkatappa (Art)
Father of Thamate, Nadoja Pindipapanahalli Munivenkatappa.
Known as the father of Thamate, Nadoja Pindipapanahalli Munivenkatappa is a veteran Thamate exponent from Chikkaballapur, who has worked towards preserving and promoting the folk instrument (Thamate). The percussion instrument, also known as the hand drum, has its roots in the Old Mysore Region. He started playing Thamate at the age of 16 and now trains young and upcoming artists despite the social stigma attached to it. According to reports, he picked the art form from his father Papanna. However, it was HL Nage Gowda, a Kannada folklorist who saw Munivenkatappa perform at a temple fair at Devaramallur village in Sidlaghatta taluk and later introduced him to a larger set of audience across the state to showcase his art form. Even to this day, Munivenkatappa plays the instrument with his co-artistes.
Shah Rasheed Ahmed Quadri (Art)
Shah Rasheed Ahmed Quadri, 67, is a handicrafts person from Bidar who gained instant popularity when he sat working with his tools on the Karnataka Tableau at the Republic Day parade in 2011. He has spent nearly five decades in the art that he learnt from his father Shah Mustafa Quadri, a master craftsman who was honoured by the Nizam of Hyderabad. The Quadris were a family of limited means and Rasheed could study only up to pre-university college.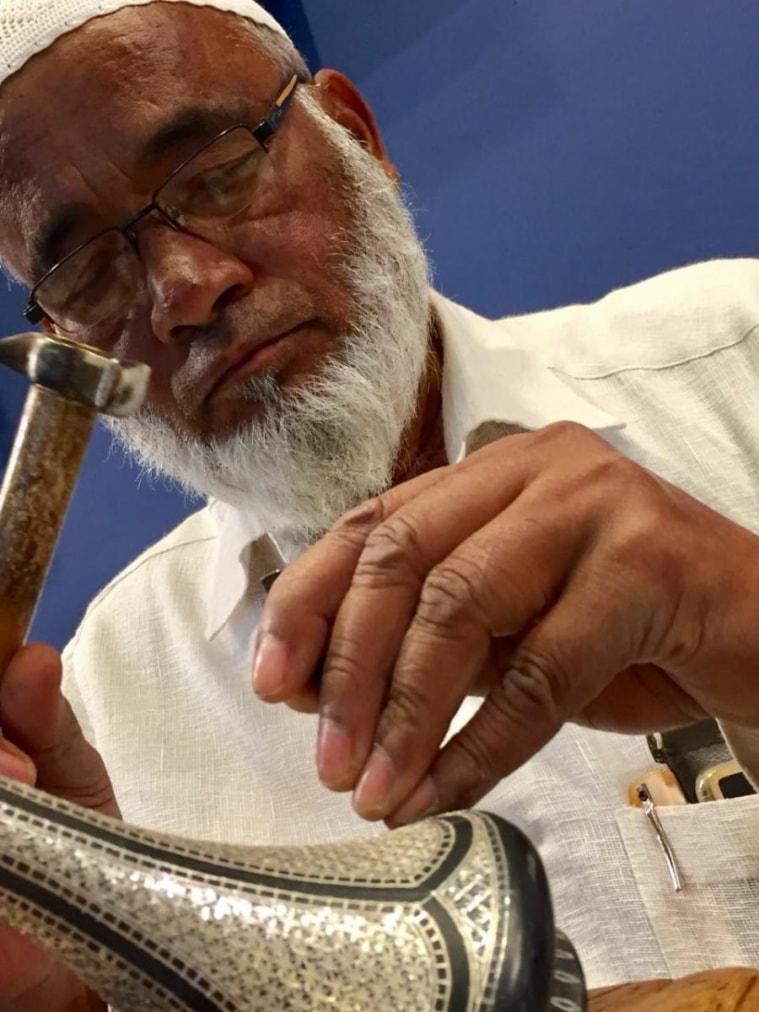 According to reports, Shah Rasheed Ahmed Quadri has also experimented with various bidriware techniques and patterns in his work.
His father, however, did not want him to be a Bidri craftsman as he felt they did not earn enough. He enrolled Rasheed in an English typewriting course. However, he began assisting his father who began losing eyesight due to old age. He is a winner of the Shilpa Guru award, Karnataka Rajyotsava award and national award for handicrafts. He is a regular invitee to the Suraj Kund mela, Dilli Haat and other exhibitions in India. Quadri has also served as a procurer for the Kaveri handicraft museum in Bengaluru.
According to reports, Quadri has also experimented with various bidriware techniques and patterns in his work. He introduced phooljhadi design and reintroduced sheetwork, an old technique that was used by court artists in the Bahmani Empire. Additionally, he is also an expert in wire and sheetwork inlaying.
S Subbaraman (Archaeology)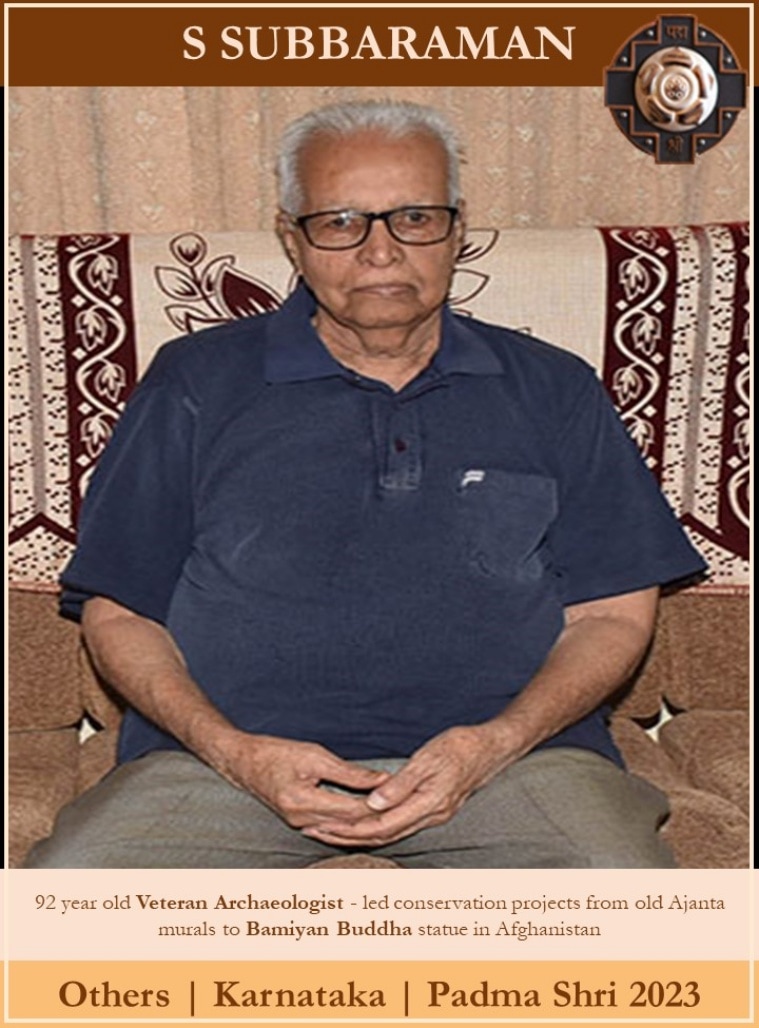 S Subbaraman has been awarded the Padma Shri for his conservation-related work.
Subbaraman, 92, is an archaeologist from Mysuru who led the conservation projects from Old Ajanta Murals to the Bamiyan Buddha statue in Afghanistan. He served as the Superintending Archaeological Chemist of the Archaeological Survey of India and the ex-director of INTACH, Chitrakala Parishath Art Conservation Centre.