Event poster created by 3rd-year student Yanagase
The second Taki Plaza Lecture, titled "The future for science and technology talent -What will you do?" was held on October 18, 2022 at Hisao & Hiroko Taki Plaza (Taki Plaza), Tokyo Tech's flagship student exchange hub. The event, co-organized by the Student Support Center's Student Success Support Section, the Student Support Division's Support Planning Group, and the Tokyo Tech Alumni Association, brought together a range of members from the Tokyo Tech community. Fifty-seven students participated in this fall's event.
This event was one of several lecture sessions comprising the Student Success Support Project, an initiative supported by Tokyo Tech alumnus and Gurunavi Inc. Chairman and Director Hisao Taki, which aims to encourage students actively engaged in various activities at Taki Plaza.
To kick things off, moderators Yoshiki Fukuda, a 2nd-year master's student in Chemistry, and Risako Yanagase, a 3rd-year student in Transdisciplinary Science and Engineering, offered some opening words.
Tokyo Tech Executive Vice President for Education Jun-ichi Imura also shared his initial words of encouragement. "I sincerely hope that the experiences and perspectives discussed during these lectures will be a source of future inspiration for the students of Tokyo Tech," Imura stated.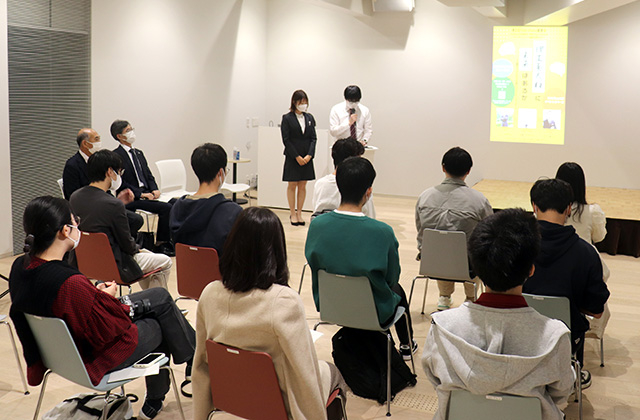 Opening words from Yanagase (left) and Fukuda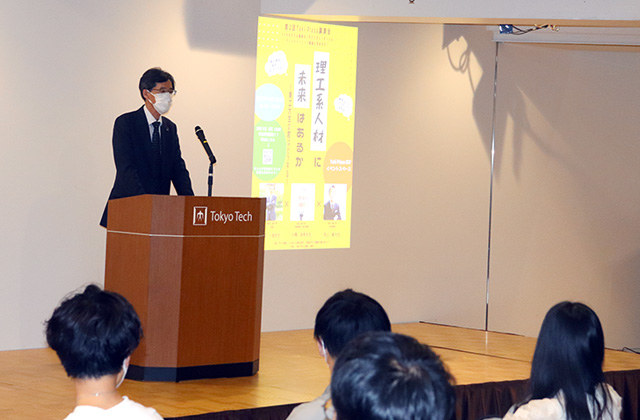 Greeting from EVP Imura
Fukuda and Yanagase then spoke about the future of science and technology students from two different student viewpoints. Master's student Fukuda summarized his anxiety about entering a doctoral course in a basic research field. Yanagase highlighted her personal dilemma of either aiming for a bird's-eye view by studying many fields in a broad manner, or deciding on one specialized field and using that as a foothold to examine other fields.
Special lectures
In the first part of the event, the future of science and technology-focused talent was addressed through lectures by Institute Professor Akira Ikegami from the Institute for Liberal Arts, 2016 Nobel Laureate in Physiology or Medicine Yoshinori Ohsumi, and Tokyo Tech President Kazuya Masu respectively.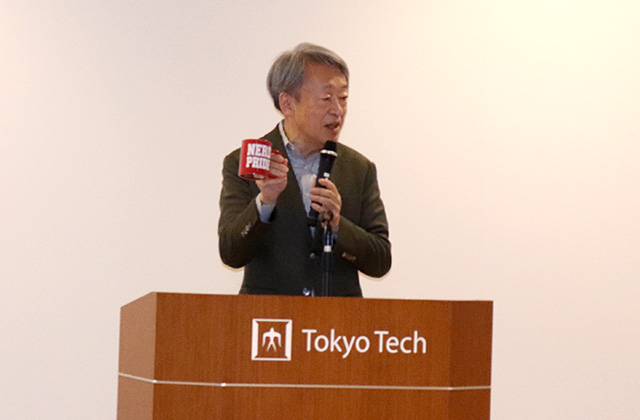 Lecture by Institute Prof. Ikegami
During his talk, Ikegami offered his guidance with the help of two coffee mugs he had brought in as props. The first mug, which Ikegami had purchased during a visit to Massachusetts Institute of Technology (MIT), was embellished with the phrase "nerd pride." According to Ikegami, this phrase encapsulated the strengths of both MIT and Tokyo Tech. The second mug was decorated with an equation expressing the beginning of the Old Testament of the Bible. "This equation demonstrates a unique way of thinking that only a so-called nerd is capable of, and suggests a certain cultural depth from the perspective of science and technology," Ikegami proposed. "I hope that you all take pride in being a nerd, do your very best in your research, and use your unique ideas to expand your cultural sophistication horizontally."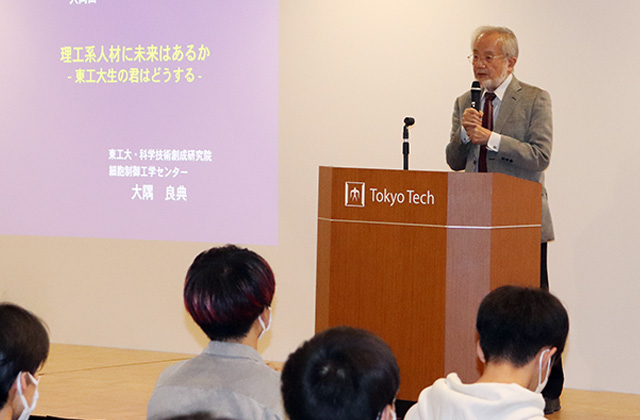 Lecture by Honorary Prof. Ohsumi
Honorary Professor Ohsumi sent students a strong message. "I want you all to realize that the future of Japan, and all of humanity, is in your hands. I hope you take a proactive stance in order to make progress on a variety of fronts." Ohsumi also showed the audience a chart displaying the average age of graduate-level students in various countries and regions. "Here at home, students decide to join master's and doctoral programs at a younger age than anywhere else. In other countries and regions, there is a strong awareness that graduate school is a place to study with a real sense of purpose, regardless of one's age. In Japan, however, many students join doctoral programs right after earning their bachelor's degrees. I would like to discuss this difference in the age of graduate-level students during the panel discussion," Ohsumi suggested.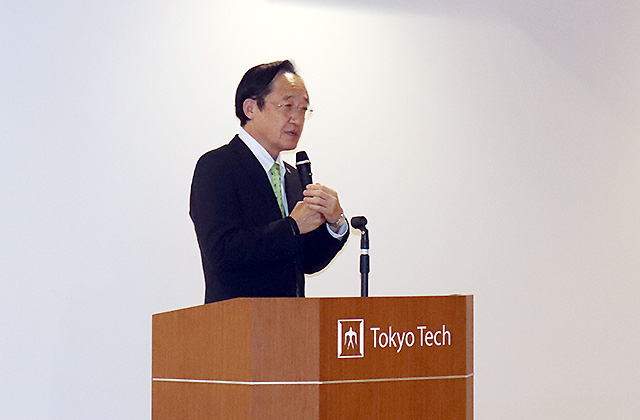 Lecture by President Masu
President Masu concluded the first part of the event by sharing his personal experiences after he was asked by a student about the right timing to decide on a specialty. "You have to believe in the path you have chosen. No matter where you go or what you choose, there will always be patches of darkness ahead. It is important to maintain your abilities and a certain level of motivation. In the past, many people used to think that if we made good products, they would sell. Pursuing enhanced technology was the most important thing. That alone may offer personal satisfaction, but it will not truly improve society. I would like you all to think about this," Masu mused.
Panel discussion
In the second part of the event, student moderators Fukuda and Yanagase joined Ikegami, Ohsumi, and Masu in a panel discussion that was based on issues raised by students and questions collected in advance.
Initially, Ohsumi addressed Fukuda's question on the value of a master's or doctoral degree. "Holding a doctoral degree is synonymous with being recognized by society as a researcher, but in Japan this is sometimes ambiguous. If you are hired by a company and work overseas, you may not be taken seriously unless you hold a doctoral degree. It is a prerequisite for employment in developed countries, and from an international perspective, it is important to increase the number of people entering doctoral programs in Japan," Ohsumi explained.
Ikegami also offered his thoughts. "In countries like Israel, Sweden, and South Korea, the higher average age of graduate-level students is related to compulsory military service for men. In Japan, it seems that students are under pressure to progress to the next level of study immediately. That kind of pressure is rarer overseas. It has become commonplace for people to study again after entering the workforce. Even if you have a job, you can shift to studies and then re-enter the job market, or you can earn your doctorate while working. It is important not to assume that there is only one route," Ikegami pondered.
To wrap up the first half of the discussion, Masu stated, "There will always come a time when you have to make a decision. No matter what the decision, you can only choose one or the other, and once that decision has been made, you must believe in yourself. The grass will always appear greener on the other side. But if you don't believe that your decision was the right one, then it will be tough to make your next decision."
The panel members also offered their advice on Yanagase's dilemma regarding broader study versus a highly specialized field. "There is no end to learning. Perhaps it is best not to think that you have to learn this or that. Rather, you should consider your own axis and be able to think for yourself based on the knowledge you have accumulated. Learning in a way that covers only the surface of a broad range of topics may give people the impression that you are knowledgeable, but I don't think it will help you much in the end," Ohsumi suggested.
"I think it is important to first understand the big picture and then dig deeper," Ikegami commented. "Sometimes, when you focus your research on something, you actually discover something else. It is important to think of this question not in terms of dichotomies, but rather in terms of Aufheben."
"There are students who will take on various challenges in their research activities. At such times, it is important to go back to the basics of what you are trying to do, and to reconsider the present situation. Industry research always focuses on solutions, but university researchers also have an eye that allows them to always go back to the basics," Masu concluded.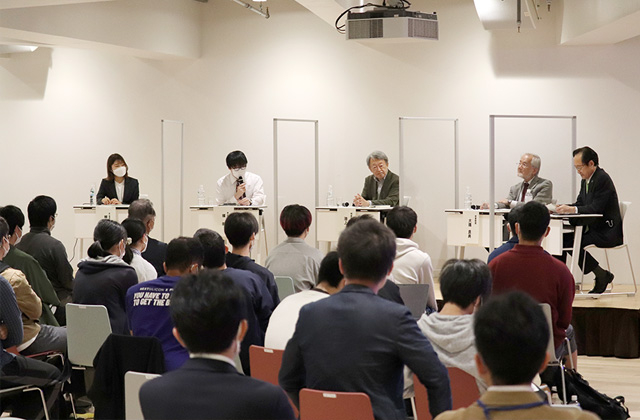 Panel discussion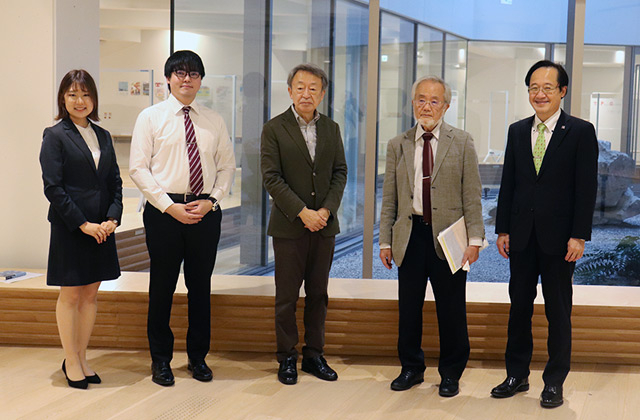 Panel discussion participants (from left): Yanagase, Fukuda, Ikegami, Ohsumi, Masu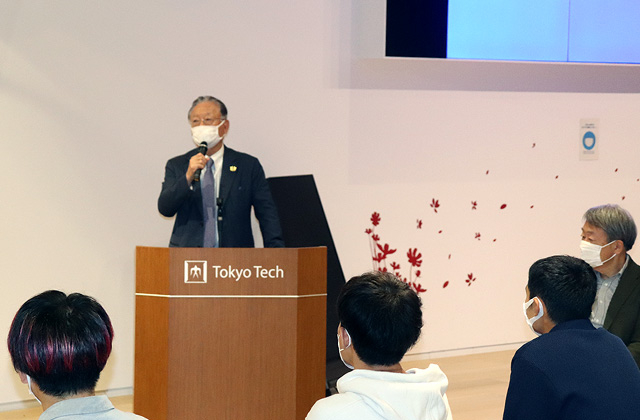 Chairman and Director Taki speaking to participants
After the panel discussion, alumnus Taki also shared his thoughts. "I am glad that we were able to seize this opportunity at Taki Plaza and hear directly from world-leading professors about topics that they don't often speak about. We can do anything we put our minds to. I hope that all the students here pursue their dreams, perhaps by one day realizing a similar symposium here at Taki Plaza, where students are always encouraged to play leading roles," Taki commented.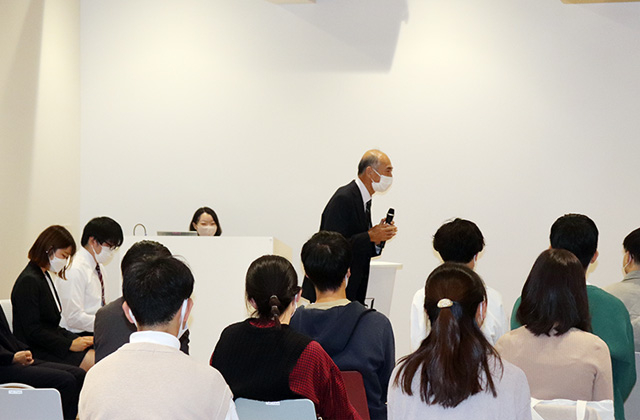 Closing words from Student Support Center Head Okamura
"This was another valuable discussion during which participants spoke honestly about various topics. We experienced many different perspectives and deep yet varying views on many issues, and received additional encouragement regarding the pursuit of our true passions and interests. I hope that all the students here will decide on their future career paths while maintaining a broad perspective and a relaxed mindset which allows us to fail and try again," concluded Student Support Center Head Tetsuji Okamura, who is also vice president for student affairs at Tokyo Tech.
Taki Plaza Lectures will continue to be held at Tokyo Tech's newest student hub in order to provide a place where diverse individuals from varying backgrounds can openly interact with one another.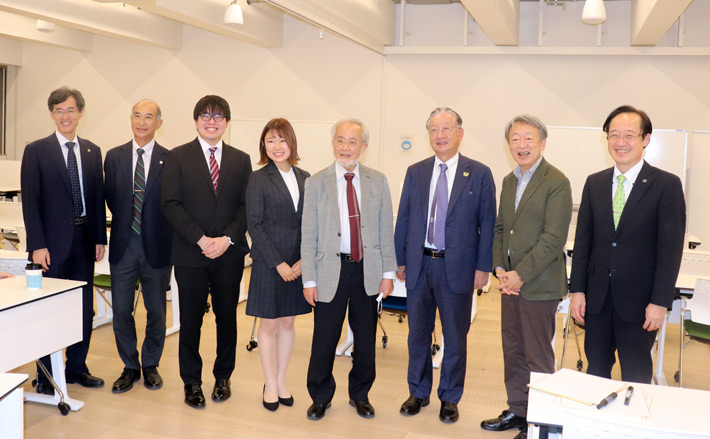 /Public Release. This material from the originating organization/author(s) may be of a point-in-time nature, edited for clarity, style and length. The views and opinions expressed are those of the author(s).View in full here.