Indian stock markets ended in the green on Thursday – a day of weekly expiry. The BSE Sensex ended at 58,222.10, up by 156.63 points or 0.27 per cent from the Tuesday closing price. Markets were closed on Tuesday on account of Dussehra Holiday. Meanwhile, the Nifty50 closed at 17331.80, up by 57 points or 0.33 per cent. Nifty Bank closed at 39282.85, up by 0.44 per cent or 172 points.
In the 30-share Sensex, 18 ended in the red while 12 were trading in the green at the closing time. Meanwhile, 27 stocks advanced while 23 declined in Nifty50 index.
Also Read: Nifty Top Gainers, Losers: Analyst recommends strategy on Hindalco, HUL
Out of the 15 sectoral indices, 4 ended in the red while 11 were trading in the green at the closing time. Nifty Metal (3.25 per cent) was the top performing index followed by Nifty Media (2.73 per cent) and Nifty Realty (2.08 per cent). The worst performing indices were Nifty FMCG (0.43 per cent), Nifty Pharma (0.34 per cent) and Nifty Healthcare Index (0.28 per cent).
Nifty Midcap 100 ended at 31,482.70, up by 1.26 per cent while Nifty Smallcap 100 settled at 9,663.25, higher by 1.24 per cent exhibiting an overall positive trend in the markets. 
Things to watch out for when markets reopen on Friday:
1) US Markets: The movement of Indian markets will likley depend upon the closing of US markets on Thursday and Dow Futures movement on Friday morning. DOW 30 was trading at 30,194.30, down by 79.61 points or 0.26 per cent at the time of filing of the story. Meanwhile, S&P 500 was trading at 3,777.05, down by 6.23points or 0.16 per cent from the Wednesday closing level. Nasdaq Composite was trading at 11,158.50, up by 9.84 points or  0.09 per cent. 
 Source: Comex
2) Rupee Vs Dollar: Though the Dollar Index (DXY) has climbed down significantly from the highs of nearly 115 against the basket of currencies, it is still trading around 111. Indian Markets are keeping a track on the moveent of the Rupee against the USD. The 27 October USDINR futures ended at 82.3825 on the NSE on Thursday, up by 0.58 paise or 0.70 per cent from the last closing price of 81.8075. Meanwhile, at the interbank foreign exchange market, the local currency opened on a positive note at 81.52, then pared all the gains to settle at an all-time low of 81.94 against the American currency, registering a decline of 32 paise over its previous close, according to a PTI report. During the day, the INR witnessed an intra-day high of 81.51 and a low of 81.94 against the greenback. On Tuesday, the rupee appreciated by 20 paise to end at 81.62 against the US dollar. 
Also Read: Rupee Vs Dollar: Buy 27 October USDINR futures for this target for gains, expert says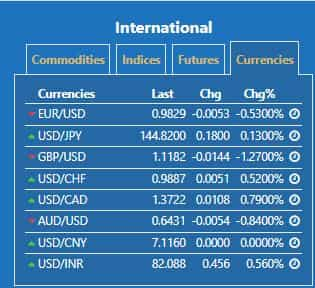 Source: Comex
3) Commodities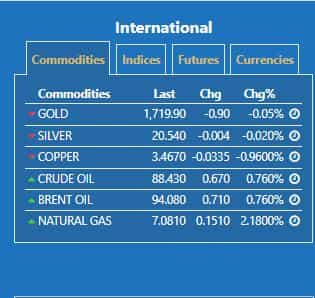 Source: Comex
Also Read: Gold Price Today: Buy MCX Gold, Silver futures for these intraday targets, says expert
4) Anil Singhvi Strategy: The Managing Editor said that, markets are now lighter after today's weekly expirt and that augus well for the markets when they reopen tomorrow. Nifty50 has resistence between 17425 and 17500 while support at 17175 and 17200. As for Bank Nifty, support is seen at 39050-39175 while resistance is seen at 39550-39700. #BazaarAajAurKal
5) Technical Analyst Nilesh Jain said that Nifty50 will find support near 17200 while resistance at 17400. It will likley trade within this 200 points range on Friday, he further said.
6) Volatility Index (VIX): The volatility ndex has been seeing a steady decline. On Thursday, VIX stood at 19.32, down by 1.30 per cent from 19.57 on Tuesday.
7) FII / DII data: The Foreign Institutional Investors (FIIs) bought Indian equities worth Rs 279.01 cr while the Domestic Institutional Investors (DIIs) sold shares worth Rs 43 cr.
8) Bulk Deals: At least 10 companies witnessed bulk deal action today and there could be some stock specific action tomorrow. Epitome Trading Aand Investments bought 84,045 shares at Rs 42.11 per share in Ajooni Biotech Limited. Epitome sold 9,445 shares at Rs 42.76 per share. Among another major deal, Nippon India Mutual Fund bought 50,00,000 shares in Rategain Travel Techn Ltd at Rs 292.43 per share. Meanwhile, Wagner Limited sold 57,04,830 shares at Rs 292.82 per share. Vaishali Pharma, Gravita India and Asian Hotels (North) Ltd were other companies that saw bulk transactions.
9) F&O Ban: No Securities are in Ban for Trade  on 7 October 2022).
10) Stock Market Expert Avinash Gorakshkar said that the domestic issues have largely been factored in, and Indian markets will take cues from the global markets. In India, there is a strong demand building up in sectors like auto and auto components, garments, consumer durables. He said that the demand is more than what was anticipated. The fruits of this will be reflected in subsequent quarterly earnings. He sees volatility in index stocks and hence advises investors to focus on stock specific action.     
11) Electronics Mart IPO:  The Initial Public Offering (IPO) of consumer durables retail chain Electronics Mart India received 7.57 times subscription on the second day of offer on Thursday. The IPO got bids for 47.29 crore shares against 6.25 crore shares on offer, according to NSE data. The category for non-institutional investors was subscribed 11.74 times, while the portion for Retail Individual Investors (RIIs) attracted 7.81 times subscription. Qualified Institutional Buyers (QIBs) category received 4.01 times subscription. The IPO consists of a fresh issue of equity shares aggregating to Rs 500 crore, with no offer for sale component. Price range for the offer is Rs 56-59 a share. PTI
12) Stocks to Buy: DLF for price target of Rs 400 and Oberoi Realty for price target of Rs 1050 – Technical Analyst Nilesh Jain
(Disclaimer: The views/suggestions/advises expressed here in this article is solely by investment experts. Zee Business suggests its readers to consult with their investment advisers before making any financial decision.)