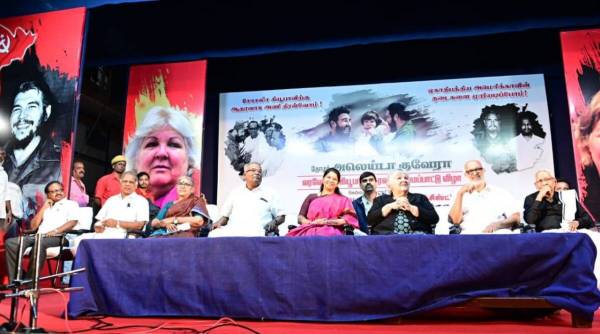 Che Guevara's daughter Aleida Guevara claims US sanctions have hit Cuba badly (Photo: Twitter/Kanimozhi)
A 51-year-old man working at a temple in Mela Seval in Tamil Nadu's Tirunelveli district has been killed allegedly by men whom he scolded for drinking on the temple's premises, police said.
The Munnerpallam police on Monday arrested seven men aged 18-24, who belonged to a caste different from that of Krishnan alias Kittu Saamy, whose body was found with several injuries on the temple's premises on January 15.
A police officer told indianexpress.com that since the deceased and the accused were from different castes, there was tension in the village. "The relatives are yet to accept the body. They demand a government job for one of his family members and financial aid," he said.
Days after a Raj Bhavan invitation in Tamil angered the ruling DMK and caused unease within the BJP when it referred to him as the "Governor of Tamizhagam", and not Tamil Nadu, Governor R N Ravi clarified Wednesday that he had not suggested changing the name of the state to Tamizhagam.
The word refers to a geographical region, historically inhabited by ancient Tamil people, that covers present day Tamil Nadu, Kerala and Puducherry, and has obvious political implications.
Stating he was not suggesting a name change, the statement from the Governor said, "In an event at Raj Bhavan on January 4, 2023, to felicitate the volunteers of Kashi-Tamil Sangamam – a recently concluded month-long festival celebrating the age-old cultural connect of the Tamil people with Kashi – while dwelling upon the historical cultural connect between the two, I referred to the word 'Tamizhagam'. In those days, there was no 'Tamil Nadu'. Hence in historical-cultural context, I referred to the word 'Tamizhagam' as a 'more appropriate expression'. An interpretation or inference that it was a suggestion to change the name of Tamil Nadu is erroneous and far-fetched."