KOLKATA: Commuters will be able to avail of Metro under the river Hooghly this December, Metro Railway general manager P Uday Kumar Reddy said on Monday. The Sealdah-Esplanade link that will complete the entire 16.6km East-West Metro line from Salt Lake Sector V to Howrah Maidan will happen in June-July, he said.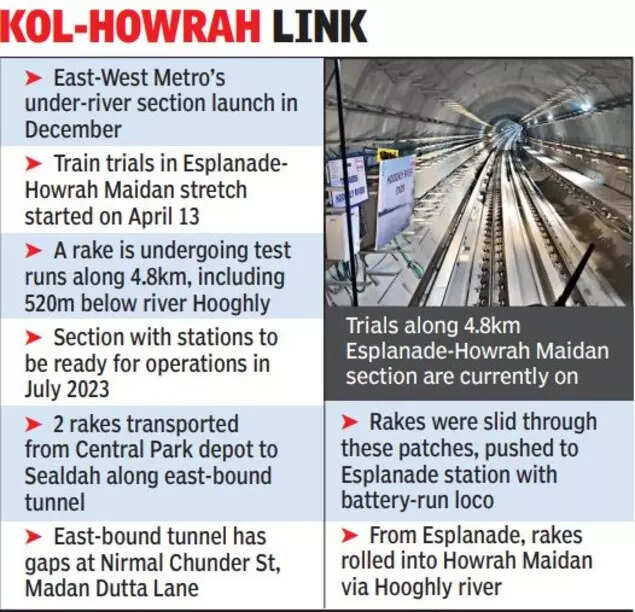 Reddy was speaking on the sidelines of an event to generate non-fare revenue at East-West Metro's Sealdah station. East-West Metro, which currently runs 9.4km from Sector V to Sealdah, cannot have a linear extension to terminal Howrah Maidan station across the Hooghly river because the 2.5km subsidence-hit Sealdah-Esplanade section is incomplete.
Metro Railway and Kolkata Metro Rail Corporation (KMRC) are currently conducting trials along the 4.8km Esplanade-Howrah Maidan section, so that operations can start in December.
Reddy said the construction issues in the Bowbazar cave-in zone (joining of the twin tunnels with the vent shaft at Nirmal Chunder Street-Subodh Mullick Square) had been sorted out and that work was about to start at the site.
"We should be able to complete construction and run trains in this section and open the entire 16.6km East-West Metro by June-July, next year," Reddy said. The GM, Metro Railway, which is in charge of the city's rapid transit network, had visited this problematic site on May 3 and said East-West Metro's Esplanade-Howrah run, due in December this year, cannot happen unless the 2.5km Sealdah-Esplanade stretch is ready for transporting rakes from Salt Lake depot to Esplanade.
On Monday, Reddy was confident that the Esplanade-Howrah Maidan run will start in December and the gaps in the east-bound tunnel would be filled up by then.
On 5.4km New Garia-Ruby section of New Garia-Airport line, Reddy said, "It's ready, only a few things are left. Railway minister Ashwini Vaishav was asking me about its status and I told him, 'it's ready for launch'."