AIM-listed United Oil & Gas has announced an update on the ASH-4 development well in the Abu Sennan licence, onshore Egypt. United holds a 22% non-operating interest in the Abu Sennan licence, which is operated by Kuwait Energy Egypt.
ASH-4 well update
As previously announced, ASH-4, a step-out development well in the ASH field, encountered 20 metres of net pay through the primary Alam El Bueib ('AEB') reservoir target. Preliminary well-test results indicated average flow rates of 1,325 bopd and 1.8 mmscf/d (c. 1,685 boepd gross; 371 boepd net working interest) on a 32/64″ choke, with no water production and encouraging reservoir pressure.
The well was brought on stream on 17 November 2022 on the 32/64″ choke size and although initial flow-rates were in excess of the well-test average, over recent days the rates from the well have sharply declined, suggesting that the well is connected to a smaller volume of oil than had been expected pre-drill. The choke size has now been reduced to 24/64″ to manage the reservoir and production rates from the well, which are expected to stabilise over the coming days, but these will be at a lower level than had previously been anticipated.
The ASH-4 well is located in the northern, more heavily faulted part of the ASH field and appears to have intersected reservoir that is separated from the currently producing wells. The additional data and insights from ASH-4 are already being incorporated into updating the models and building on our understanding of the field.  The next development well planned at ASH lies in the southern, better-imaged part of the field, and is in a location independent of these updated ASH-4 results.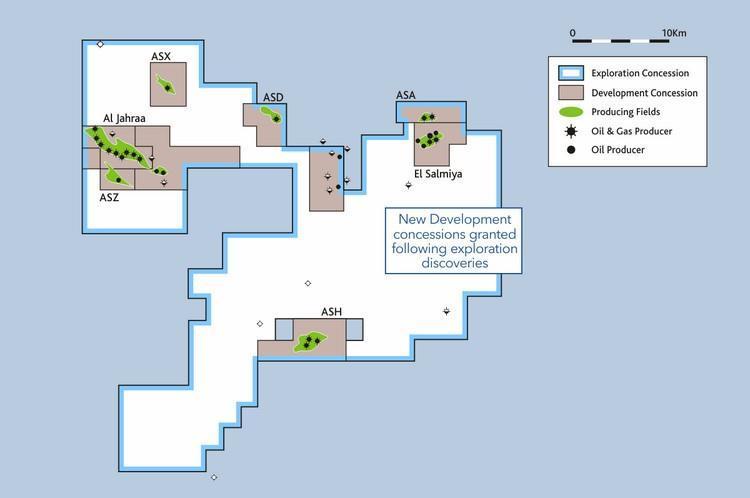 Full year 2022 production guidance
Production from the Abu Sennan licence as at 22 November was 1,027 boepd net to the Company's working interest. This production rate is below expectations, primarily due to the lower than anticipated production levels from ASH-4, and due to delays to a number of maintenance workovers to return production from existing wells, which are now expected to be completed in the coming weeks. In addition to these maintenance workovers, the stimulation of development well AJ-14 is also expected before the end of the year. Consequently, the Company is revising its current 2022 full year production guidance for the Abu Sennan licence to 1,300-1,325 boepd net from 1,450-1,500 boepd net. This updated guidance does not include any contribution from the workovers that are still to be completed in late Q4 2022, which if successful could deliver up to an additional 175 boepd net to our production levels as we move into 2023.
United Chief Executive Officer, Brian Larkin commented:
'Although the initial production from the ASH-4 development well has not performed as we had expected, it is contributing over 150 barrels to net production today and the data gathered has helped the Joint Venture (JV) partners increase our understanding of the subsurface and the ASH field, which is invaluable in planning future work programmes. We are working with our JV partners to  finalise our plans for an active drilling programme for 2023 which will include at least one development well on ASH, and this is testament to the value that the partners see at Abu Sennan. By year end we expect to conclude our Egypt 2022 work programme with the completion of a number of production enhancing workovers, the stimulation programme on the AJ-14 well and the spudding of the ASW-1X exploration well.'
Original article link
Source: United Oil & Gas