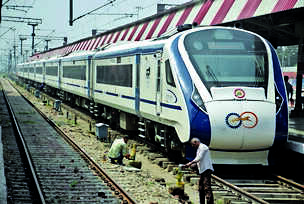 Northern railway released the timetable of the much-awaited Vande Bharat Express (22457/22458) train, connecting Dehradun to Delhi, on May 23.
The train, which is expected to reduce the travel time between the two cities from five hours 50 minutes to four hours 45 minutes, will run six days a week except Wednesday.
The inaugural run will be on May 25 from Dehradun at 11 am while its regular service will commence from May 29 from both cities. Chief public relation officer of northern railway said, "Prime Minister Narendra Modi will flag off Vande Bharat Express through video conferencing."
According to railway officials, the express train (22458) will depart from Dehradun at 7 am and terminate at Anand Vihar terminal at 11:45 am. The train will stop at five stations including Haridwar, Roorkee, Saharanpur, Muzaffarnagar and Meerut city.
Vande Bharat Express (22457) will start from Anand Vihar at 5:50 pm to reach Dehradun at 10:35 pm. The train will stop at Haridwar station for four minutes and at Saharanpur station for a maximum of five minutes while it will stop for two minutes each at other stations. The train will have eight coaches – all chair cars.On Tuesday, the first rake of Vande Bharat reached Dehradun for the trial run. Station superintendent, Shashank Sharma, said "It was heartening to see the reaction of people when Vande Bharat Express reached the platform. Passengers waiting for their trains started taking pictures and selfies with it."