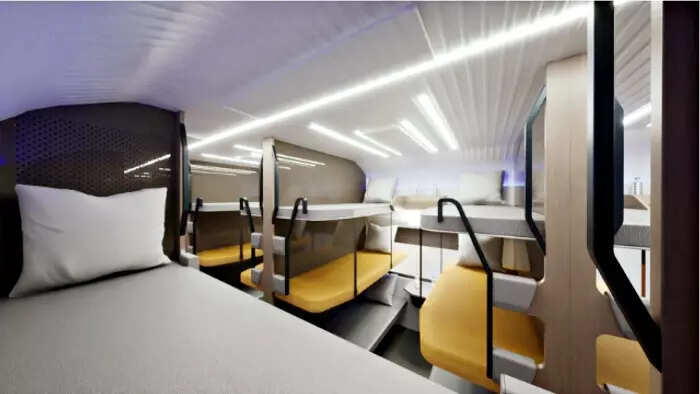 Indian Railways is gearing up launch of Vande Bharat sleeper trains early next year and the first prototype will be made ready by BEML soon. BEML is developing the first sleeper Vande Bharat Train with the Integral Coach Factory (ICF), Chennai. Earlier this month, Railway Minister Ashwini Vaishnaw had shared images of the Vande Bharat trains sleeper (concept version).
ICF GM BG Mallya told Times of India recently that interiors of Vande Bharat sleeper trains "will be of a caliber which we have never seen in India."
The Vande Bharat sleeper train are expected to gradually replace the Rajdhani Express trains. Each Vande Bharat sleeper train will have 16 coaches, with at least one car for AC 1 and rest for for AC2 and AC3. It will have approximate passenger capacity to accommodate 887 passengers. Every coach will have three toilets instead of four, and a mini pantry.
New features of Vande Bharat sleeper trains
The ladders for climbing on the upper berths have been designed to ensure that passengers don't hit the ceiling while climbing up and finds it easy to occupy the berth
Vande Bharat sleeper trains will have better suspension and cabin lighting and other features will be gradually improved based on passenger inputs. The coaches will have automatic doors, vacuum toilets, intercommunication doors and have been designed so that passengers have more space to stand.
Passengers in Vande Bharat sleeper trains will experience less jerk and noise than current long distance trains like Rajdhanis. Vande Bharat trains operate on distributed power systems as compared to front driven Rajdhanis.
Vande Bharat sleeper trains are expected to significantly cut the travel time. Because of distributed power system, Vande Bharat sleeper trains will have faster acceleration than Rajdhanis. This means Vande Bharat trains will be capable of hitting the speed of 160 km per hour more often than the Rajdhanis.