Alliance Concrete Pumps | Papé Kenworth and Kenworth Truck Company
The program behind a bachelor of science degree in concrete industry management in select universities across the U.S., the Concrete Industry Management (CIM) program announced all auction items available for next week's auction at World of Concrete in Las Vegas. The annual auction will be held Wednesday, Jan.18, 2023 in the North Hall Room N262 of the Las Vegas Convention Center. 
Review these items below and plan your bid accordingly. 
"We are very appreciative of the continued support from the concrete industry," said Ben Robuck, CIM Auction Committee Chairman. "Their support speaks volumes to the importance these companies place on the CIM program. These items will help ensure a successful CIM Auction at the 2023 World of Concrete."
Last year, the 2022 auction raised a record-breaking $1.740+ million in gross revenue. To date, more than 1,500 graduates of the CIM are working in the industry.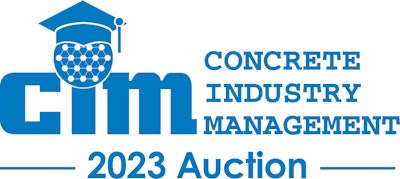 Featured Items
All Items (as of Jan. 2)
Alamo Cement – three loads of Portland limestone cement (PLC/ Type IL) or Type I/II 

Allen Engineering Corp. – 9910 power sprayer with push cart

American Concrete Institute – 10 copies of

ACI

/ ASCC Guide to Quality Concrete Construction and 

two tickets to the Excellence in Concrete Awards

American Society of Concrete Contractors

– CELF registration
Argos Cement – five loads PLC (approximately 125 short tons)
Astec – $25,000 parts credit
Bear Iron Works – three concrete washout tubs each with a capacity of 1 cubic yard
Beck Industrial, Inc. – $10,000 in credit for replacement parts in 2023
Bosch Tool –

Bosch

18V Pro Factor cordless kit
Bullard – Bullard CEN10 safety helmet and Bullard AboveView™ hard hat

Calculated Industries – six model 4225 ConcreteCal Pro (items sold separately)

CalPortland – five loads (approximately 125 short tons) of portland cement or Advancement HS Portland limestone-blended cement (if available)
Capitol Aggregates, Inc.- four loads of Type I, Type IL, Type IP or Type III cement
CEMEX – 10 truckloads of Type I/II Portland cement or PLC at approximately 25 short tons per load
Central Plains Cement Company – two loads (approximately 50 short tons) of PLC
Coast 2 Coast Chipping – One full day of concrete chipping (12 hours maximum)
Command Alkon Inc. – A new COMMANDbatch system with options up to a value of $25,000 based on published list price

COMMAND Center – COMMAND Center wireless starter kit

Continental Cement – five loads (approximately 125 short tons) of PLC

Coval Technologies – Coval coatings and sprayer

CRH – five loads of Type I/II cement or PLC (if available) (approximately 25 short tons per load)
DHE Inc. – N-58110– NOBLE Two station heavy-duty galvanized steel service rack for driver inspection of two mixer trucks

D.P Dorfmueller Co. Inc. – two Print Reading for Construction textbook and videos

Eagle Materials – Fairborn Cement Company – three loads (approximately 25 short tons per load) of Type I portland cement or PLC (if available)
Eagle Materials – Louisville Kosmos Cement Company – three loads (approximately 25 short tons per load) of Type I portland cement or PLC (PLC- if available)
ForneyVault – one year subscription to

ForneyVault

Software suite
FORTA Corporation – two pallets, totaling 960 lbs, FORTA-FERRO® Macro Synthetic Fiber Reinforcement
Fullforce by ABC Polymer Industries – four pallets of standard length and bag size micro fiber
GCC Cement – five loads of Type IL PLC (approximately 25 short tons per load
Giant Cement – two loads (approximately 50 short tons) of Type I/II portland cement or PLC (if available)
Heidelberg Materials – 12 loads of Portland Limestone Cement (EcoCemPLC™) or ordinary portland cement (OPC, if the participating plant has OPC as its main product and doesn't have EcoCemPLC)
Holcim – 15 truckloads (approximately 25 short tons per load) of Type I/II portland cement or PLC
Makita U.S.A. –

Makita

40 volt MAX two piece combo kit , ½ driver drill, four- speed impact, rapid charger,

Makita

40 volt MAX rear handle saw
Martin Marietta Materials – Five loads of portland Limestone Cement
Masters Builders Solutions Admixtures US, LLC – Up to $25,000 USD of chemical admixtures or synthetic fibers for concrete
Mitsubishi Cement Corporation – five truckloads of Type II/V Portland cement
The Monarch Cement Company – three loads (approximately 75 short tons) of Type IL (12) PLC or Type I/II (if available)
Mountain Cement Company – two 25 short ton loads (total 50 short tons) of Type I/II Portland cement or PLC (if available)
Meyers Construction Materials – concrete field test kit which includes all items needed for routine fresh concrete testing

Multiquip Inc. – MQ Mikasa MVCe64VW forward motion vibratory plate compactor

National Cement Company-CA – three truckloads of II-V Portland cement or PLC at approximately 25 short tons per load
National Cement Company – two truckloads of I/II Portland cement at approximately 25 short tons per load
Nevada Cement Company – two loads (50 short tons total) of Type I/II cement or PLC (if available)
Ozinga – 125 tons of ASTM C618 Specification Class F fly ash

Putzmeister America – $20,000 Putzmeister spare parts 

The QUIKRETE Companies – two truckloads yellow bag concrete; 588 bags/truckload
Ready-Jet Solutions, Inc. – Spare parts package includes the parts and tools needed to service all Ready-Jet components (belt drive, carriage, control panel, filter stand, pump and torpedo)

Ritz Safety – $5,000 silver donation from 2023 full line catalog

Roanoke Cement Company, LLC/a Titan America Business – five loads (approximately 125 short tons) of Type IL bulk PLC
Salt River Materials Group – 81 tons Class F fly ash
SEFA – two loads, approximately 50 tons, of Class F fly ash
Shumaker Industries – Mixer truck drum
Sika Corporation – Winning bidder can build a custom package of

Sika

Concrete admixtures of choice, up to a value of $20,000
Stalite Lightweight Aggregate – two loads lightweight (3/4 or 1/2) aggregate (23-25 tons each)
Stephens Mfg. – two SOS-1020 vents or a $10,000 credit –SOS-1020 x 2 silo dust collector
St. Mary's Cement Inc. (US) a Division of Votorantim Cement North America – five loads (approximately 125 short tons) of PLC
Teichert Materials – 15 loads (26 1/2 T) of concrete 1×4 or sand from a Teichert or Santa Fe plant
Terex Advance Mixer – Parts credit of $10,000 for service parts for

Terex

Advance Mixer front discharge mixer
Vince Hagan Co – VH-245JP Silo Top Dust Collector
White Cap – Two

Bosch

18V Rotary Hammer kits (items sold separately)
Zircon – Two MetalliScanner MTX and Two MetalliScanner MT7 (items sold separately) 
Cash Donations

Baldwin Filters – $1,000 cash donation
Cypress Private Wealth – $500 cash donation
PACCAR Parts Fleet Services – $3,000 cash donation
Process Solution – $750 cash donation
Sioux Corporation – $500 cash donation
SRM Concrete – $10,000 cash donation
Structural Group – $5,000 cash donation
United Rentals N.A Inc. – $500 cash donation
Volvo – $20,000 cash donation
W.R. Meadows, Inc. – $4,000 cash donation

World of Concrete

– $15,000 cash donation
Packages & Items of Interest
Allen-Villere Partners – New Orleans Stay & Quail Hunt for four people
Allied Concrete Co., an Eagle Corporation Company – Golf at Spring Creek Golf Club in Central Virginia
Allison Transportation – Swag package
Baker Concrete Construction, Inc. – Kentucky Derby package for two

Bobcat

Company – four Bobcat vehicle model sets
Bridgestone – One set (four tires) Bridgestone passenger or light truck tires
Briggs & Stratton, LLC – Vanguard 400 14 HP 408cc engine
California State University

CIM

Patrons – Escape to Beautiful Monterey Bay and Explore San Francisco Package for four
Cemstone – Four tickets to Minnesota Viking game
Charles Pankow Builders, Ltd. – 2024 Rose Bowl Parade and Rose Bowl game tickets
Chevron Lubricants – golf package to include golf balls, waterproof speaker, reverse umbrella and golf tees

CIM

North Central Region Patron's Group – Minnesota Twins game –four tickets
Conco Companies (The) – Napa Valley weekend
ConcreteCareers.com – Discounted placement service
Connecticut Concrete Promotion Council – three concrete bow ties (Items sold separately)

Continental

Tire – two certificates for a set of

Continental

Passenger or light truck tires
Diesel Laptops – Cojali Jaltest Truck/OHW Diagnostic kit
Dunn Investment Company – Quail Hunting at Circle M Plantation in Mississippi
Erie Strayer Company – Acer Aspire 15.6-inch Notebook 
Enterprise Holdings – 3 one-day rentals from National Car Rental and gift boxes
The Goodyear Tire & Rubber Company – Goodyear commercial steer tires
Graycor – Four Atlanta Braves Tickets
Holliday Rock – Los Angeles Lakers NBA basketball tickets
Irving Materials, Inc. – Four Indianapolis Colts tickets and four Tennessee Titans tickets
J. Lohr Vineyards & Wine – Day in the Vineyards (Paso Robles, Calif.)
John Deere Construction & Forestry Division – Play in the 2023

John Deere

Classic ProAm at TPC Deere Run, July 4-6

Martin Marietta Materials

– Dallas Cowboys Suite Tickets & Hotel
Miles Sand & Gravel – Sailgating at its finest
Mobile Tranquility – Massage Therapy Gift Certificate
Morris Solutions Group – Ohio State Buckeye Football weekend
MTSU

CIM

Patrons – Houseboat rental and Nashville Weekend Experience
Nebraska Concrete & Aggregates Association – Rolling rock racetrack
Northeast

CIM

Patrons – 75-inch Samsung QLED 8k Smart TV
Nox-Crete – 650 wood pellet grill and smoker
NPCA – craft beer club subscription
NPCA Foundation – three-month bourbon of the month club subscription
Professional Contractor Supply – three $100 American Express gift cards
Ready Mix USA – University of Alabama Football tickets
Silvi Group Companies, Inc.- Wine from Larry Silvi's personal wine cellar
South Dakota Ready Mixed Concrete Association – two sets of two handcrafted

CIM

concrete koozies
Southwest Airlines – two Southwest E-passes
Stanley Black & Decker – DEWALT Outdoor Equipment Kit
Stoneway Concrete – four tickets to Seattle Mariners vs. Chicago White Sox game, June 17
Sunstate Equipment – North Platte, Neb., waterfowl/upland hunt
Tools & Accessories Corp. –

Bosch

BP360C PowerBox jobsite radio
Texas State

CIM

Patrons – Driftwood Texas Wine Country vacation

Volvo

Financial Services – Smart Commercial $2,500 parts pre-loaded card
Walther Electric – HEB201U Power Distribution Unit
Webcor Concrete – Sailing San Francisco Bay

World of Concrete

– Big Green Egg, large Egg collection with nest and steaks
World Travel, Inc. – two Delta airline tickets to anywhere in the 48 contiguous states