The Co-Founders of Bonik.
">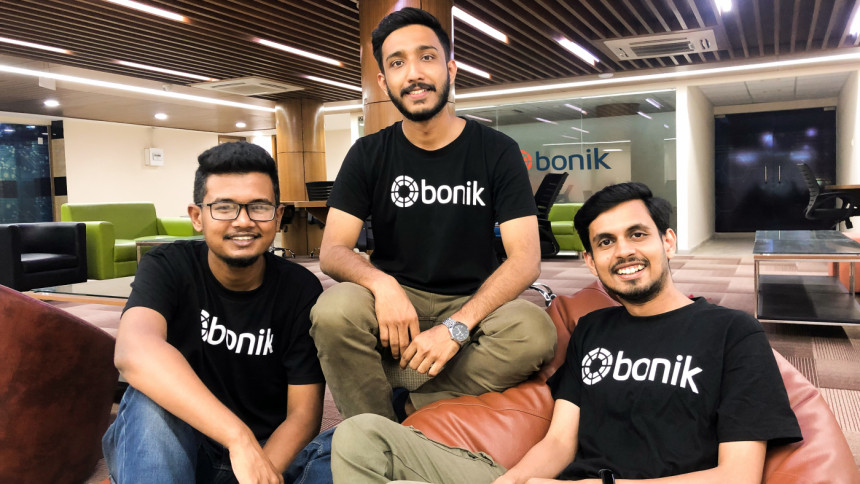 The Co-Founders of Bonik.
Bonik, a mobile app that enables SMEs to launch their e-commerce store within minutes, has raised its pre-seed investment of $47,000 from prominent angel investor Mohammad Maaz, who has invested in many other startups including Markopolo.
Bonik, a Chattogram-based startup, is founded by young entrepreneur Salman Saafi (CEO) along with his co-founders Jonayed Tanjim (COO) and Atikur Rahaman (CTO).
For all latest news, follow The Daily Star's Google News channel.
Bonik is being built at the point of the e-commerce boom in SMEs. Bonik aims to simplify e-commerce for small businesses in emerging economies like Bangladesh with no-code, mobile-first tools to let them create, run and grow online without thinking to manage technology. 
Salman Saafi, Founder & Chief Executive Officer of Bonik said, "This is the first startup investment in Chittagong. Though Dhaka's startup ecosystem has been rising for a while with more than 80 startups that raised investments, we are excited to become the flag bearer of the ecosystem in Chittagong, and we firmly believe the scene will be changing in the coming days."
"The investment raised will be deployed to build the product with more functionality and better user experience, as well as hiring talents in the team to reach its user base across the country," added Salman. 
Bonik is a simple, yet powerful tool for small merchants who run their businesses mainly through Facebook and Instagram pages but don't have their eCommerce website yet.
Bonik has also been selected to join Microsoft for Startups recently, which is a flagship program by software giant Microsoft to support early-stage startups.