From giant screens to smart mobile phones, consumer electronics dominated this year's edition of the annual technology mega-show that saw hundreds of companies and startups of all sizes descend on Las Vegas over the past few days.
Although autonomous and electric vehicles, long been pitched as the new dawn of transportation, seem to have again been in the focus, the popular CES 2023 gadget fest showcased another heated race on the mobility side: Screens.
As display technology continues to develop, the concept of mobility is changing with autonomous driving. Everyone in the car, including the driver, will be more engaged with the screens in the vehicle. In other words, the race continues for the entertainment and information displays of cars.
Togg, the developer of Türkiye's first homegrown electric vehicle, also attracted attention at this year's CES, showing off its multiple mobility solutions.
All in all, although the screens have changed in size and shape, they have remained the focus of the world's biggest tech mega-show, formerly known as the Consumer Electronics Show.
Faster, talented
Now there is a need for faster, more powerful computers and screens for both gaming and cars. Investments continue to pour in for devices that perform more processes and increase data and display technology for autonomous driving.
Whoever dominates the voice commands and screens will lead the race. Even though platform companies seem to be ahead in voice command, more capable competitors are also preparing to join the race.
Talented partners are what almost all automotive companies are looking for.
This year's CES edition was also dominated by the German luxury automaker BMW's unveiling of a prototype for a car that talks like a human being, changes colors to suit the driver's mood and has no screens on its dashboard.
The BMW i Vision Dee features an advanced Head-Up Display, which is all about giving drivers a choice of how much augmented reality they want to see as they drive. With this system, combined with the BMW Mixed Reality Slider, the driver specifically adjusts what information the system will show as part of the Shy-Tech approach.
Among the options consisting of five different steps, information about traditional driving, the content of the system, smart device connectivity, augmented reality projection and Dee's virtual world can be accessed.
BMW i Vision Dee is able to disconnect from the outside world by gradually dimming the windows thanks to the mixed reality it features to increase driving pleasure for its user.
Investments in autonomous driving
Automotive giants continue their investments in autonomous driving to compete with technology giants.
Stellantis, one of the world's leading automotive groups, in late December announced it had completed the acquisition of aiMotive, a leading developer of advanced artificial intelligence and autonomous driving software, to accelerate the autonomous journey.
The aiMotive will operate as a subsidiary of Stellantis while supporting the medium-term development of the all-new STLA AutoDrive, the group's autonomous driving technology platform, and will continue to offer part of its existing technology product portfolio to third-party customers.
World's fastest gaming monitor
This year's CES edition also saw the debut of ASUS's ROG Swift Pro PG248QP, a monitor that delivers a peak 540 Hz refresh rate, a first in the world, across its 24-inch E-TN panel.
The 24.1-inch FHD (1920×1080) monitor with an ultrafast 540 Hz refresh rate is designed for professional gamers and immersive gameplay.
The model, which has a unique appearance with its ergonomic stand featuring extendable clips, opens up a convenient place on the table for players who want to keep their keyboard and mouse close to the monitor.
The NVIDIA Reflex Analyzer on the built-in NVIDIA G-SYNC processor measures end-to-end system latency, showing gamers how their system is performing. The built-in ESS USB codec offers almost zero audio latency, creating an environmental sound effect along with the sounds of weapons and footsteps in games.
Asus also announced their forthcoming ROG Strix XG49WCR gaming monitor. This 49-inch monitor features a 5120×1440 resolution with a native 165 Hz refresh rate and a 1800R curve, offering extremely impressive and fluid visuals in games.
Thanks to the Smart KVM switch, players can easily continue to use the keyboard and mouse when switching between two different devices connected to the monitor. Supporting HDR technology, Strix XG49WCR offers amazing HDR performance with a 125% sRGB professional color gamut and factory calibration with Delta E
The monitor aims to obtain DisplayHDR 400 certification. The built-in FreeSync Premium technology creates a seamless gaming experience with a variable refresh rate. Strix XG49WCR offers extensive options with DisplayPort 1.4, HDMI 2.0, USB-C with 65-watt power distribution, a USB connection slot and an Ethernet port. The built-in RJ45 port also offers the possibility of using the XG49WCR as a connection slot for laptops. Thanks to this, users can access the network with a single USB-C.
Among others, there is Asus'ZenBeam L2, a portable projector suitable for indoor and outdoor entertainment. It features 600 LED lumens output and FHD native resolution (4K compatible) to provide users with bright, projected images with stunning levels of detail. Its short-throw lens is able to project a 40-inch image from a distance of 1 meter, and up to a 120-inch image from 3 meters.
ZenBeam L2 includes the ASUS Light Wall feature, allowing users to select 26 different cinemographs to vary the ambiance of any room. ZenBeam L2 includes Google‑certified Android TV, plus extensive connectivity such as HDMI, USB-C (one with DP Alt mode, one for charging), USB Type-A (5 V/1.5 A) and an earphone jack.
A built-in 10 W Harman Kardon speaker with movie, gaming, music and outdoor modes ensures exceptional audio. ZenBeam L2 has a built-in battery that provides up to three hours of video projection in outdoor modes to ensure exceptional audio. ZenBeam L2 has a built-in battery that provides up to three hours of video projection.
Instant display of sports data
We now see screens in different sizes and with different technologies in front of us. Sony has showcased a prototype of a new system that can capture and distribute animated 3D low latency of people, objects and places with its new portable technology.
The system needs only seven sensors, which allows it to be quickly installed anywhere and meet the demand for live 3D video distribution. Sony's stand allowed visitors to experience a 360-degree view of Manchester City players and spectators shown in a 3D metaverse space through tablets and its Spatial Reality Displays.
Sony unveiled a 27-inch prototype of its Spatial Reality Display, which recreates the real world with 3D spatial images. This product enables the display of real-sized objects with a larger screen format so that medical images and product designs can be recreated in a more realistic way.
The SR Display brings 3D computer graphics to a virtual environment with applications in various fields such as architecture and computer-aided designs, as well as point cloud data decoded in VR (virtual reality) and AR (augmented reality). In addition, Hawk-Eye's multi-view videos created by live sports data and virtual characters can now be reproduced on the SR Screen as a new entertainment style.
Detachable 2-in-1 laptop
The use of laptops as tablets provides users with the flexibility of use.
The new upgraded NXTPAPER technology showcased at CES 2023 is also used in TCL's first detachable 2-in-1 laptop, the TCL Book X12 Go.
Like the NXTPAPER 12 Pro, the Book X12 Go has a portable, lightweight design with a 3:2 aspect ratio and comes with a 12.2-inch 2K display with low blue light.
The innovative 2-in-1 structure of the device fits perfectly into flexible lifestyles. The detachable keyboard allows for a traditional PC setup for typing users, while the thin X12 Go can also be used as a tablet when the keyboard is removed.
With these features, the device provides a versatile usage opportunity. Thanks to the use of multi-screen, you can go beyond managing projects on just one screen and share files with other devices and project them on their screens.
The X12 Go was built for unlimited creativity and productivity, so professionals or creative people never have to compromise on bringing their ideas to life. With pre-installed Windows 11 Home, calendars, emails and documents become even easier to use.
The efficient Qualcomm Octa-Core Snapdragon 7c Gen 2 allows the X12 Go to handle every task throughout the day, while its long-lasting battery provides up to 14 hours of power on a single charge.
The X12 Go's NXTPAPER display also creates a tactile feel that provides an effortless typing experience. The screen has anti-fingerprint glass that is free of smudges and fingerprints, offering smooth and stable use thanks to its nano-chemical material coating. Thus, the E-Pen can be used on the surface sensitively and easily.
Türk Telekom's TT Ventures to serve as startup's bridge to world
Türk Telekom, one of Türkiye's leading information and communication technologies companies, unveiled its goals toward helping to further grow the country's startup ecosystem at this year's CES edition.
CEO Ümit Önal said that they are working with the goal of exporting the technology solutions developed by Türk Telekom to the world.
"With TT Ventures, our corporate venture capital company, we invest in domestic technology startups and develop business partnerships with them and aim to show their potential in the global arena," Önal said.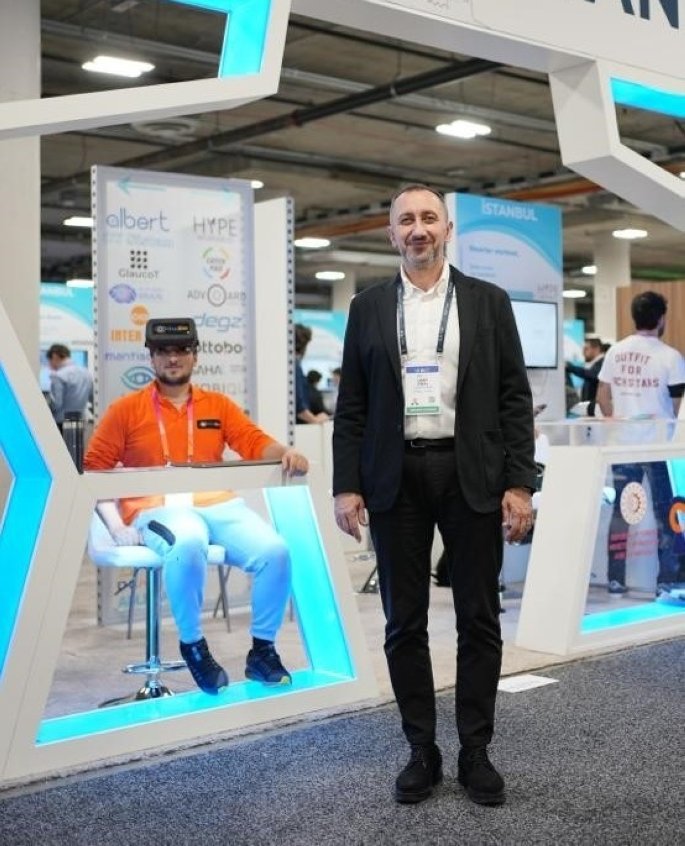 "With this motivation, we will be a bridge connecting startups to the world with the TT Ventures Office we have opened in San Francisco," he added.
Önal also visited the area within the scope of CES hosting the startups from Türkiye, including ventures that graduated from TT Ventures' acceleration program PILOT.
Held from Janç 5-8 in Las Vegas, the world's largest consumer electronics show featured the latest innovations in artificial intelligence, sustainability, energy management, autonomous vehicles, smart cities and digital health, while the startup ecosystem also dominated the stage.
$20 million investment
Önal said that bringing Turkish brands to the world stage will only be possible with the strengthening of the entrepreneurial ecosystem in the country, adding that they consider any kind of work that will reduce dependence on foreign technology as a national task.
"With our corporate venture acceleration program PILOT under the roof of TT Ventures, we are opening the doors to growth and value creation for startups. With this motivation, we aim to be a bridge connecting startups to the world with the TT Ventures Office we have opened in San Francisco. Thus, we will open the valuable ideas coming out of our country to the world through Silicon Valley, where the heart of technology and innovation beats, and we will strengthen the ecosystem here by carrying the innovative ideas in the world to our country," he noted.
The total amount of investment received by PILOT graduates operating in almost all countries, from Asia and Europe to North America and South America, has approached $20 billion, Önal said.
"Three of these startups have investors from the United States, namely MentalUP, which offers a brain exercise application for children, Bluedot, our startup that offers a charging station solution, and Cineshort, a short movie-watching mobile application," he added.