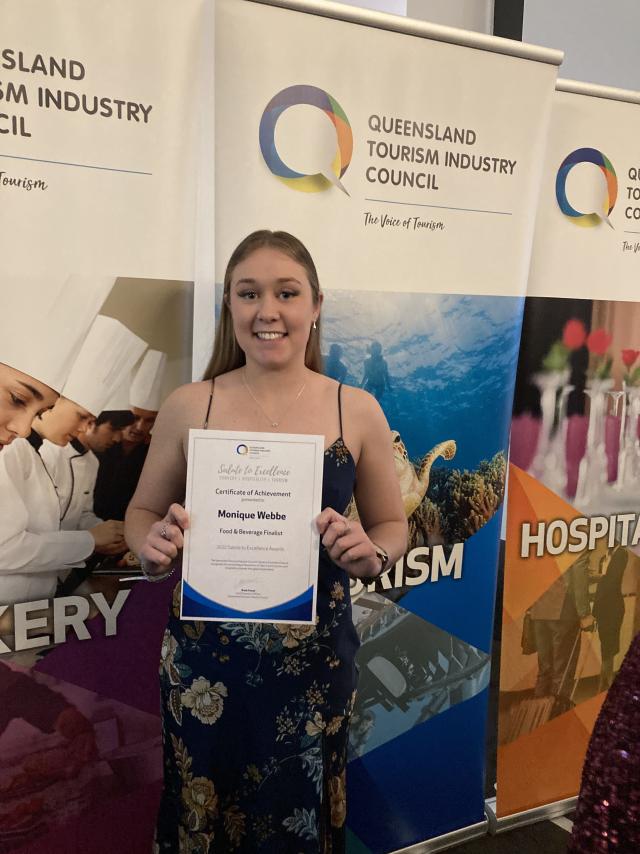 By Donna Jones
James Nash State High School Year 12 student Monique Webbe is making her mark on the her chosen field in the hospitality industry, by gaining a spot in the finals of the Queensland Tourism Industry Council's (QTIC) Salute to Excellence Awards.
Hospitality teacher Donna Jenkin was thrilled for her student, who was only one of eight finalists in the Salute to Excellence Food and Beverage Award section.
"We are incredibly proud of our Yr 12 Certificate III Hospitality student, Monique Webbe, for all her efforts in the competition," Mrs Jenkins said.
"Monique progressed through a rigorous judging process to become one of the state's top 8 finalists ahead of many challenging competitors."
Monique attended the State Awards dinner in Brisbane last Monday (25 July), where she was awarded a certificate as a State Finalist.
"It is a stellar effort to be able to shine through as one of the very best in our diverse and talent-filled state of Queensland," said Mrs Jenkins.
Monique was really excited to be part of the awards process.
"This program is an amazing thing that I had never heard of.
"It should be promoted at all schools that offer hospitality because it's a really cool experience that leads to a lot of opportunities," Monique said.
"The recognition from teachers and students is heart-warming.
"I was just quietly applying for this and now everyone is congratulating me on my efforts – it's a nice feeling," she said.
In addition to the recognition, Monique has been invited to experience what it is like to work in one of the world's leading and prestigious venues, The Star Culinary Institute on the Gold Coast.
"We are incredibly proud of Monique and admire her ability to take hold of opportunities and give them her best shot – Well done Monique!" Mrs Jenkins said.
Although she is not looking initially to go into the hospitality sector but doesn't rule it out.
"I am not looking to have a career in hospitality at this current time, however it's a fun environment and I am always going to have it as a part of my life and as something to fall back on," Monique said.
The QTIC 25th Salute to Excellence Awards recognises exceptional secondary students, employers, and teachers and trainers for their contribution to skill development in the state's tourism and hospitality industry.
Minister for Training and Skills Development Di Farmer said the Awards were a timely reminder to support the tourism and hospitality industry.
"With tourists being welcomed into Queensland from near and far, it's wonderful to see a new wave of talent entering the industry with such enthusiasm, and I encourage Queenslanders to get out and enjoy the spectacular offerings of our state while also supporting the newest members of the workforce and the industry," Minister Farmer said.
"I'm always excited to see people being recognised for their mastery and dedication in their chosen industry, and I congratulate these outstanding students – our future workforce – on their success.
"Congratulations must also go to their teachers and employers for their dedication in supporting students and trainees to create a rewarding career," Minister Farmer said.