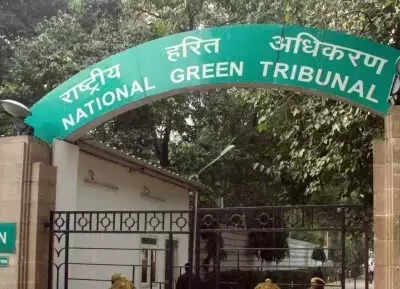 The Kolkata-based eastern zone of the National Green Tribunal (NGT) imposed a whopping fine of Rs 10 crore on the railways for violating the pollution control norms while operating the coal stockyard at the Dumka railway station. The complainant in the case, Ravi Shankar Mandal, however, said he was not satisfied with the fine as the basic concerns he raised are yet to be resolved.
Mandal, a local activist, moved the NGT in 2021 to undo the move of the railways to develop its goods shed at the station to felicitate stocking and transportation of coal being procured from the Amrapara (Pakur)-based coal mine allotted to the West Bengal Power Development Corporation Limited (WBPDCL) for transport to its different thermal power stations in Bengal.
Apart from breaking the pollution control norms, the railways violated the mandatory provisions on setting up a coal stockyard, which should be away from habitation that has institutes like schools, colleges and hospitals, by at least 1km, he said.
'Will now move SC to shift coal stockyard'

Talking to TOI on Monday, Ravi Shankar Mandal said, "The NGT order dated February 27 on my complaint is confined to the imposition of a monetary fine of Rs 10 crore on the railways without the main concern of its relocation from the densely populated locality unaddressed."
Mandal said he will now knock on the doors of the Supreme Court to demand the shifting of the coal stockyard to somewhere else.
He argued that the fine amount imposed by the NGT would ultimately be realised from the public exchequer and not from the authorities concerned which have benefitted — WBPDCL and the Hyderabad-based BGR Mining and Infra Ltd. All the entities concerned proceeded with the expansion work of the stockyard despite the previous interim order of the tribunal to stop, he said.
In November 2021, the NGT admitted the plea of Mandal and directed the railways to put a stay on the expansion work to build the stockyard till further orders.
However, the railways went ahead and operationalised the stockyard in February last year.
Mandal said, "Under the circumstances, it is obvious that the railway authorities connived with the WBPDCL and the BGR Mining and Infra Ltd intentionally and proceeded with the work. The fine, if possible, should be realised from these entities."
Mandal also demanded a probe into the role of the state pollution control board officials in providing the CTO (consent to operate) for the stockyard.
The regional officer of the state pollution control board, Kamla Kant Pathak, said the NGT has given two months' time to the railways to deposit the fine amount. As the CTO for the coal stockyard is about to expire this month, the new consent would not be issued till the fine amount is deposited with the pollution control board as per the NGT order," he added.
The DRM of the Asansol division of the ECR, Permanad Sharma, was not available for comment.