South Australian business and home owners in the Spencer Gulf are counting their losses after heavy rain and hail caused flooding and collapsed ceilings.
Key points:
Almost 40 millimetres of rain was recorded in Port Augusta
Storm damage was also reported in Stirling North, Orroroo and Quorn
SES responded to around 100 calls for help
The Bureau of Meteorology (BOM) recorded almost 40 mm of rainfall in Port Augusta, with 21mm alone in half an hour from 4pm on Wednesday.
The State Emergency Service responded to about 100 calls for help, many reporting localised flooding and hail damage.
Callers reported "water ingress into houses through things like skylights, through hail damage, and also flooding coming through low levels of the house", SES Flinders Ranges district officer Mike Baker said.
"I haven't seen anything like this in Port Augusta since I've been up this part, and I've never seen Port Augusta quite looking like a white Christmas," he said.
"I won't say this is quite normal."
Mr Baker said the SES was still getting requests for help, and urged volunteers to join the ranks. 
Drainage 'not functioning'
Port Augusta's second major flooding event this year has exposed concerns about the council-owned drainage system, which residents say is not functioning during extreme weather.
Craig Ellis's house flooded two weeks after repairs were completed from the previous flood in January.
He said the council had ignored repeated concerns from residents.
"It comes back to poor maintenance on the Port Augusta City Council side — they own that pump station," Mr Ellis said.
"I'm due to go down there this morning to have a talk and see what we can do, but we might have to go through the ombudsman and if we can get everybody together, might have a class action or something because this is getting beyond a joke." 
Port Augusta Mayor Brett Benbow said no pumps failed, but one did have a fault.
He was hopeful a request for funding from the state government to improve them could be granted.
"We've already submitted to the government for assistance to help us renew all these pumps because we know they are getting older and we need that assistance so hopefully this will assure that will happen," he said.
The BOM said the immediate threat of severe thunderstorms had passed, but it would continue to monitor the situation.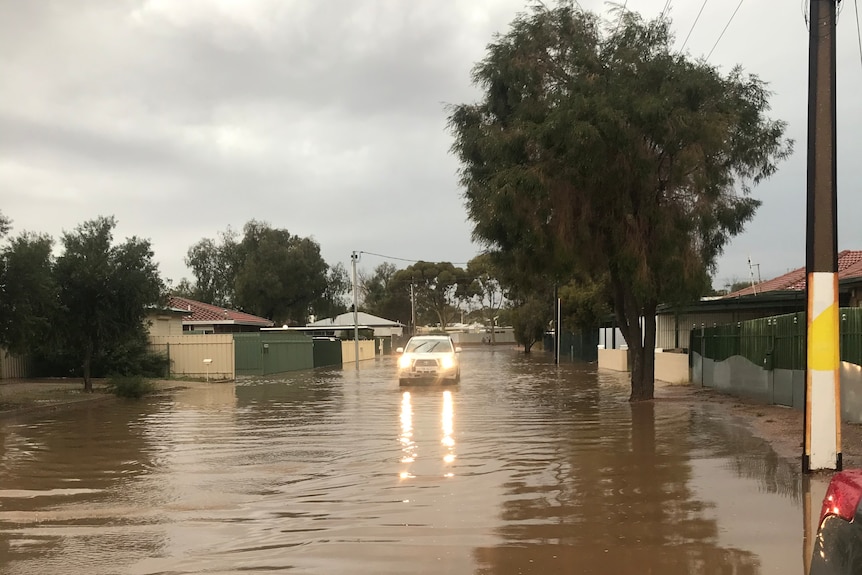 Deluge across outback areas
Broken Hill also faced a deluge of almost 40mm yesterday, while Orroroo and Quorn were also hit with heavy rain.
Water poured onto the front bar of the Orroroo Hotel during the storm, while the town's hospital was also damaged.
Cinema Augusta owner Michelle Coles said the "colossal hailstorm" was unexpected.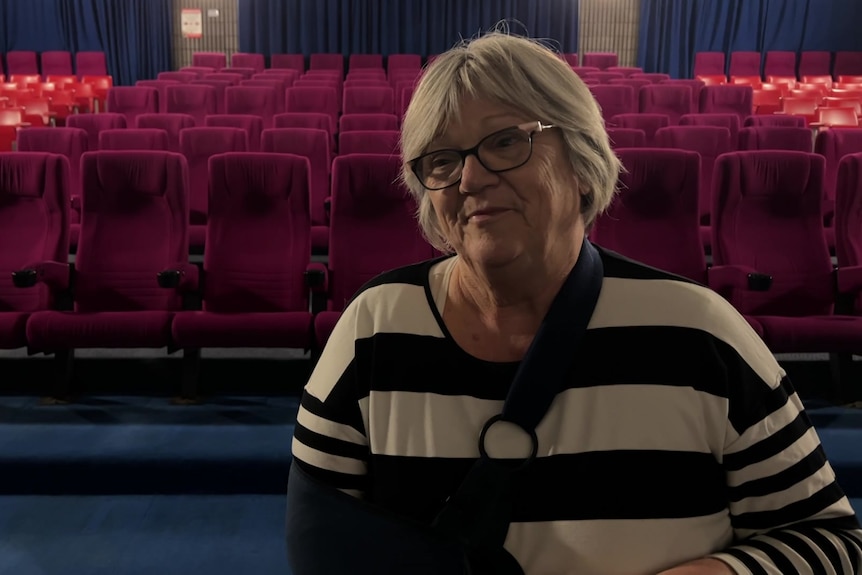 Ms Coles said the cinema's $30,000 screen and carpets would have to be replaced.
"It was like a waterfall running down our screens, our speakers were all sitting in water," she told ABC Radio Adelaide.
"The carpet was just this pool of water. We took buckets and buckets and buckets outside trying to clean it up.
"I'm 66 years old, I've never seen anything like this in my life ever, it was quite frightening."
Ms Coles said hail "the size of small golf balls" smashed down on the town. 
"The ferociousness of it and the noise, it was deafening," she said.
"It was just a sea of white outside."
Electrical store owner Tom Antonio said had suffered up to $200,000 damage, with computers, printers, phones, televisions and small appliances damaged.
"There was water everywhere," he said.
"A certain part of the store was covered in water so it was pretty waterlogged and part of the roof that caved in as well."
Homelessness support centre hit
Port Augusta's Stepping Stones Drug and Alcohol Day Centre is still offering breakfast and lunch but has suspended other services, including laundry, showers and toilet facilities, after the homelessness support service sustained damage.
"We've got electrical fittings hanging from the ceiling and flooded rooms, so we've had to close those services — it's too dangerous," support worker Joseph Botomani said.
"We are looking around for electricians and repair people but they are all flat-out."
Day centre management is working to restore services as quickly as possible while vulnerable clients wait for assistance.
"They have nowhere else to go: they had to camp in the bushes during the storm," Mr Botomani said.
"Now they want to have showers and clean their clothes but they can't do it here. It's not looking good.
"I hope that by at least Monday we can be back up and running."