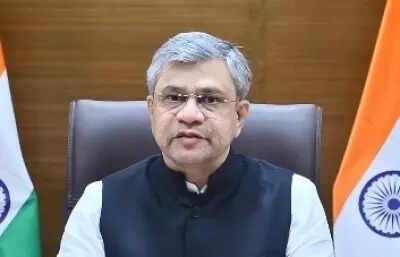 MUMBAI: Union Railways Minister Ashwini Vaishnaw on Friday said the Rs 18,000-crore CSMT redevelopment project in the city will be awarded in mid-March. Speaking at an event organised by news broadcaster ABP News here, the bureaucrat-turned-politician said in three years, India will emerge as an exporter of railway technology which will be a quantum leap from being an importer for the longest time.
"Middle of March the tender will be allotted. Every authority in Mumbai has given its go-ahead for the project," Vaishnaw said while making a presentation on the railways.
He said huge space will be created in the otherwise space-starved city and also assured that the movement of people will be smooth.
The Chhatrapati Shivaji Maharaj Terminus (CSMT) redevelopment project has been on the drawing board for some years now, and nine entities, including the Adani Group, are in the race to bag the project.
Vaishnaw also took potshots at Uddhav Thackeray, saying the former Chief Minister did not have any interest in development projects while he was in power, and projects like the high speed rail between Ahmedabad-Mumbai received a big push after his successor Eknath Shinde came to power.
The minister said 152 kilometres of pillars of the 'Bullet Train' are ready as of now.
Citing the experience with the Vande Bharat trains, he said engineers are keen to indigeneously develop and manufacture a train which will run at 220 kms per hour, higher than the 160 kmph in Vande Bharat.
He hinted that the Vande Bharat train system can be exported as well, and added that in the next three years, India will be exporting railway technology.
Vaishnaw, who also handles the telecom portfolio, said 300 cities and towns have been covered with the 5G networks by now. He also said that it takes 7 days to get a permission to erect a telecom tower now as against over 220 days earlier.
The complexity in telecom, which was fraught with issues like litigation, makes it the most challenging of his portfolios, Vaishnaw said, adding that railways is the hardest because of the attention it needs.