NOLENSVILLE – Kaira Knox was prepping some ice for her legs after a lengthy showdown volleyball match Tuesday night. 
The standout sophomore racked up 23 kills with 11 digs and five blocks to lead Nolensville High School to a five-set victory over visiting Franklin 23-25, 25-13, 25-21, 19-25, 15-11 in a District 11-AAA contest. 
Knox said her team was pushed to the finish, especially after upstart Franklin secured a 25-19 win in the fourth set to force the tie-breaker. In response, she simply told her team, "We cannot lose this one." 
The girls bounced back and endured one more Franklin surge before clinching the match to take a full two-game lead in the district standings and improve to 22-4 overall with a 4-0 mark in league play. 
"We have to find it somewhere in ourselves to just pull it out and just go all out," said Knox, who helped jump start a 9-3 flurry in the fifth set. "This feels really good and it also lets us know that we can still do it. Even though we lost some really good players (from last year), it kind of just lets us know that we can dig deep."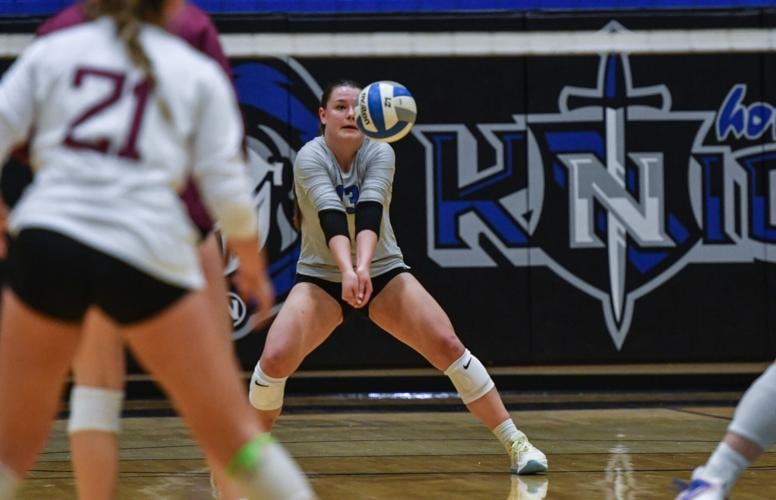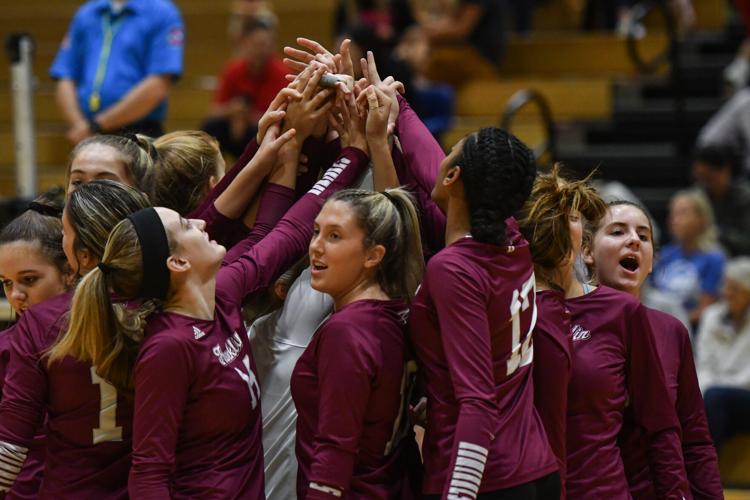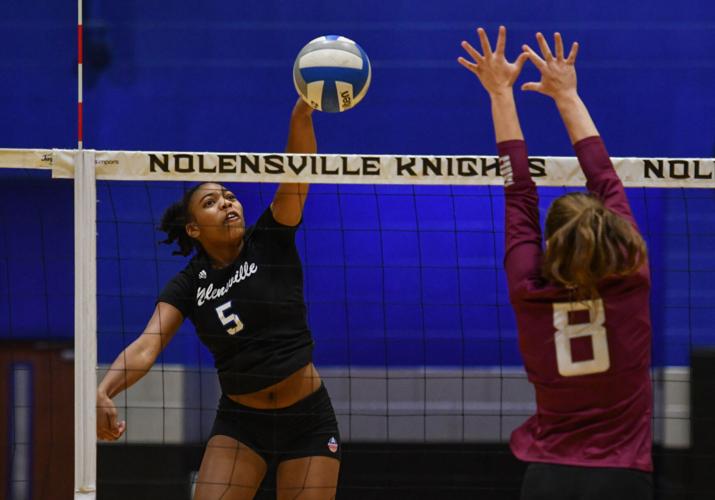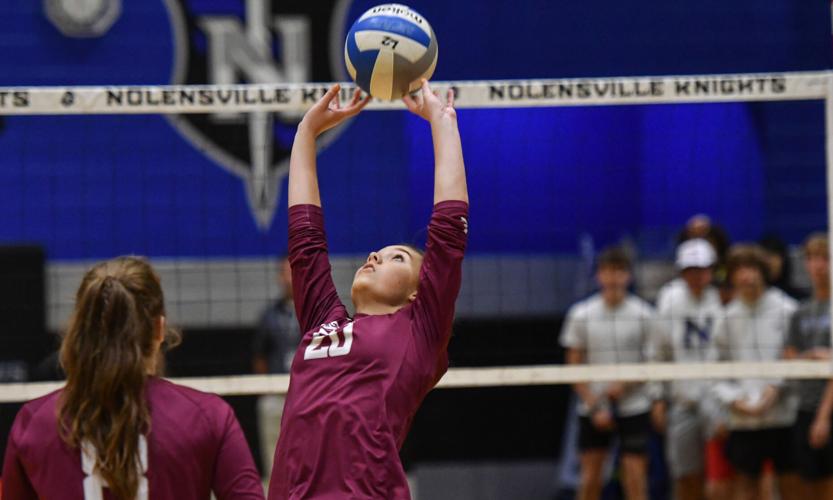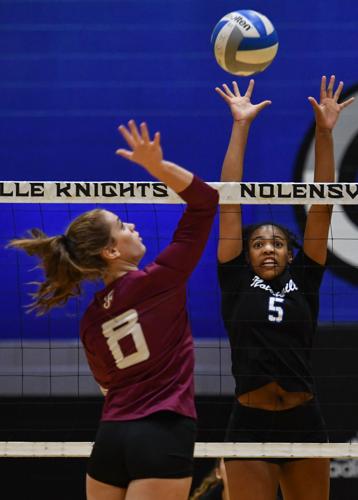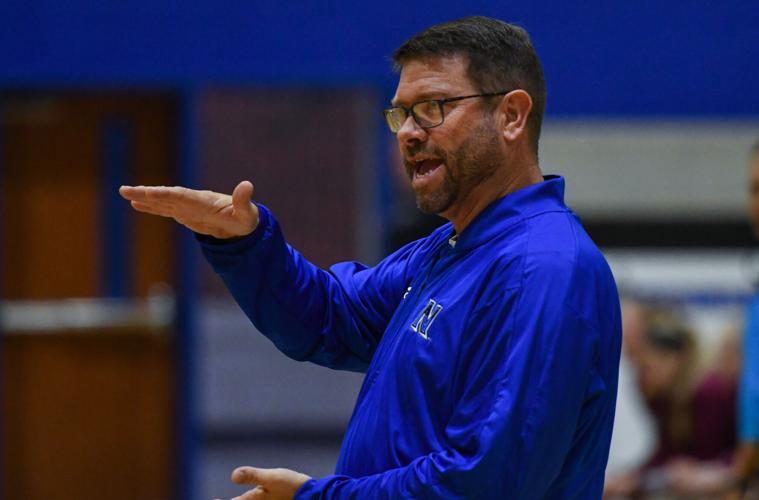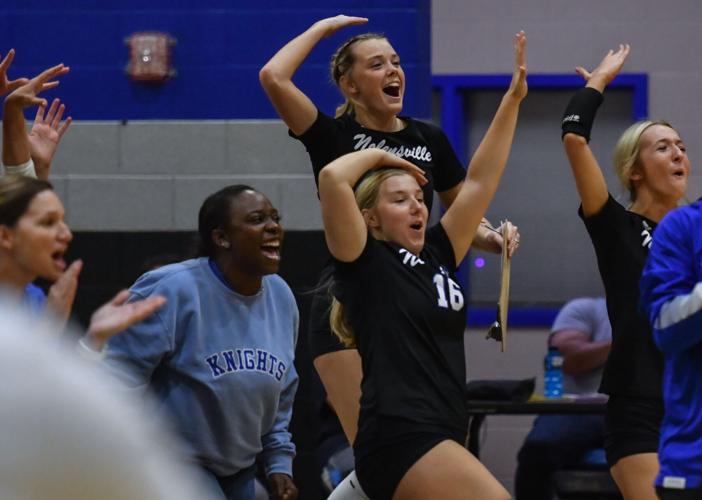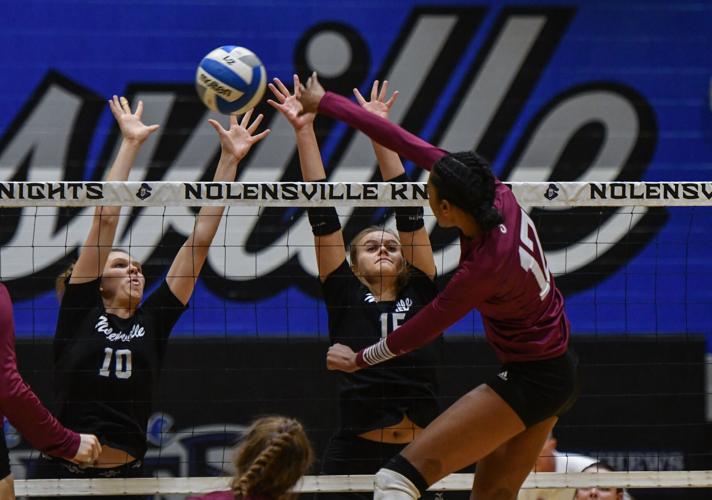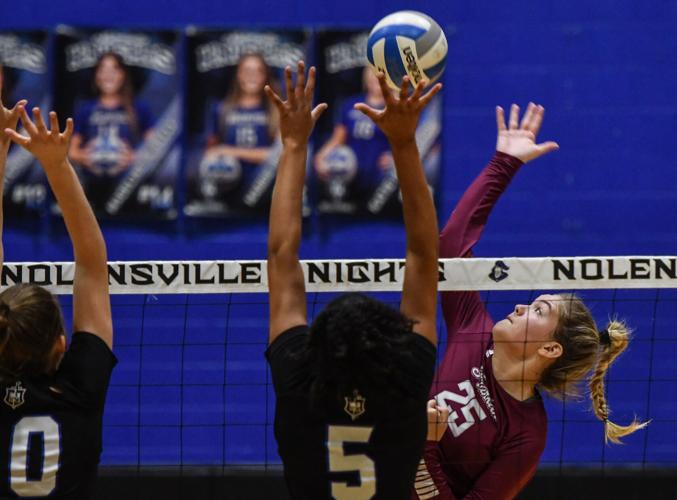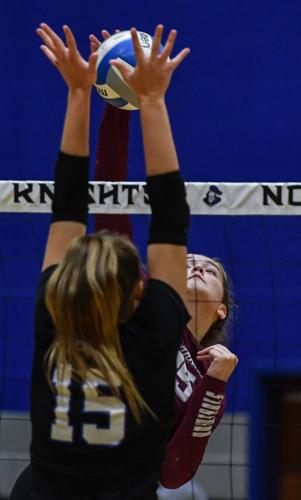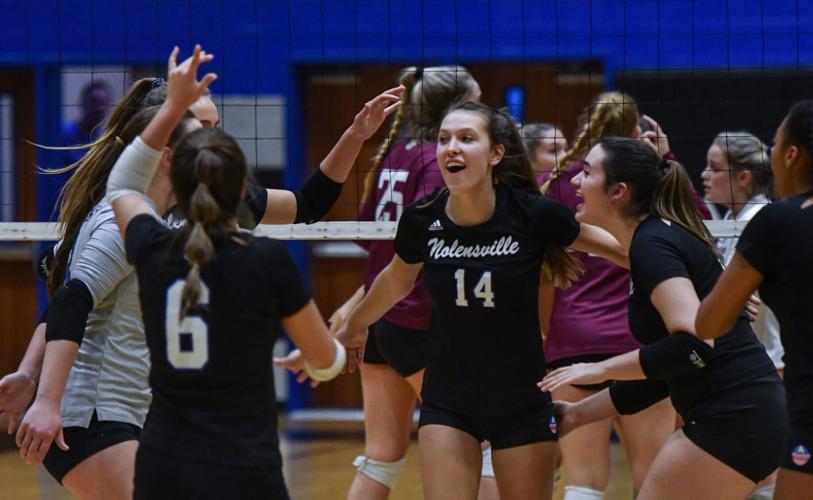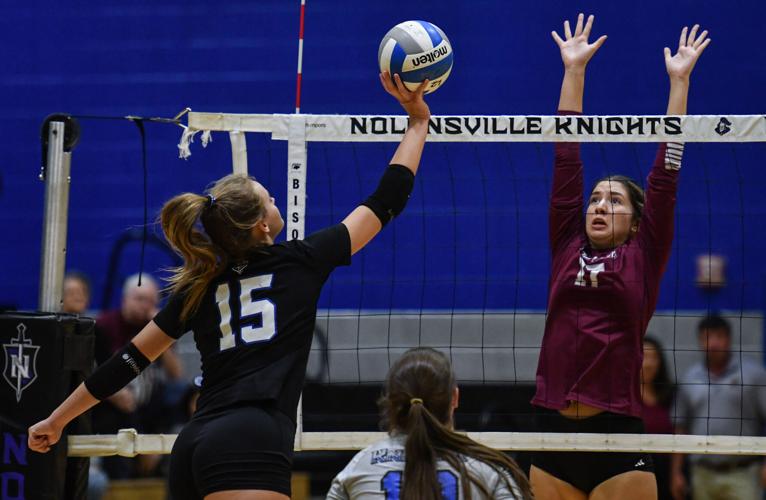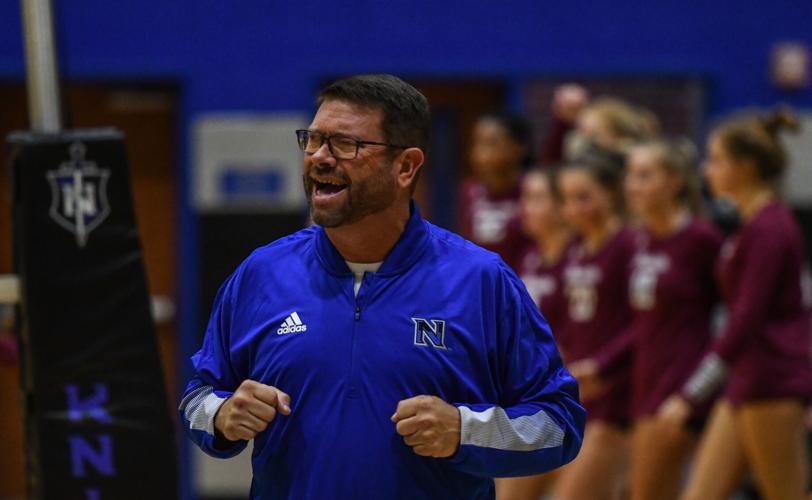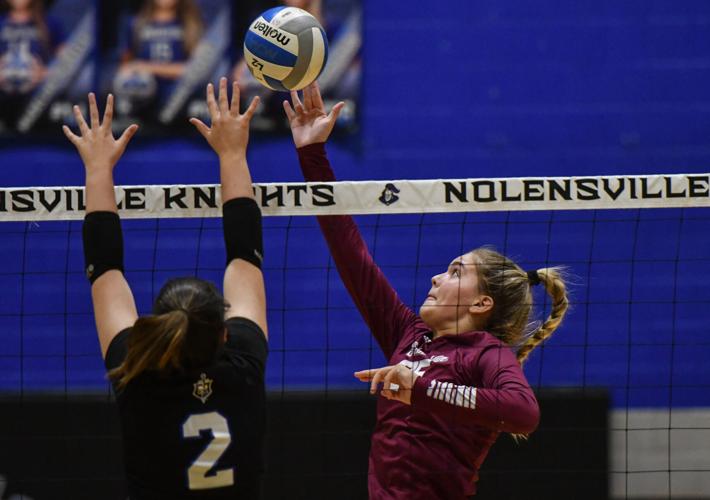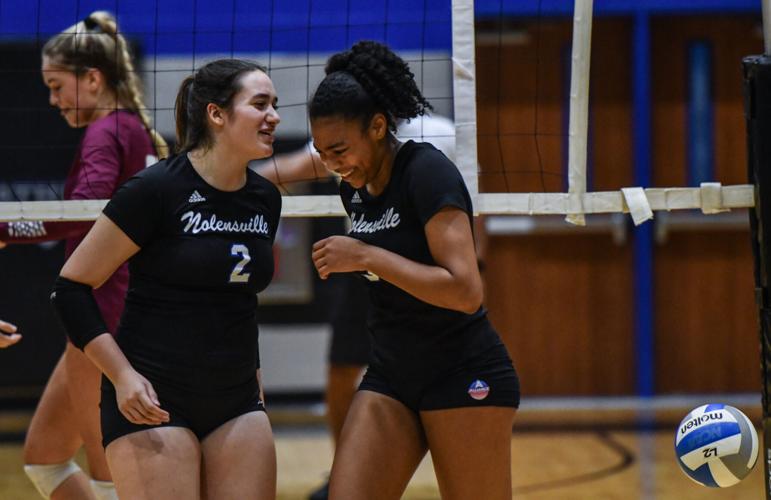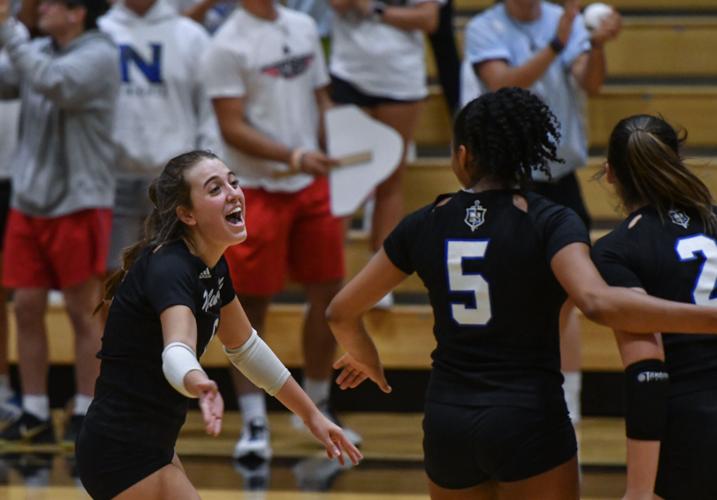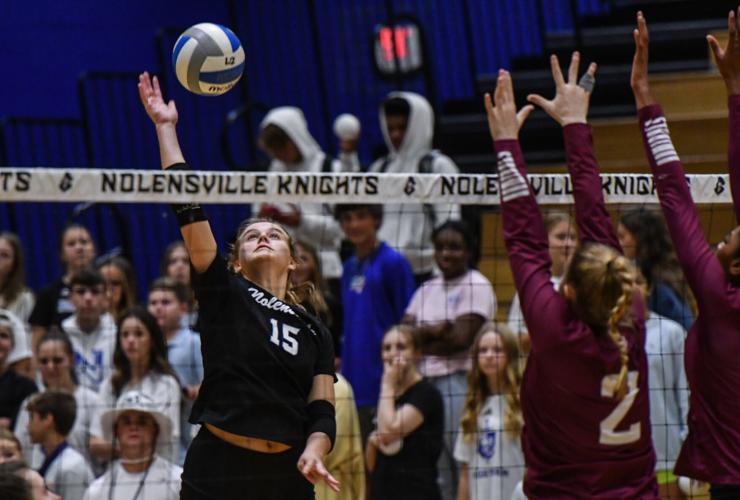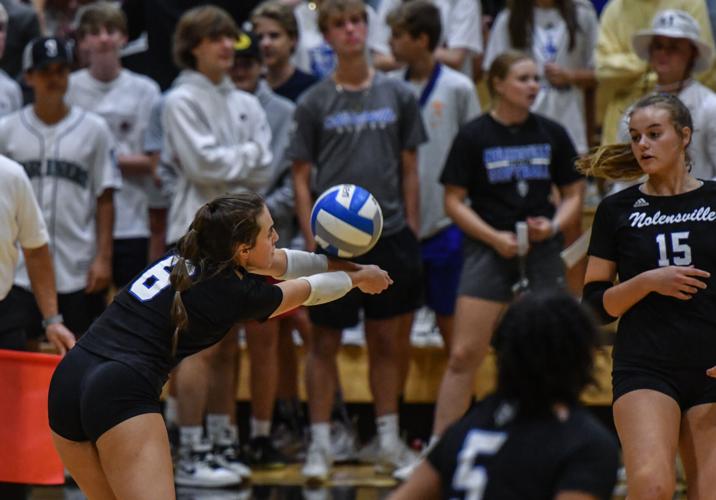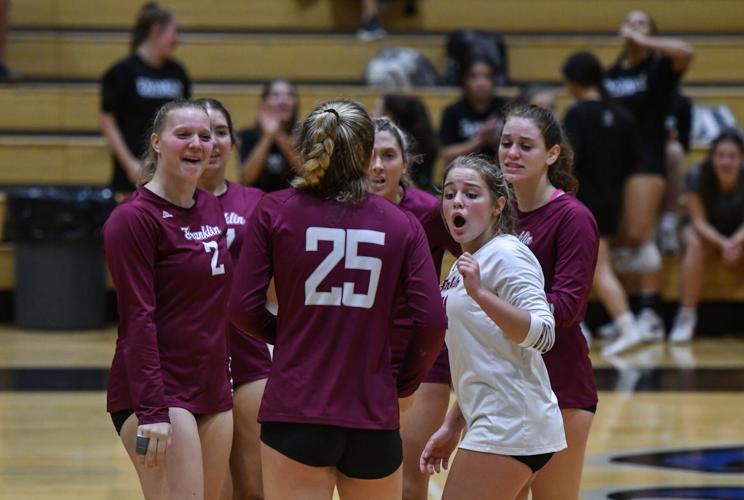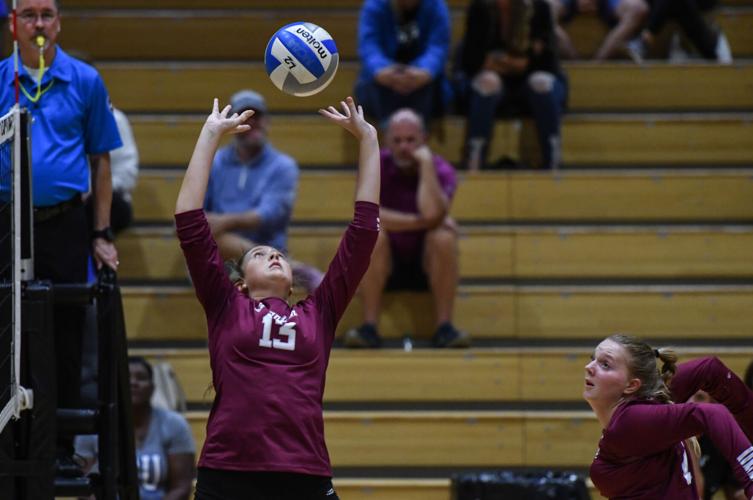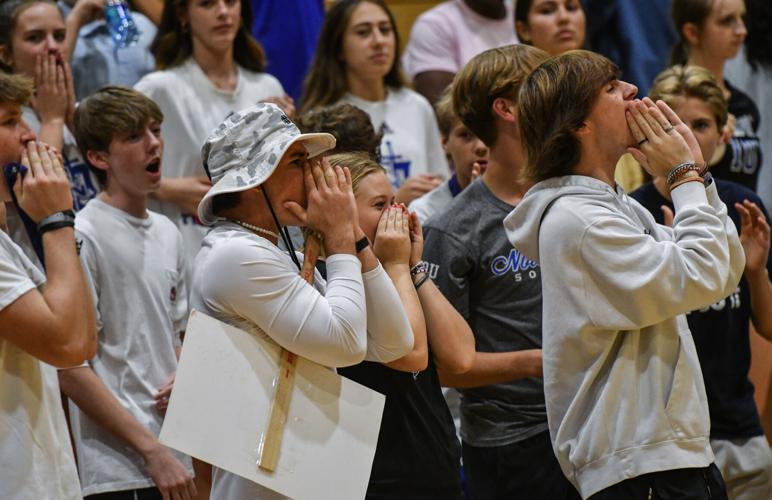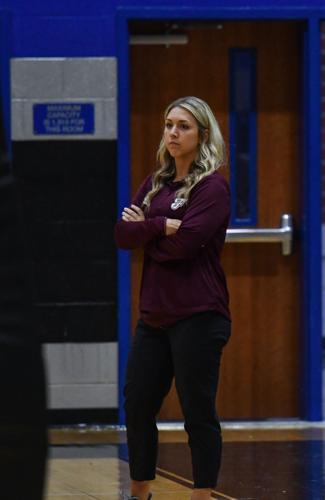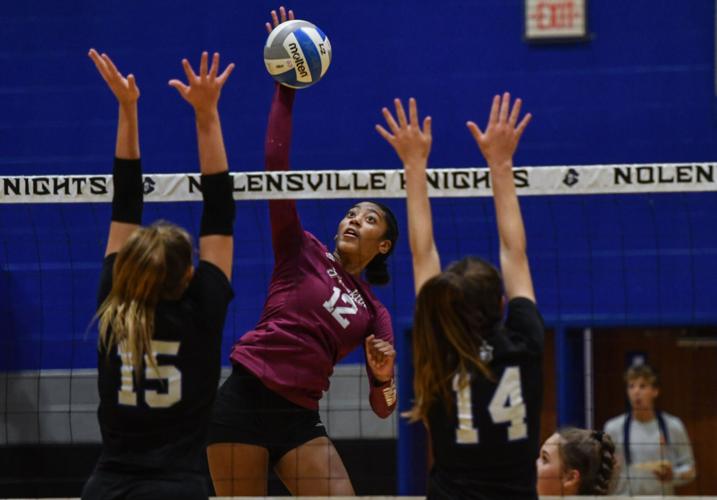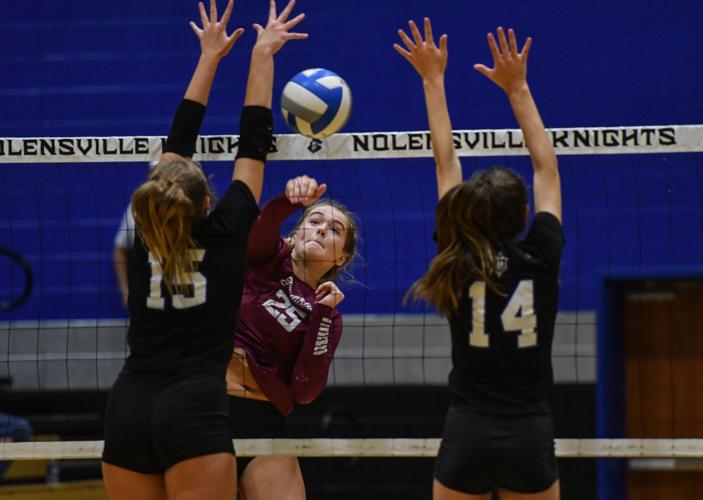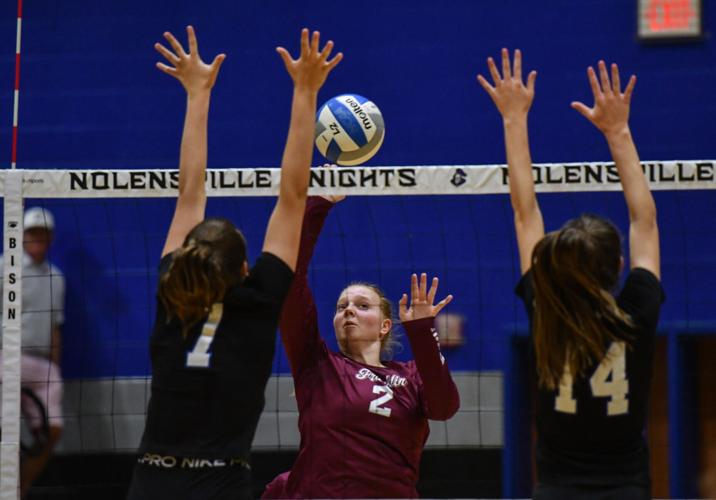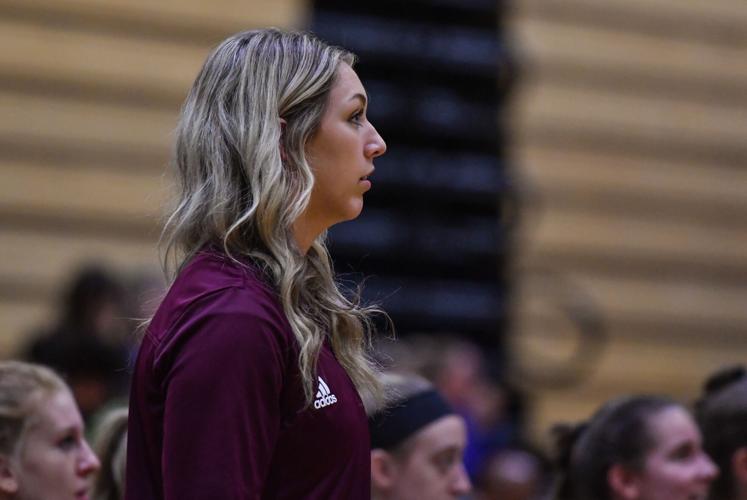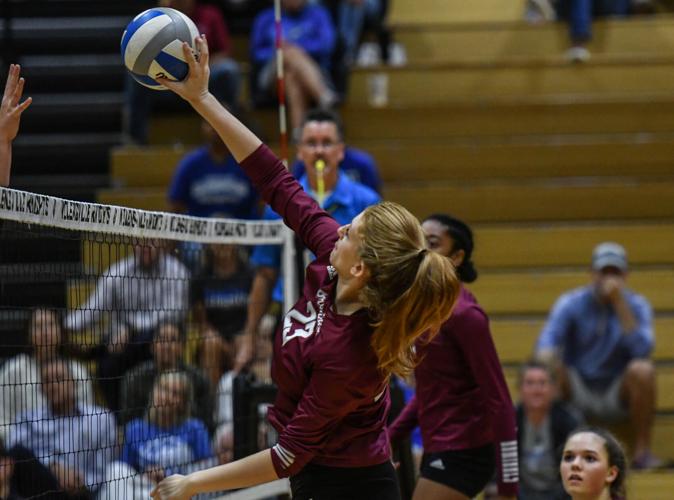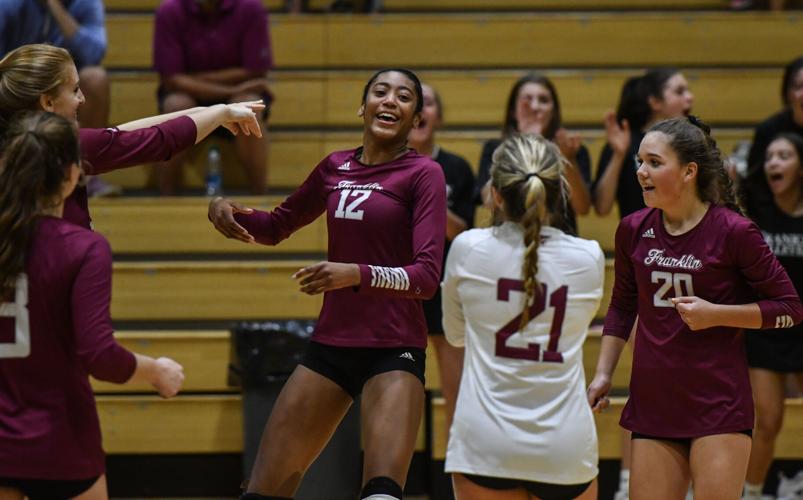 The Franklin girls were swept by the Knights in the last three meetings in 2020 and 2021, but the Admirals (18-4, 2-2) proved they are a different team than previous years. Just last week, they defeated Brentwood for the first time in a decade and their record is more than flipped from their 7-15, 1-7 finish last season. 
"You got four teams that are definitely top 10 in the state type of teams," Nolensville coach Brett Young said of the loaded district. "You gotta put Franklin in there now after seeing the way they played tonight."
The lengthy Admirals went on a 5-0 run in the fifth set to close within 9-7 before Knox soared for a kill from the right side and then delivered a quick-drop ace to push the Nolensville lead back to four at 11-7. Franklin closed within three twice more but a hitting error after the Knights Caroline Johnston slipped in a kill clinched the match for the home team. 
Maggie Rickert added 16 kills and 20 digs for Nolensville. Maggie Allred chipped in seven blocks disrupting the net and Peyton Neal added to the strong defense with 23 digs to go with five aces. 
Neal said the Knights pulled together when they needed to most to get past Franklin. 
"When we play together, we are very tough to beat, so I thought we played great at the end there," Neal said. 
Early on, Franklin raced out to a 17-9 advantage in the opening set. Big hitters Dylann Garner (16 kills) and Taryn Roberts (12 kills, 4 blocks) paced the Admirals up front. 
Franklin second-year coach MaKayla Beebe said she and her staff have been focused on explaining what success looks like for a team that is coming off just one district win a year ago. 
"For us, it's just being able to walk off the court content with how we played," she said. "Content with how they played and that they left everything out there. 
"I really feel like they did that tonight and we came up just short." 
The Admirals early lead turned into a 23-21 deficit in the first set before Franklin closed with the final four points, including a Roberts kill and Abby Swartz ace. 
"That showed our grit, I think," said Swartz, who filled holes all over the floor for Franklin. "I think now we've got a pretty good chance when we play on our home turf." 
Swartz said Franklin as a program is enjoying a resurgence. 
"Coach Beebe has a lot to do with that," she said. "Last year, I think three or four of us wanted to be here and wanted to win. The whole program is together and we're all chasing a championship. 
"We have been the underdogs for probably as long as I've been alive … This is the first year I feel like that we all have come in with the same mentality." 
Nolensville, which has won three consecutive state titles in two different classifications, flexed in the second set and cruised to a 16-4 lead en route to the win. 
The Knights turned a 16-12 deficit in the third set into a 19-16 lead with Neal at the service line and setter Ellie Tant (28 assists) bouncing between the right side with Knox and left side with Rickert. That lead stretched to six before Madeline McNeely ended with a kill from the middle. 
Garner scored on three consecutive kills to open up a 14-10 advantage for the Admirals in the fourth set as Franklin continued to battle. Rickert responded with back-to-back kills for the home team. Garner answered and extended the lead with another kill down the left line and one of her two aces. 
Franklin had a response for each Nolensville surge and held on to force the fifth set. 
"We really do have this underdog mentality and I always hope we always play like that," Beebe said. "I'm trying to teach them how to win and what it looks like to close those tight games, so we're getting there. It's a work in progress still." 
Franklin's only other losses this season have come in tournament settings against defending Division II-A champion Battle Ground Academy and Maryville, a Class AAA state qualifier from 2021. They dropped a four-set district contest at home against Ravenwood on Aug. 30. The Raptors lost to Nolensville in the state final last year. 
The Knights swept through their first three district games against Brentwood, Ravenwood and Centennial. 
"The biggest thing I take out of tonight – and I told the girls this – is that it's OK to have some moments when you're not at your best," Young said. "But to be able to dig down and find a way to get this thing done in the end is something I thought was really special." 
The two teams tangle again Sept. 29 in the regular season finale for both. 
Nolensville next treks to Brentwood Thursday, while Franklin heads to Ravenwood in two more major district matchups this week.  "We know we are going to get everyone's best," Knox said. "We just have to keep doing our jobs and digging deep." 
Kaira Knox and Madeline McNeely combine for the block and Nolensville squares this District 11-AAA volleyball match at 1 set apiece after cruising to a 25-13 win over Franklin. The set point —> pic.twitter.com/Ve8XRtGGYo

— Charles Pulliam (@cspulliam) September 14, 2022
Nolensville def. Franklin, 3-2 
23-25, 25-13, 25-21, 19-25, 15-11 
Kills – FHS 45 (Dylann Garner 16, Taryn Roberts 12, Reese Moore 9); NHS 50 (Kaira Knox 23, Maggie Rickert 16). Assists – FHS 45 (Zanne Logue 24, Ellie Sigler 17); NHS 48 (Ellie Tant 28, Caroline Johnston 15). Blocks – FHS 8 (Roberts 4, Kayla Dunlap 3); NHS 19 (Maggie Allred 7, Kaira Knox 5). Digs – FHS 67 (Layla Haritatos 15, Reese Moore 15, Dylann Garner 13, Ellie Sigler 11); NHS 83 (Peyton Neal 23, Maggie Rickert 20, Marlee Holden 14). Aces – FHS 6 (Garner 2, Layla Haritatos 2); NHS 10 (Neal 5, Knox 3).